MS Dhoni's Former CSK Teammate Is Now A Bus Driver In Australia: Indian fans might remember Suraj Randiv as the Sri Lankan spinner who once denied Virender Sehwag an ODI century – not by taking his wicket, but by bowling a no-ball when one run was required for India to win that ODI match.
Virender Sehwag danced down and duly smashed Randiv for a six, but since the spinner had bowled the no-ball, and India needed only a single run to complete the chase, the came was dead the moment the no-ball was detected and thus Sehwag's sixer was not counted and the Indian opener had to settle with a 99*.
Suraj Randiv attained some of the glory of the cricketing the world – he was part of Sri Lanka's squad at the ICC 2011 World Cup in the subcontinent and even made it into the eleven of Sri Lanka in the final against India at Wankhede.
Also, Randiv made it into the IPL – which was a bit of shock given he was an overseas off-spinner and their ilk was in abundance in India. Randiv may not have won the World Cup, but he has an IPL trophy to his name – he was in the Chennai Super Kings' squad in 2011 when MS Dhoni's side defeated Royal Challengers Bangalore in the final, and also was in the squad in 2012. He featured in 8 games in the 2011 season picking up 6 wickets.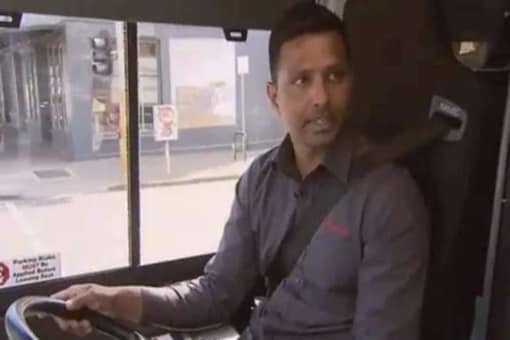 MS Dhoni's Teammate Suraj Randiv is now a bus driver in Melbourne
However, his world soon came crashing down when his form dipped and was promptly ousted from the Sri Lankan team and couldn't make a comeback.
His career dawdled after that. And after struggling for employment at home, Randiv moved to Australia and started his new career as a bus driver in Melbourne for a France-based company called Transdev.
He wasn't the only Sri Lankan there: alongside Randiv, other former players Chinthaka Jayasinghe and Waddington Mwayenga are also employed in the same profession in Melbourne, while they also play for local clubs in their free time.
Randiv played 12 Tests, 31 ODIs, and 7 T20Is in which he snapped up a total of 86 international wickets. His last international game came in 2016.
Randiv's off-spin, though, is still respected in Australian cricket, as the Cricket Australia (CA) called him up as a net bowler to give the Aussie batters some practice against spin bowling in their preparation for their home Tests against India in their previous series.
Senior journalist Bharat Sundaresan was caught by surprise when he saw Randiv bowl to the Australian batsman in the nets. He took the video of it and posted on Twitter.
Kept thinking about how this net bowler has the exact same action as former Sri Lankan office Suraj Randiv and turns out it's Suraj Randiv himself #AUSvIND pic.twitter.com/qIz6SrZ79Q

— Bharat Sundaresan (@beastieboy07) December 23, 2020
"I was asked by CA to come and bowl against their bowlers and I didn't want to miss the opportunity," Randiv was quoted as saying.