Former Pakistan spinner Danish Kaneria has alleged that the Hindu minority community is being reduced in Pakistan by the majority Muslim community in the country.
Danish Kaneria, who is a Hindu, also accused of being discriminated in Pakistan because of his religion.
For the unversed, Danish Kaneria is only the second Hindu player to have played men's international cricket for Pakistan, after his cousin, the former test wicket-keeper Anil Dalpat. Kaneria is a Hindu and is of Gujarati ethnicity. Over 100 years ago, his ancestors migrated from Surat and settled in Karachi and stayed there after partition.
I am myself a victim of discrimination: Danish Kaneria
Danish Kaneria had reacted to a crime committed by a few Muslim men on a Hindu girl in Uttar Pradesh. A Twitter user, with the handle @pandit_jag, commented: "Fight for your survival. The theory of fittest must be adopted otherwise you and your community will be eliminated."
This caught Kaneria's attention and he gave a cracking reply, using statistics of the significantly decreased population of Hindus in Pakistan and also citing his own personal experience of being treated differently because of his religion.
Danish Kaneria tweeted: "My community is already getting eliminated. Hindus have been reduced from 24% in 1947 to less than 3% today.
I am myself a victim of discrimination, and I know this pain all too well. As far as my survival is concerned, Prabhu Shri Ram will take care of it."
This tweet from the former spinner has gone viral on social media.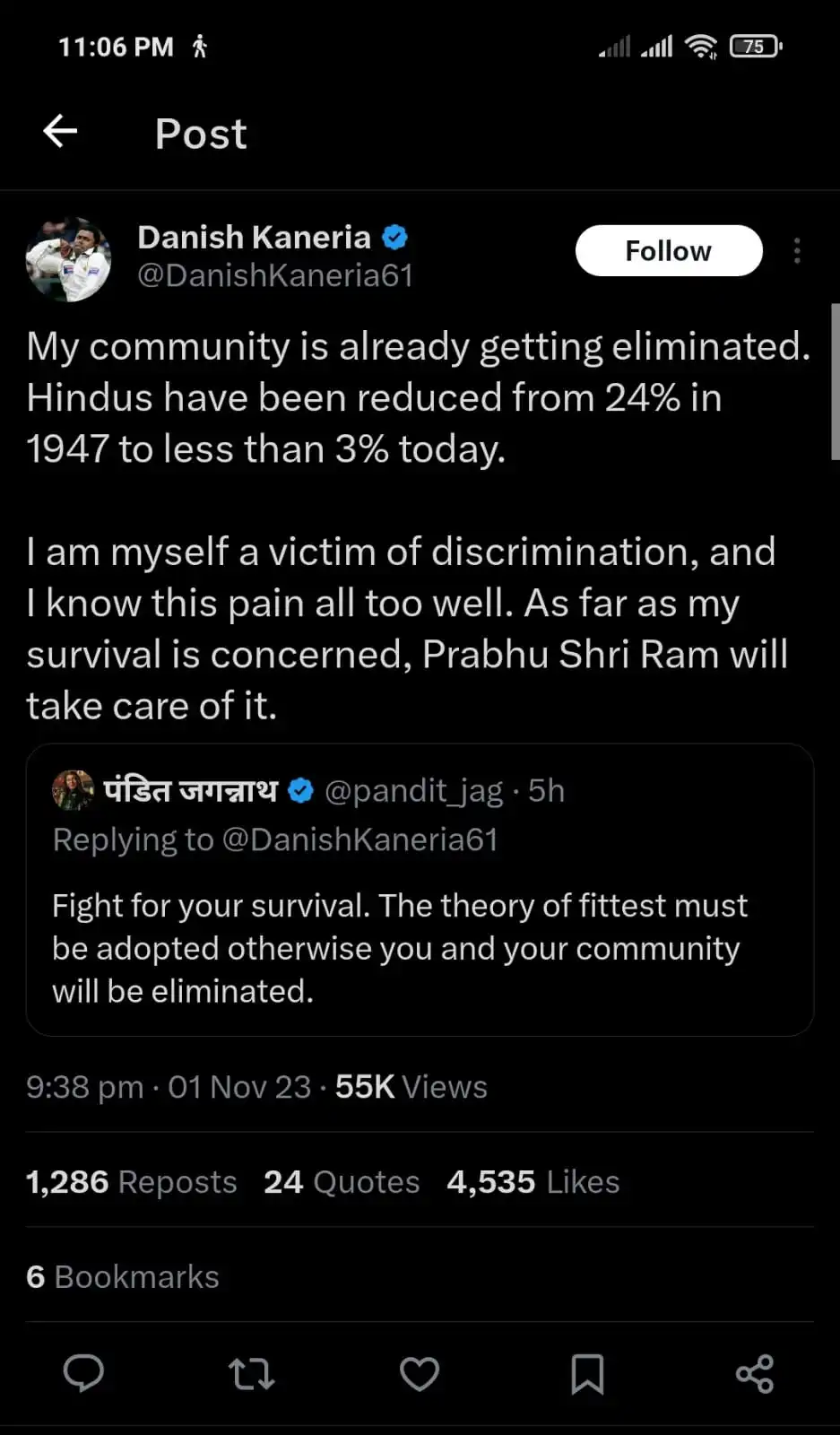 A few days ago, Kaneria had even stated that his career would have been much bigger, and he would have become Pakistan's captain, had he converted to Islam. He even alleged that Shahid Afridi asked him to convert to Islam.
"Many big players in the Pakistani team asked me to convert to Islam, Shahid Afridi was the main one among those players. I was wrongfully trapped in a false allegation of spot-fixing," he had said.
"Whatever I have faced in the Pakistani Cricket Team is horrific. They hurled religious abuses at me. They abused my deities."