The ODI World Cup 2023 has been nothing short of spectacular, with cricket fans around the world witnessing some outstanding performances. One name that has stood out in this cricketing extravaganza is Mohammed Shami, who has solidified his position as India's highest wicket-taker in ODI World Cup history. The historic moment occurred during the India versus Sri Lanka 2023 World Cup match at the iconic Wankhede Stadium in Mumbai.
Mohammed Shami's remarkable journey in the ODI World Cup 2023 is etched in cricketing history. With 45 wickets in ODI World Cups, Shami surpassed the likes of Zaheer Khan and Javagal Srinath after a stunning performance against the Sri Lankans. His impeccable line and length, coupled with his ability to move the ball both ways, have left batsmen bewildered and struggling to tackle his precise deliveries.
One of the key indicators of a bowler's performance is their bowling average, and in this department, Mohammed Shami has excelled. His bowling average in the ODI World Cup 2023 stands at an astonishing 6.71. This speaks volumes about his consistency and the ability to take wickets at crucial junctures, making him a force to be reckoned with in the world of ODI cricket.
ODI World Cup 2023: Mohammed Shami Is The Big Daddy Among All Fast Bowlers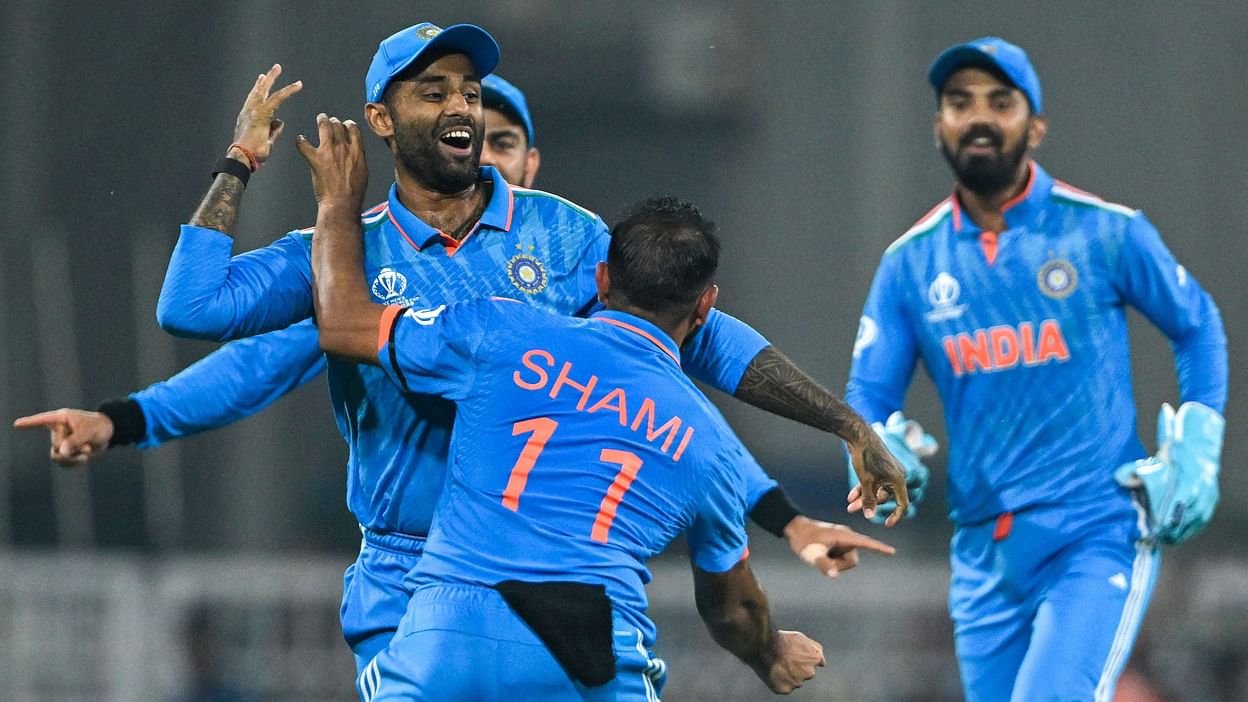 While Mohammed Shami has been scaling new heights in the ODI World Cup, the same cannot be said for Pakistan's fast bowler, Haris Rauf. Despite the anticipation and high expectations surrounding his performance, Rauf has struggled in this World Cup, with an economy rate of 6.71. This has resulted in him being hammered all around the park by opposition batsmen, and his inability to control the run flow has been a point of concern for Pakistan.
The ODI World Cup 2023 has seen a fascinating contrast between two fast bowlers, Mohammed Shami and Haris Rauf. While Shami has exhibited exceptional control, accuracy, and the ability to break partnerships, Rauf has grappled with inconsistency and leaking runs. This stark difference in their performances highlights the importance of composure and skill in the high-pressure environment of international cricket.
Mohammed Shami's stellar performance in the ODI World Cup has not only set personal milestones but has also contributed significantly to India's campaign in the tournament. His ability to provide crucial breakthroughs and maintain pressure on the opposition has been a game-changer for the Indian team. Shami's wickets have often come at critical moments, turning the tide in favour of his team.