For the second time in the World Cup 2023, a large number of fans are feeling that Ravindra Jadeja was robbed of a Man of the Match award with the adjudicators handing it over to Virat Kohli (not taking any credit away from Kohli for his centuries).
First, in the match against Bangladesh on a good batting pitch in Pune, Ravindra Jadeja returned with brilliant bowling figures of 2/38. His wickets included Litton Das and Najmul Hossain Shanto, two in-form batters heading into the World Cup. No other Indian bowler picked more wickets or had a better economy than Jadeja's 3.8 in that game, which helped India restrict Bangladesh to 256 on a true batting surface on which India chased down the target with 51 balls to spare.
It had seemed that Ravindra Jadeja would get the MoTM award until Virat Kohli surged to his century, bagging all the limelight and also the MoTM award.
Ravindra Jadeja robbed of Man Of The Match award twice by Virat Kohli
Once again, in Kolkata, against South Africa, Ravindra Jadeja produced a sensational all-round performance. However, with Virat Kohli notching up his 49th century, equalling Sachin Tendulkar's record, the adjudicators decided to give Kohli more headlines with a Man of the Match award.
Yes, Kohli's century was brilliant – he and Shreyas Iyer grind hard during a tough middle-overs phase on a pitch that went "tricky" and had plenty of grip and turn – and special – as he got level with Tendulkar.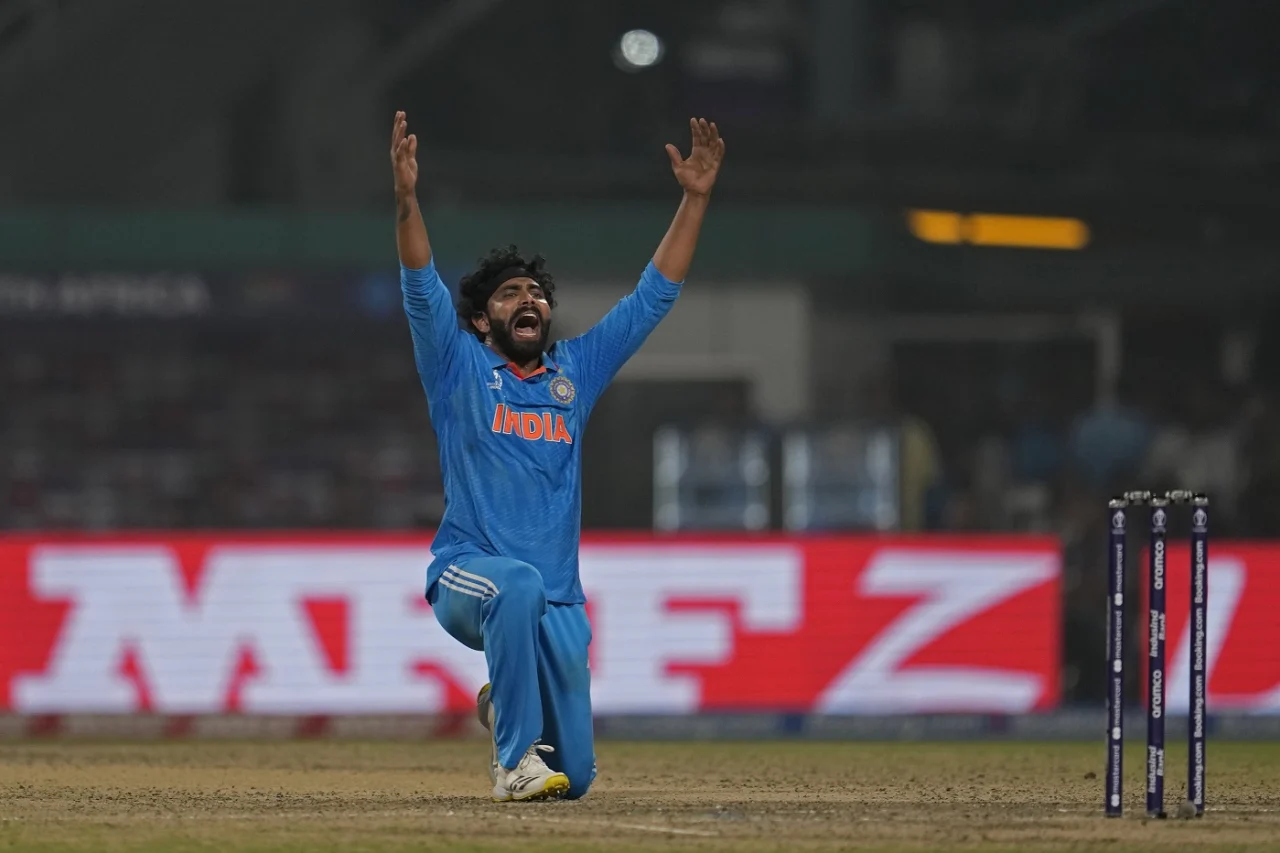 But while Virat Kohli dawdled at a run-a-ball even in the death overs phase – Kohli scored his last 26 runs in 26 balls – as he inched closer toward his century, leading a section of fans to call him "selfish", it was the late impetus provided by Ravindra Jadeja with his 29* runs unbeaten knock in only 15 balls that got India the momentum in the end of their innings, propelling them to a total of 326, which was certainly way above par on that surface.
Of course, Virat Kohli soaked in all the applause – because why not? Without his anchor knock, India perhaps would have ended at a par score of around 260-270 – as Ravindra Jadeja walked in his shadow; not to forget, Suryakumar Yadav, too, batted briskly for his 22 in 14 as Kohli trudged.
Then, Ravindra Jadeja sniped out any hope South Africa had of chasing the target down and ending up at the top of the points table with his 5-wicket haul. This included wickets of Heinrich Klaasen and David Miller, two of the most destructive spin-bashers currently in the world, but stood little chance against the accuracy and speed variations of Jadeja.
Maybe because the wickets (FIVE) that Jadeja took felt a bit too easy for him; maybe we have, over the past month-and-half grown to the incredible dominance of the Indian bowlers that the 83 all-out of South Africa – the second-best team in the competition – felt almost inevitable. Maybe because Kohli is simply too big of a superstar – whose following extends way beyond regular cricket watchers – that there wasn't really much of a choice left for the adjudicators to pick Kohli the MoTM once he'd reached his century milestone.
If you may argue that this may be a subjective opinion that Ravindra Jadeja should have gotten the Man of the Match award, the data from ESPNcricinfo, too, logged Jadeja's all-round performance as the most impactful in the game. ESPNcricinfo's data has Jadeja's Total Impact at 131.91, while Virat Kohli's Total Impact was 120.38. Among all things, it considers the opposition and the phase of the game in which the runs were scored and the wickets were taken. And scoring quickly against the Protea bowlers in the death overs on that surface was certainly a difficult job at hand that Jadeja undertook superbly.
But, it isn't a big surprise anymore why Virat Kohli was chosen as the Man of the Match over Ravindra Jadeja:
It is to be understood by us, the fans, that there's always more than just cricket when it comes to Virat Kohli. The majority of the fans want to see him; the broadcaster wants to show as much of Virat Kohli on their screens as possible – even if it means putting an important game like IND vs SA on the backseat. The broadcaster has Kohli as their front and all; the viewership peaked when Kohli was nearing his century against New Zealand.
BCCI has become the richest cricket board because a huge section of fans have made hero-worshipping and individual glorification of the likes of Kohli, MS Dhoni, and Rohit Sharma. In fact, the tussle of fans on social media of these three giants of Indian cricket is something the broadcasters even feed off. After all, their shows on 'Hitman' and 'Super V', deliberately or not, segregated the fans further.,
So it didn't really come as a surprise to me when Kohli was picked as the Man of the Match over Ravindra Jadeja.