Rahul Tewatia started a cult. And a list – but sadly with no addition to it until Rinku Singh.
Since Tewatia's miraculous knock for Rajasthan Royals in IPL 2020 against Punjab Kings in Sharjah – the game often referred to as that Tewatia match – it has become a common thing for fans to recall Tewatia's valorous knock whenever a batsman is struggling in the middle (more so in run-chases) and wonder if he could turn it around as Tewatia did.
'Can he do a Tewatia today?' is the general reference.
It's happened a couple of times in this IPL – first with Shivam Dube and then with Rinku Singh.
The difference in Tewatia and Rinku's situation was, moreover in the general view, that Tewatia and his prowess were largely unknown until he did what he did, and that other RR batters still had enough time to get on top of the chase in extremely batting friendly conditions.
With Rinku Singh, it was a bit different.
Rinku had shown his hitting abilities – having almost pulled off a heist last year against Lucknow Super Giants before the hopes were diminished by a one-handed stunner by Evin Lewis.
And that there was little time left in this KKR-GT game for someone else to take KKR home. So it had to be Rinku, who was 8(14) before smashing 40(7).
The chase, and the KKR camp, had already been deflated by a Rashid Khan hat-trick. Rarely does a T20 hat-trick end up on the losing side.
In that LSG game last season, Umesh Yadav was bowled on the last ball by Stoinis, swinging for the fences. Here, Umesh took perhaps the most important single of his life. And this time, Tewatia was in the opposition camp, seeing Rinku do a Tewatia.
***
Even before he started getting chances in KKR's playing XI last year, and way before his consistent appearances this season, Rinku Singh had had a cult of his own. A fanbase that knew little of what to expect from him, but loved him, adored him, and also made out some hilarious memes.
Similar to 'Sir' Jadeja and 'Lord' Shardul, the 'Lord' Rinku and the memes on him – with catchy captions and his stubble face staring emotionlessly into the camera – were a big trend. And like the career upsurge of Jadeja and Thakur, it is Rinku's latest success that makes this trend even more lovable.
***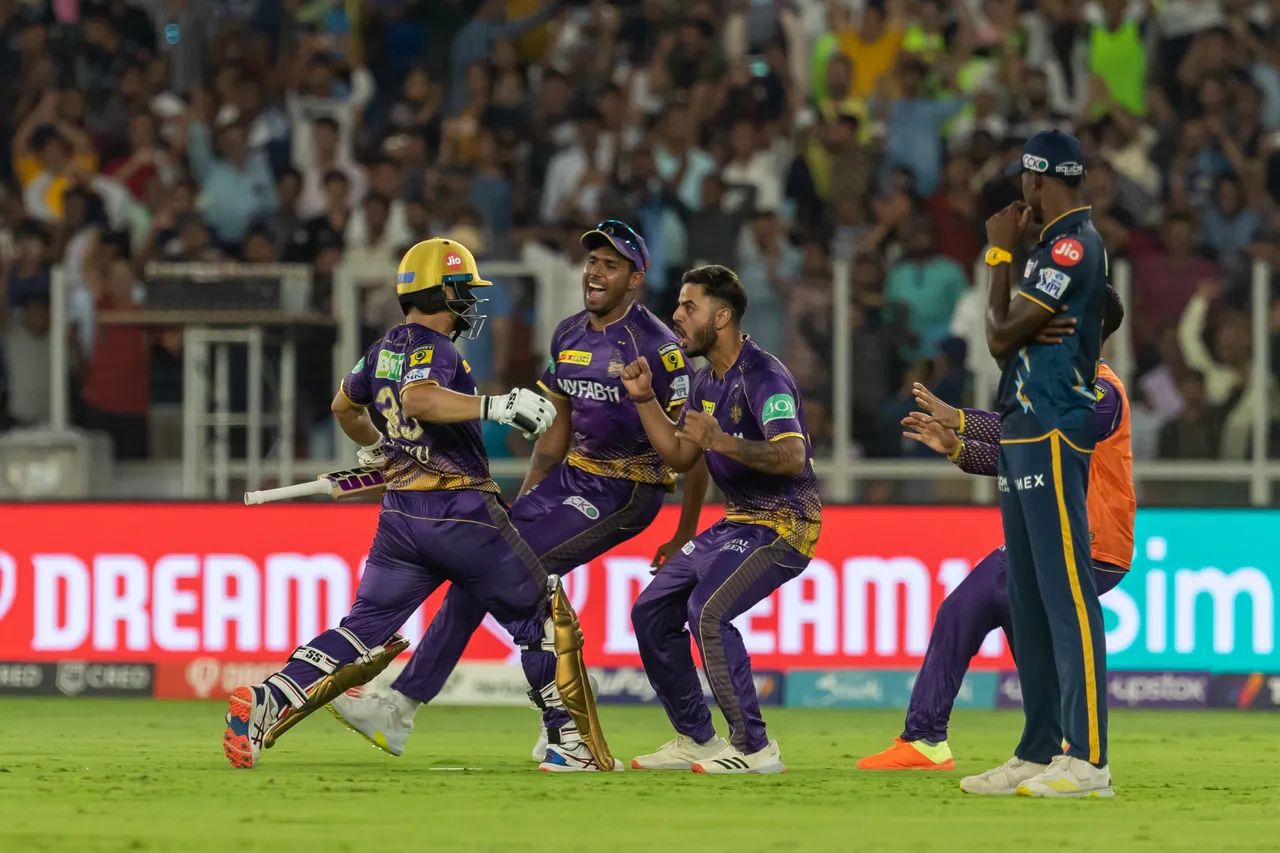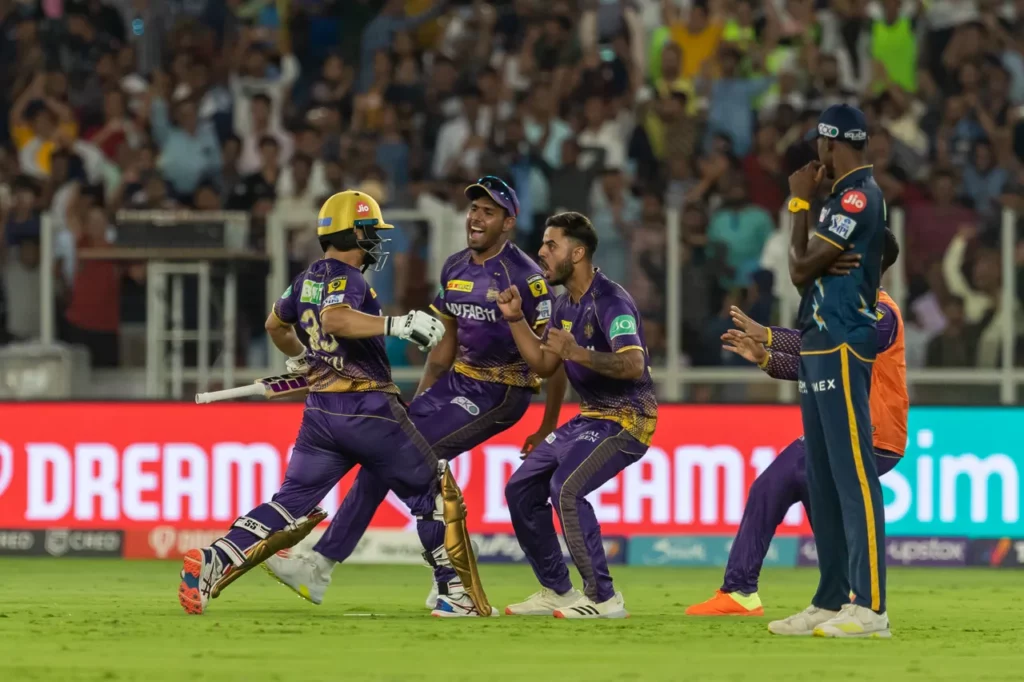 As Rinku smashed that 5th six of Yash Dayal, amid utter euphoria, watching a fired-up Nitish Rana, who was the first from the KKR camp to jump out of his seat, with his veins almost popping over his tattoo, charging into the ground, pointing his finger to Rinku, hailing the batter for his unthinkable feat, I, sitting on my chair with nails gritted between the teeth, muttered "Rinku, yaara, yeh kya kr diya!"
There are instances when sport leaves you unmovable. Where you just don't want to do anything and simply soak in what you've seen or witnessed.
The IPL 2019 final, or the Ben Stokes' miracle at Headingley. Moments where I got inadvertently invested emotionally. This was similar. Difficult to cope with what had just happened.
Why?
Rinku Singh has been likable to many from the start of his IPL career. His story has drawn everyone toward him.
Since he got his first big break in the IPL auction, when KKR snapped him for INR 80 lakh (for the non-Indians looking for conversion into dollars, just know that this is a life-changing amount in India), Rinku Singh, unknowingly, inspired many.
Rinku's father used to work for a gas agency and deliver cylinders, and he and his brothers also helped their father in his work. Such was the state that once Rinku, the third eldest among 5 siblings, was told to clean and mop floors in the coaching center his brother worked.
The story of his and his family's struggle and his rise to the IPL riches, that's heartwarming to everyone. Especially to those who have gone through such a rise, or those who aspire to. Those who have suffered a setback in their personal life – suck it up and move on – or in their profession – dust yourself off and get back up.
***
What is a common factor in players like Jadeja, Shardul, Tewatia, and Rinku Singh is that none of them are seen as "talented" cricketers. And they are not. Essays are not being written on their batting technique or their bowling action. You may call KL Rahul's batting stance a sexy one, or Kuldeep Yadav's drift on the ball beautiful.
But what these cricketers possess is an inimitable and admirable attitude. Attitude is the word.
What they do is they make you go WOW. Not just because of what they do on the field, but mainly, at least for me, because they, despite being much less talented and less gifted than those standing on the same field as them, are the ones standing out and above their competitors. Whenever they put up a performance of note, it is their story that would overwhelm you. That makes you feel more inspired. Makes you feel a bit better about yourself, and life.
Rinku Singh's heroics in those 5 balls wasn't only about winning the game. That was a minuscule part of the bigger draw. It was about winning in life. About incredibly defying the large odds life had thrown at him. It was about a victory for us, too, watching it.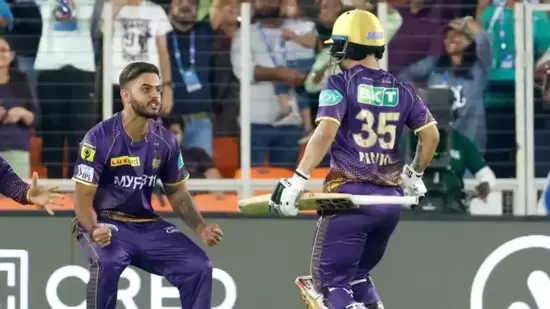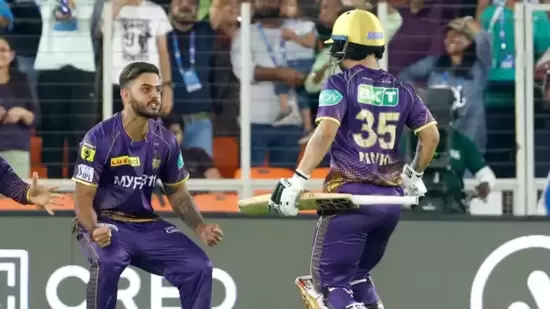 Rinku Singh has the purest heart, says Nitish Rana:
𝗗𝗲𝘁𝗲𝗿𝗺𝗶𝗻𝗮𝘁𝗶𝗼𝗻, 𝗘𝘅𝗰𝗲𝗹𝗹𝗲𝗻𝗰𝗲, 𝗖𝗹𝗮𝘀𝘀: All captured in a moment to savour 🙌

Seek your Monday Motivation from this conversation ft. man of the moment @rinkusingh235 & @NitishRana_27 👏👏 – By @Moulinparikh

Full Interview🔽 #TATAIPLhttps://t.co/X0FyKmIjAD pic.twitter.com/FtVgYQJQ5H

— IndianPremierLeague (@IPL) April 10, 2023