Indian batting legend Sachin Tendulkar hailed Carlos Alcaraz after he defeated Novak Djokovic in the Wimbledon final on Sunday. Alcaraz scripted history as he broke Djokovic's 34-match winning streak at Wimbledon by beating him 1-6, 7-6(6), 6-1, 3-6, 6-4 in a thrilling contest.
Though, Alcaraz started off on a poor note but he made a great comeback and surged down the stretch to end Novak's streak and claim his first championship at the All England Club and second Grand Slam trophy overall.
The first man not named Roger Federer, Rafael Nadal, Novak Djokovic or Andy Murray to win the #Wimbledon Gentlemen's Singles since 2002.@CarlosAlcaraz 🆕 pic.twitter.com/RAzrGluV2q

— Wimbledon (@Wimbledon) July 16, 2023
Djokovic looked comfortable and not at all bothered in the first set as he comfortably won it 6-1. Alcaraz came back strong in the next two sets as he took the second set in the tiebreak followed by a 6-1. Djokovic made a stunning comeback in the third set but he claimed it 6-3. Alcaraz held his nerve still in the final set and sent the Centre Court crowd into a rapturous cheer by creating history.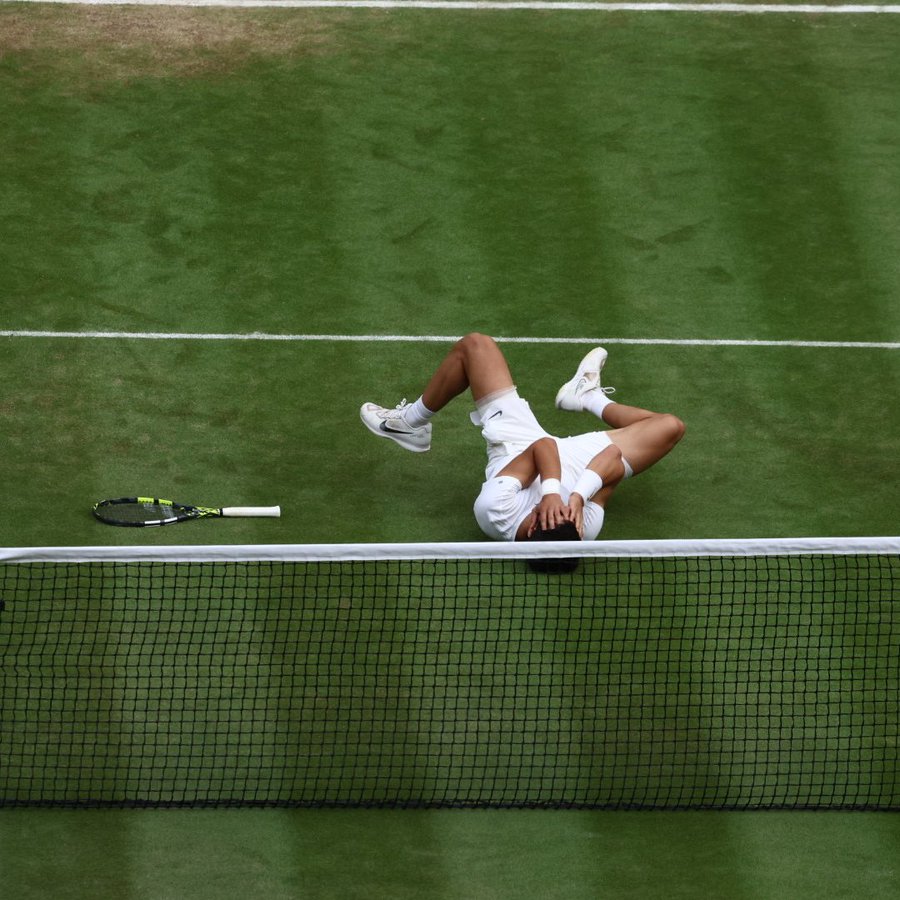 With this win, Alcaraz has joined Rafael Nadal and Manuel Santana as the only Spanish men's champion at the Grass Major. He also became the third-youngest man after Bjorn Borg and Boris Becker to win the title at Sw19.
Sachin Tendulkar Hailed Novak Djokovic And Carlos Alcaraz,
After the marquee contest, Sachin took to his social media and hailed Alcaraz for his stellar knock. He wrote:
"What a fantastic final to watch! Excellent tennis by both these athletes! We're witnessing the rise of the next superstar of tennis. I'll be following Carlos' career for the next 10-12 years just like I did with @Rogerfederer Many congratulations @carlosalcaraz!"
Check out the tweet:
What a fantastic final to watch! Excellent tennis by both these athletes!

We're witnessing the rise of the next superstar of tennis. I'll be following Carlos' career for the next 10-12 years just like I did with @Rogerfederer.

Many congratulations @carlosalcaraz!#Wimbledon pic.twitter.com/ZUDjohh3Li

— Sachin Tendulkar (@sachin_rt) July 16, 2023
In another Tweet, Sachin Tendulkar also hailed Novak Djokovic for putting up a good performance in the final. Djokovic was fighting for an eighth Wimbledon title and a record-leveling 24th Grand Slam title. However, the Spaniards eventually won the game. Hailing him for his 'mental toughness', Sachin wrote:
"Mental toughness = Novak Djokovic
Despite having issues with his body, the mind continues to push him forward. What a player!
#Wimbledon"
Check out the Tweet:
Mental toughness = Novak Djokovic

Despite having issues with his body, the mind continues to push him forward. What a player!#Wimbledon pic.twitter.com/FeHzW92xNE

— Sachin Tendulkar (@sachin_rt) July 16, 2023