Cricketer turned commentator Sanjay Manjrekar is one of the most controversial personalities in the cricket world. He often creates with his statements and remarks for other cricketers. And when we talk about Sanjay Manjrekar and controversies, who can forget the ugly banter that took place between Ravindra Jadeja and Sanjay Manjrekar during the 2019 World Cup?
The incident took place after Manjrekar had called Jadeja a bits and pieces cricketer. The comments didn't go down well neither with the fans nor with Jadeja, who took to his Twitter and slammed Manjrekar by asking him to stop it with verbal diarrhea.
Well, the commentator has once again managed to create a controversy with his statements and he is all over social media, as fans are trolling him mercilessly.
It all started after Sanjay Manjrekar gave his opinion on India's off-spinner R Ashwin. Recently, in an interview, Manjrekar said that he has a problem with those who consider India's Test specialist Ravichandran Ashwin as an all-time great player in Test format. He had said:
"When people start talking about him as being one of the all-time greats of the game then I have a few problems. One basic problem I have with Ashwin is that when you look at SENA countries, Ashwin doesn't have a single five-wicket haul there,"
He had added:
"And the other thing when you talk about him running through sides on Indian pitches that are suited to his kind of bowling is that in the last four years, Jadeja has matched him with wicket-taking abilities. Then, interestingly, in the last series against England, Axar Patel got more wickets than Ashwin on similar pitches. So that is my problem with accepting Ashwin as a real all-time great,"
Well, the statements were welcomed with mixed reactions from the fans. There were many who didn't agree with Sanjay Manjrekar and started slamming his left, right, and center.
Meanwhile, amidst all this, a screenshot of Sanjay Manjrekar's conversation with a fan has been going viral on social media where the commentator has made some insulting remarks for Ravindra Jadeja once again.
A Twitter user named Soorya Narayan shared a few screenshots of his conversation with Sanjay Manjrekar, where the cricketer turned commentator can be seen debating with the Twitter user over his opinion about Ravi Ashwin. In one of the screenshots, Sanjay Manjrekar has insulted Ravindra Jadeja by writing that 'Jadeja doesn't know English so he didn't know the actual meaning of bits and pieces.' He also claimed that 'surely somebody spelt verbal diarrhea for him'
Here, check out the screenshot: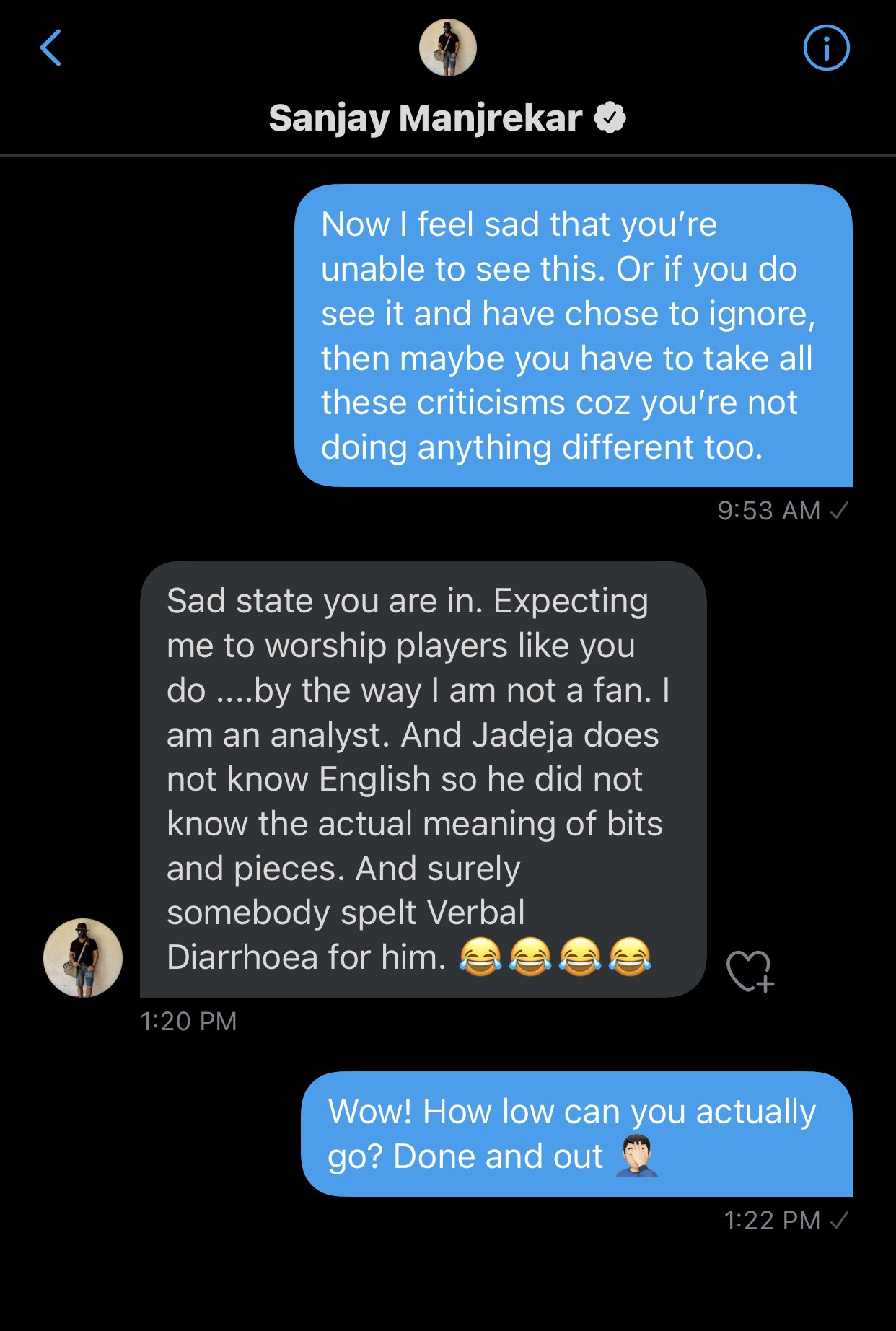 Here, check out the tweet:
I didn't want to share this personal chat in public, even though it's full to shit. But couldn't help, coz ppl need to know this side of this man. @imjadeja would be proud of what he did to prove you wrong. @BCCI is this the kind of man you would want in your com panel in future? pic.twitter.com/AUjX301Foz

— soorya narayanan (@soorya_214) June 7, 2021