Did Mohammed Shami subtly troll the Indian batters, and gave them advice on how to face the Australian spinners on a turning pitch? It seems so, going by his latest social media post.
India suffered an abject defeat in the 3rd Test, in Indore, by the hands of Australia, who not only kept the series alive, but also, and more importantly, qualified for the WTC final with their 9-wicket win in Indore.
The Border-Gavaskar Trophy series now stands at 2-1, which means that India will have to win the 4th Test, in Ahmedabad, to book their berth in the WTC final, and any other result will give an opening to Sri Lanka, who have to defeat New Zealand by 2-0.
Coming to India, their batters were given a harsh reality check, but a much-needed one, as the hosts were bowled out for 109 and 163, with only Cheteshwar Pujara standing up defiantly to the Aussie spinners on a raging turner at the Holkar stadium; the pitch has been rated 'poor' by the ICC. However, the Indian batters also played some rash shots; some failed to judge the lengths properly, making injudicious foot movement decisions.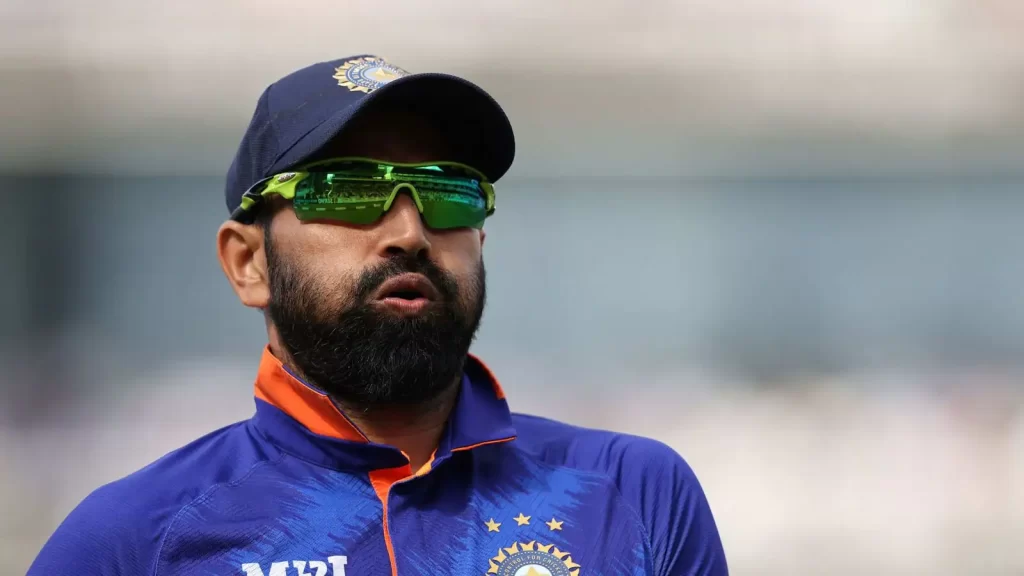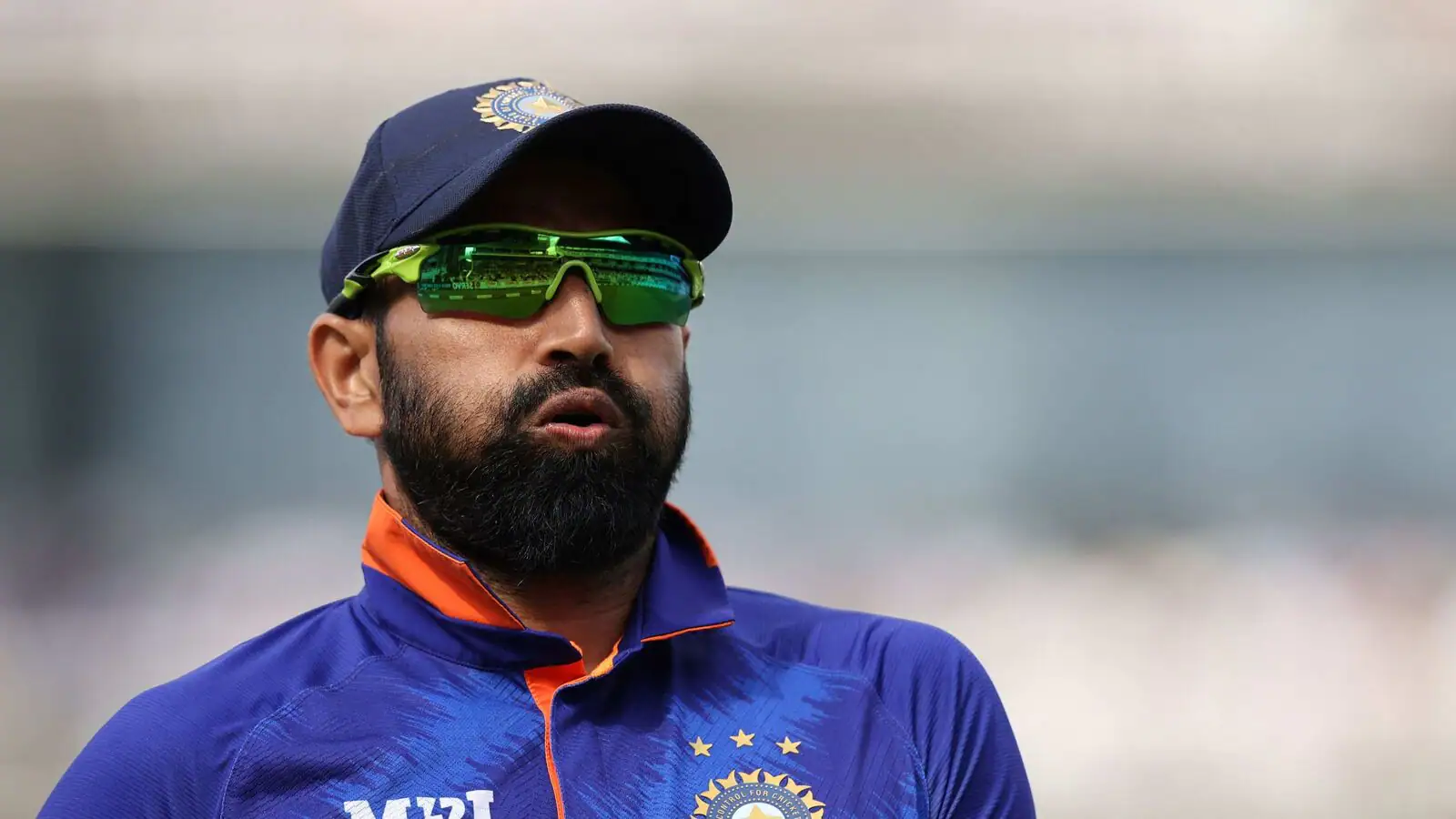 While Pujara batted in his own method, the likes of Shreyas Iyer and Travis Head showed that attacking the spinners was one way to go on such a terrible surface.
This is something that Mohammed Shami also said in his latest social media post. Shami was rested from the Indore Test with Umesh Yadav playing instead of him.
Mohammed Shami posted a picture of himself batting in the nets; he skips down the track, moves his front foot across, and looks to play the ball.
"Never miss an opportunity to step out and charge," Shami captioned his post, which sparked a meme-fest on Twitter, with fans saying that the senior pacer was subtly trolling the batters who threw their weapons to the Aussie spinners at the sight of a difficult pitch in Indore.
Here is Mohammed Shami's post that has gone viral: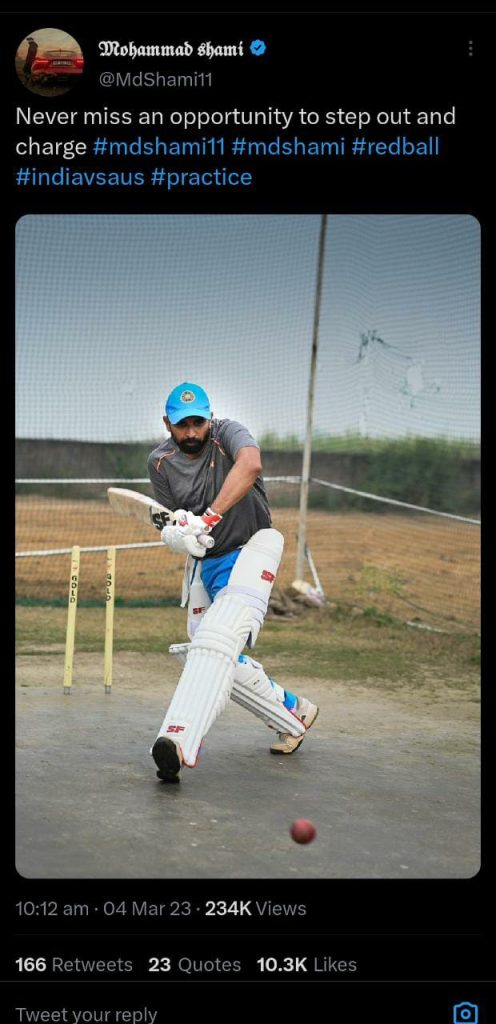 Meanwhile, India captain Rohit Sharma was clear in rueing the batting malfunctions of the Indian team, especially in the first innings as Australia later took an 88-run first innings lead, which proved to be suffiecient for them to get a low target of 76.
"When you lose a Test match, there are a lot of things which didn't go our way, to start with we didn't bat well in the 1st innings, we understand how important it is to put runs on the board in the 1st innings and when they got 80-90 runs lead, we had to produce another innings with the bat but we were not able to do that again. We got just 75 on the board, if we batted well in the 1st innings, things would have been slightly different," Rohit Sharma said in the post-match press conference.
Sharma demanded the batters need to be braver.
"We need to understand, no matter what the pitches are, you gotta come out and do the job. We need to keep it simple and follow the plan. When you are playing on challenging pitches, we need to be brave. We allowed their bowlers to bowl on one particular spot. Not taking any credit away from their bowlers. especially Nathan Lyon, he kept challenging us hitting the right lengths. When the bowler is trying to do that, gotta be a little brave which I thought we were not," the skipper added.
The fourth Test in Ahmedabad will start on 9 March.