Steve Smith and the Australian cricket team survived a scare when visitors were still 85 runs short of England's first-innings mark on the second evening of the ongoing fifth Ashes 2023 Test in London. Smith had almost walked back to the pavilion before the third umpire Nitin Menon saved him. Later, riding on his stellar knock of 71 runs, the Australian side secured a 12-run lead.
The controversy:
A controversy erupted in the final Ashes 2023 Test on Friday when Steve Smith, who was batting at 42 at the time, took on a throw from substitute George Ealham. However, England keeper-batter Jonny Bairstow, dislodged one of the bails with his gloves before the ball was in his hand.
By the time, Jonny took out the other bail, Smith was back in his crease. Controversy emerged as there was a debate on whether Jonny had dislodged the stumps just before collecting the ball.
MCC issued a clarification on the contentious non-dismissal of Smith which has sparked a huge debate in social media, with several experts and former cricketers giving their takes on the controversial incident.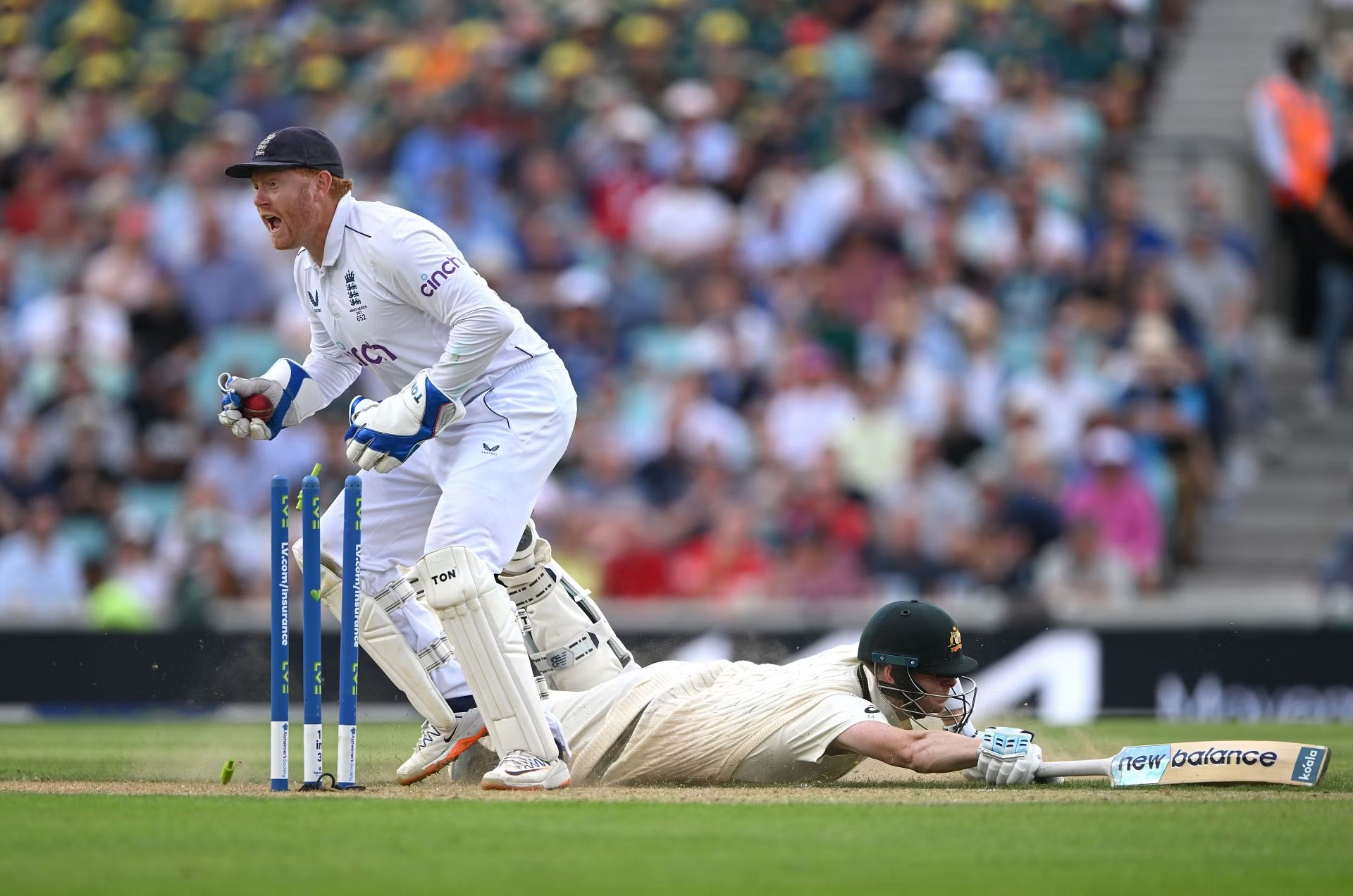 Stuart Broad Revealed His Conversation With Kumar Dharmasena
Meanwhile, England pacer Stuart Broad has added a fresh perspective to the talk after revealing his chat with the on-field umpire and Menon's colleague, Kumar Dharmasena. Broad said that he had no qualms about Steve Smith getting the benefit of the doubt. He said:
"I honestly don't know the rules. I think there was enough grey area to give that not out. It looked like benefit of the doubt sort of stuff, first angle I saw I thought out, and then the side angle it looked like the bails probably dislodged."
He added: "Kumar said to me if it was zing bails it would been given out, I don't really understand the reasoning why,"
According to the cricketing rules, Law 29.1 states: "The wicket is broken when at least one bail is completely removed from the top of the stumps, or one or more stumps is removed from the ground."
Steve Smith On The Controversy
Steve Smith, who had actually started to walk off after seeing the first replay, also shared his thoughts on the incident. Smith said that when he looked at the replay for the second time, he felt that Jonny Bairstow may have knocked the bail before the ball was in his hand. He said:
"I saw the initial replay and saw the bail come up, and when I looked at it the second time looked like Jonny might have knocked the bail before the ball had come. Looked pretty close at that stage, if the ball had hit at the initial stage when the bail came then think I was well out of my ground."
He added:
"I know now that he's very quick. The next one we hit out there when it was a similar push for two, I was like, gee, this guy's tearing around the boundary, he's coming at pace. Had I known that previously I might have just stayed there for the single."