Former Indian head coach Ravi Shastri has reckoned that the Indian cricket team will have to wait for another three World Cups to have a shot at the title if they are not able to win it this time. The Indian cricket team has been in stellar form in the ongoing tournament, having won all the games they have played so far, cementing their place in the World Cup semi-finals.
Ravi Shastri On India's Chances Of Winning The World Cup
Speaking to Club Prairie Fire podcast, Ravi Shastri said that a majority of the squad members are at their peak form, providing team India the best chance to end their ICC title drought. Shastri said:
"This country is going mad. The last time they won it was 12 years ago. They have an opportunity to do it again. The way they are playing, this is probably their best chance,"
"If they miss out this time, they would probably have to wait another three World Cups for even thinking of trying to win it. The pool of players are such the 7-8 players are at their peak."
He added: "This could well be their last World Cup. The way they are playing, given the conditions, they have got the team to win it."
Ravi Shastri also hailed Rohit Sharma for his 'outstanding captaincy', crediting the same for the stellar show from the bowlers. Praising Rohit for his brilliant captaincy, Shastri said:
"It is the best attack that I have seen in 50 years, ever since white-ball cricket started. And its all because of the variety. You have Bumrah who is a freak, then you have Shami who is a master when it comes to seam position and then Siraj, who is feisty, can get under your skin and is a slippery character. You also have Jadeja, who is at the peak of his prowess and Kuldeep, who has improved leaps and bounds. So when you look at that attack, it has every box ticked for every condition. They have the skillset and experience to adapt to every conditions and that is where they have improved since the last World Cup,"
Adam Gilchrist and Michael Vaughan were also part of the podcast.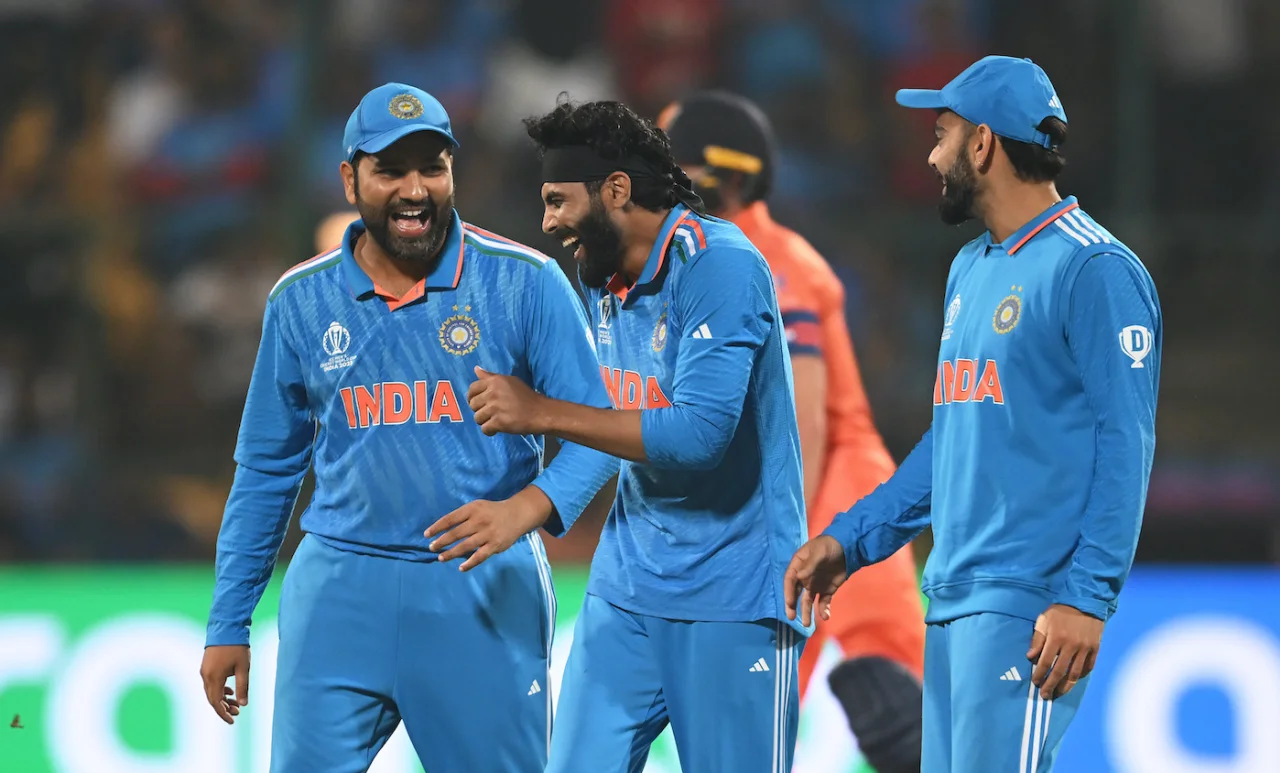 Shastri Credited Rohit Sharma for India's dominating performance
Further, Ravi Shastri was questioned by Adam Gilchrist on who controls this bowling attack. Responding to this, while Shastri highlighted the experience of the bowlers, he credited Rohit Sharma's captaincy more. Explaining his point further, Shastri praised Rohit for the way he rotates his bowlers, not allowing the batters to settle down. He said:
"I think it is a combination of both. These guys have the experience but Rohit will take no nonsense. If they try to be flashy, Rohit will be at their ears straightaway. So you know where all the discipline comes from. He has marshalled his resources extremely well. He has been an outstanding captain in this World Cup. The way he never allows two spinners to bowl in tandem at once. There is always a mix of spin and pace for a short spell so that the batter doesn't settle down or plan or target a certain bowler. He has been extremely proactive. He is not someone who is instinctive or excitable but he is someone who has a Plan A, B and C in his pockets and is calm throughout his approach,"
Notably, the Indian bowlers have been in some sensational form off-lately, dominating over every team in the ongoing tournament. India has picked 75 wickets in eight matches in this World Cup, the second-most so far. In their last four games, India bundled their opponents while defending a total – South Africa for 83 runs, Sri Lanka for 55 runs, England for 129 runs, and Netherlands for 160 runs.