The Indian cricket captain Virat Kohli and football skipper Sunil Chhetri are known to be good friends and get along really well as and when they meet. In 2019, ahead of the IPL 12 season-opener, Chhetri had even paid a visit to the Kohli-led Royal Challengers Bangalore camp. Chhetri was coming fresh from his Indian Super League (ISL) title win with the Bengaluru FC back then.
Not just this, both the superstars during the Covid-19 lockdown in 2020, Chhetri had hosted joined for a memorable Instagram live session, where they discussed several things from their life and their bromance surely left many pleasantly surprised.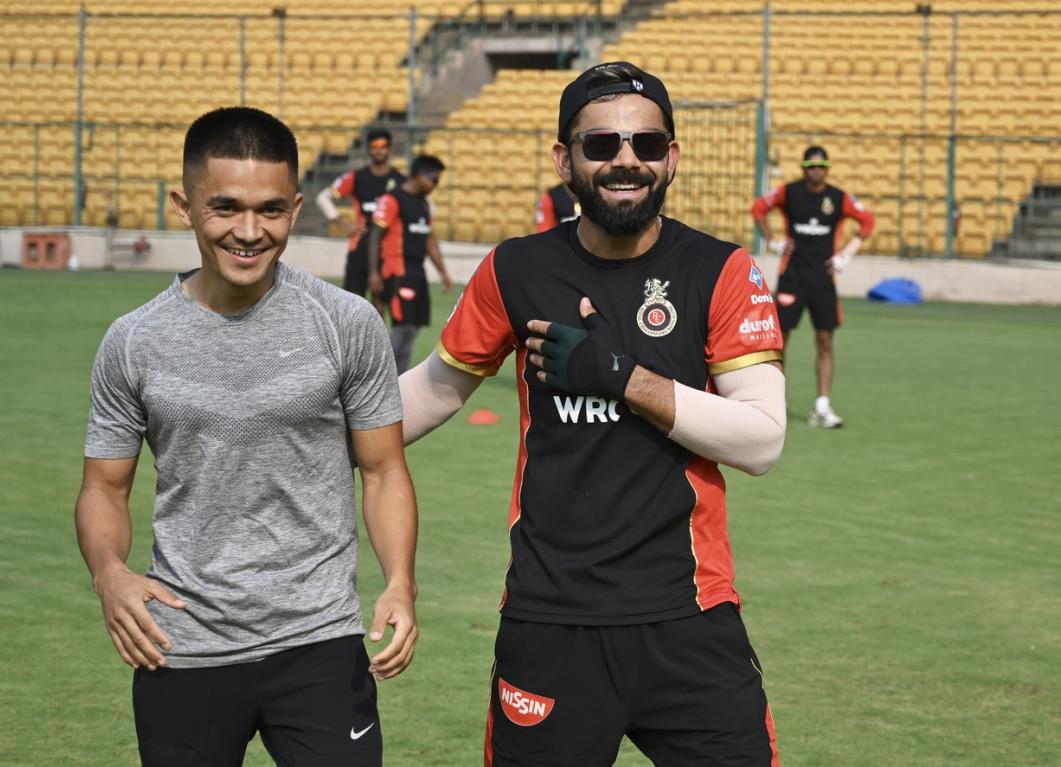 On Tuesday, as Sunil Chhetri turned 37, the Indian skipper was among the early wishers for him. Virat took to his Twitter and shared an adorable message for Chhetri. In his tweet, Virat wished Chhetri and revealed what connects the two fitness freaks majorly, which will surely leave many shellshocked.
Fans would be expecting that the thing that connects them both would be their workout regime or their respective sports, however, what connects the two of the biggest sports personalities of the country is Delhi's street food. Yes, you read that right. Virat wrote:
"Happy Birthday skip. I hope you have a blessed day like every other day in your life & I always wish you the best. I'm grateful for our friendship that's been formed very organically and contrary to belief, we've majorly connected on Delhi street food memories."
Here, check out the Tweet:
Happy Birthday skip. I hope you have a blessed day like every other day in your life & I always wish you the best. I'm grateful for our friendship that's been formed very organically and contrary to belief, we've majorly connected on Delhi street food memories. ? @chetrisunil11

— Virat Kohli (@imVkohli) August 2, 2021
The tweet soon caught the attention of Sunil Chettri, who was quick to come up with a reply to Virat. In his reply, Sunil expressed that he is very fond of Virat. He also asked Virat to fix a date and visit Delhi with him. He wrote:
"Champ, thank you so much! You're someone I am very fond of and someone in whom I have a friend for life. Ab sirf date fix karte hai, aur chalo Delhi, for one full day of wiping clean every food joint on the street!"
Here, check out the reply:
Champ, thank you so much! You're someone I am very fond of and someone in whom I have a friend for life. Ab sirf date fix karte hai, aur chalo Delhi, for one full day of wiping clean every food joint on the street! ?

— Sunil Chhetri (@chetrisunil11) August 3, 2021