No, it weren't two different surfaces. In fact, even all Australian batters but Usman Khawaja looked as struggling as the Indian batters did. Only for that did the Australian batters didn't play as many extravagant shots like the Indians did.
And not for the first time in the series, Usman Khawaja kept more patience and applied themselves better than the home batsmen, which has now put them in a situation from where they can even go on to win this Test match in Indore, which is the third of the ongoing Border-Gavaskar Trophy 2023.
Throughout his career, Khawaja has to time and again prove his credentials when coming to the subcontinent and was considered by many as a home specialist, a tag which should get attested to the other senior Australian opener, David Warner.
Since last year, though, Usman Khawaja, 36, has shut all those doubters and detractors with his bat as Australia have toured Pakistan, Sri Lanka last year and India this year with the left-hander being their reliable batter.
In 14 innings on these three tours, Khawaja scored 786 runs at an average of 71 with 5 fifties and 2 hundreds. No Australian batsman has scored more runs or has a better average than Khawaja in these tours. In fact, none of his teammates scored over 500 runs or averaged over 50; this shows how much Khawaja has simply been ahead of his teammates in Asia recently.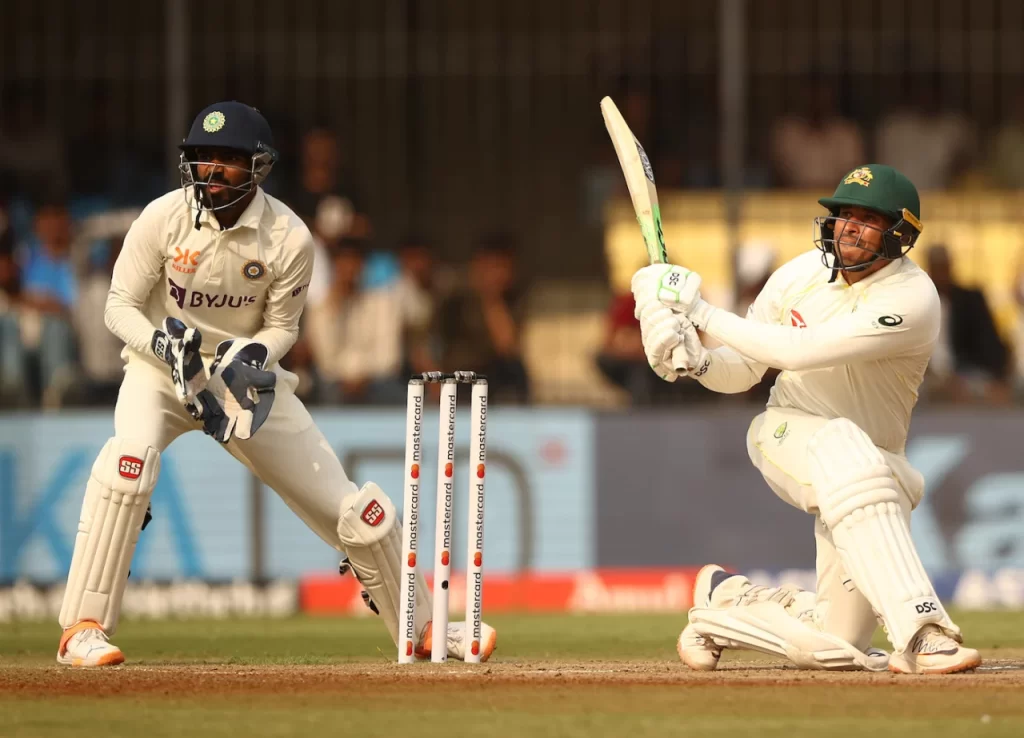 Perhaps his toughest test then came today in Indore. On a bunsen burner, he saw his spinners rout India for only 109. Then came his batting, and Jadeja dismissed Travis Head, had Labuschagne chopping on for a duck, but he survived because of a no-ball.
Then began the partnership which put Australia ahead in the game: a stand of 96 (198) which brought Australia close to India's first innings total, and they ended the day with a lead of 47 runs and 6 wickets in hands.
While Labuschagne rode his luck – India didn't review an lbw shout off Ashwin which was later revealed to have been dismissing him, an edge taking a deflection off the keeper and flying above the slip – Khawaja barely gave a full chance.
With lack of runs on the scoreboard, Rohit Sharma had to keep a few men in the deep, and both the batters made great use of that in-out field, comfortably ticking away the singles while Khawaja was severe in putting away the bad balls.
Indian spinners also erred in their lines and lengths to Khawaja. Jadeja, in particular, looked desperate as he even attempted a few yorkers which the batter dug out, while Ashwin regularly strayed on the leg-side.
The regular rotation of strike from both the batters was key to their partnership as it didn't allow the Indian spinners to bowl six straight balls to one batter.
This was one of the best half-centuries Usman Khawaja has scored in his Test career. He was astute in his judgment of length and was swift in going on the backfoot and playing with a straight bat. His defence was rock solid when blocking with front foot out and bat ahead of it.
And of course, Khawaja made audacious, but good use of the reverse sweep and sweep. However, after Jadeja piled pressure with dots, he played one sweep in frustration and holed out in the deep.
Khawaja's tackling of the spinners on this surface with a vertical bat and his backfoot play mirrored how Virat Kohli batted earlier in the day (minus the sweeps), looking class apart from his teammates.
With all this, Usman Khawaja has dragged Australia back in the series.
Speaking after the play, he said: "I am not sure to be honest (what I did differently). I executed my plans, tried to score when I saw a scoring opportunity and respected the good ball. It is not rocket science, it was good to get a partnership with Marnus, felt like the start was the toughest time to bat with the new ball being inconsistent but it was nice to get the partnership.
"It is not an easy wicket out there. It is hard to say (if the pitch changed), it was spinning in the morning and spinning in the afternoon, it is a spin friendly wicket. We will know more tomorrow but I don't expect it to get any better. I sweep on length most times, line sometimes when the offspinner goes down leg and I used the sweep more intermittently. I did the same thing last week too and it is good to have in your arsenal. The plan hasn't changed but it has been dictated by the pitch and how the bowlers are bowling at you."