The stage was set at the iconic Wankhede Stadium in Mumbai, where cricketing giants India and Sri Lanka locked horns in a thrilling encounter during the ICC Cricket World Cup 2023. The atmosphere was electric, with fans from both nations filling the stadium with anticipation and excitement.
India entered this crucial match with an impeccable record, having won all six of their previous games in the tournament. Their scintillating performance had already stamped their authority on the competition, making them one of the favorites to clinch the title.
A victory in this match would not only solidify their position in the semi-finals but also send a resounding message to their competitors. The Indian team, led by Captain Rohit Sharma, exuded confidence as they took the field.
Sri Lanka captain, Kusal Mendis, won the toss and decided to field first, hoping to capitalize on the early morning conditions and put pressure on the Indian batting lineup. As the game began, all eyes were on the opening duo of Captain Rohit Sharma and Shubman Gill.
The very first ball of the innings saw a boundary, as Rohit Sharma, in his characteristic style, dispatched it to the ropes. The crowd roared in approval, sensing a thrilling contest on the horizon.
However, Sri Lanka was determined not to let India dictate the terms of the game. Pacer Dilshan Madushanka delivered a perfect off-cutter that pierced Rohit Sharma's defense and sent the stumps cartwheeling. It was a stunning dismissal and an early setback for India.
Rohit Sharma, known for his aggressive style of play, had been in sensational form throughout the World Cup 2023, and his wicket was a significant breakthrough for Sri Lanka. As Rohit walked back to the pavilion, there was a poignant moment when his wife, Ritika Sajdeh, couldn't hide her emotions, with tears in her eyes, witnessing her husband's departure at his home ground.
With the early wicket, the match had taken an intriguing turn. Sri Lanka had managed to strike a blow against the formidable Indian lineup, but the game was far from over. The Indian team had a wealth of talent waiting in the wings, and it was now up to the remaining batsmen to rise to the occasion.
As the game continued, the battle between the bat and the ball promised an enthralling contest. Cricket enthusiasts around the world were glued to their screens, eagerly anticipating every delivery and shot.
[Video] Ritika Sajdeh Had Tears In Her Eyes When Rohit Sharma Got Out Against SL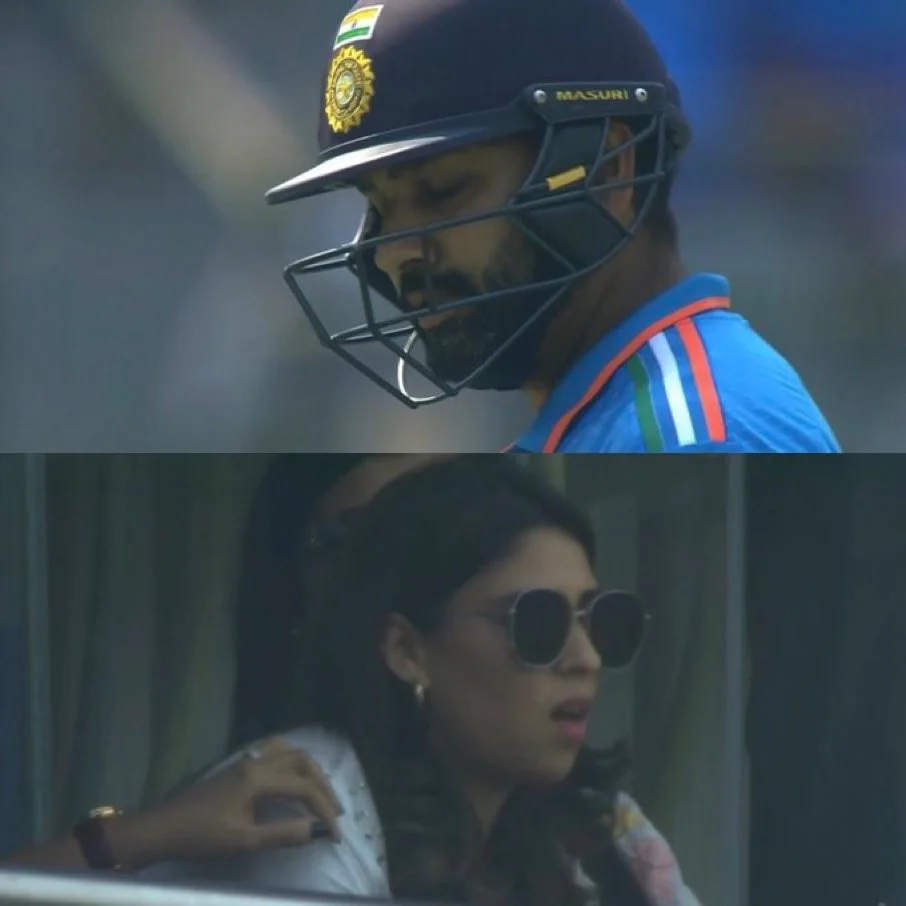 View this post on Instagram