Virat Kohli's lean patch in Test cricket continues as the former India captain got out for the score of 24 runs in India's first innings in the ongoing Dhaka Test against Bangladesh.
In the first Test in Chattogram, Kohli managed scores of 1 and 19*. And before that, he didn't reach a fifty in any of the 5 Test innings earlier this year – vs Sri Lanka and England – and only at the start of the year, he hit a terrific 79 in Cape Town, but since then, he hasn't had satisfactory outputs in Test cricket, making his Test average in 2022 a mediocre 29, following up from the average of 28 in 2021 in 11 Tests.
With Pujara and Rahane both being dropped from the Test side earlier this year – although Pujara has made a comeback – are the walls closing in on Kohli too in the longest format?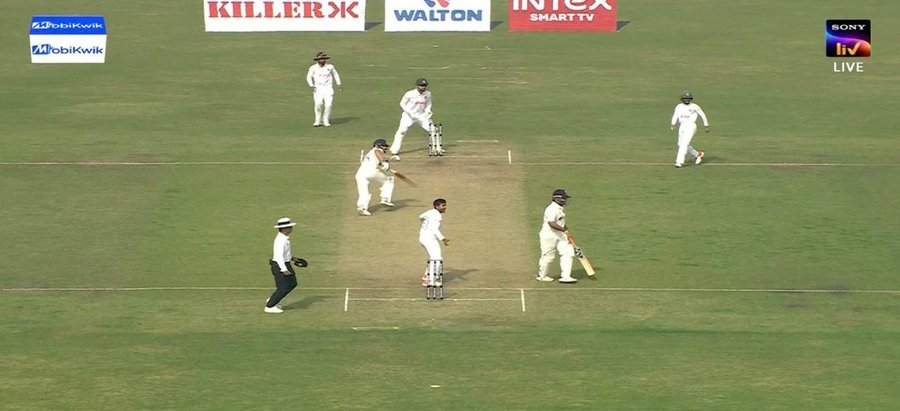 Virat Kohli gives a serious stare to Rishabh Pant after being involved in a confusion
The incident happened on the last ball before lunch on Day 2, when Kohli was at strike facing Mehidy Miraz. Kohli played a front-foot flick straight to the mid-on fielder and set off for a quick single.
Rishabh Pant, however, was unmoved and shouted "no" later on by the time Kohli was almost halfway down the pitch. Kohli applied the brakes, turned around and sprinted again, eventually putting in a dive and got saved as it was not a direct hit.
Kohli turned his face around to Pant and gave him a serious stare; the 25-year-old Pant, knowing that he almost cost India's Kohli's wicket, barely gave a reaction.
This video and images of his incident amused netizens. Here are the reactions of fans:
That Stare from Virat Kohli..!
Damn..#INDvsBAN #ViratKohli #RishabhPant pic.twitter.com/LxGsGHZ8wl

— Dinne Sudhakar (@Sudhakar0718) December 23, 2022
The Stare Of King Virat Kohli 🦁 after Saved From RunOut by Rishab Pant@imVkohli @RishabhPant17 #INDvBAN #BANvsIND #IPL2023 pic.twitter.com/XAz9TOM7e4

— Verot Choli (@VerotCholi) December 23, 2022
Reaction of Virat Kohli and Rishabh Pant after the confusion on the single. pic.twitter.com/4hIlIlWPdj

— Mufaddal Vohra (@mufaddal_vohra) December 23, 2022
Virat Kohli survived a run-out chance on the last ball before lunch 😲

The face says it all! 😅#INDvBAN pic.twitter.com/bXExPcE3lw

— SportsBash (@thesportsbash) December 23, 2022
Pant itna aalsi hai ki kohli bhi usko nhi bhaga pata 😂😂 pic.twitter.com/h1iKf0gBJt

— Aditya (@aditya__here) December 23, 2022
This look of kohli is enough to make u shiver . #kohli #ViratKohli #INDvBAN pic.twitter.com/4q5ntQhh30

— Aditya (@aditya__here) December 23, 2022
Rishabh Pant has once again saved the Indian batting innings after the top-order malfunction. In reply to Bangladesh's 227, India slipped to 94/4 and stared at a first innings deficit. But Pant, staying true to his nature and not letting the tough pitch get into his head, played his trademark counter-attacking innings, and got good support from Shreyas Iyer.
At the time of writing, India are 189/4, with the partnership between Pant and Iyer being 96* (104). Pant (68* off 77) is batting at a strike rate of 88 and Iyer (40 off 44) at 90.