Virat Kohli endured a torrid tour of England, which ended in the worst possible – or even as expected – way as one could have imagined: a few flashy, elegant drives before nicking an outside off-stump delivery and failing for a cheap score.
Kohli's scores on the recently-concluded England tour read: 11 and 20 in Edgbaston Test, 1 and 11 in T20Is, and 16 and 17 in ODIs – total of 76 runs in 6 innings, average of 12.66.
Kohli had, in fact, looked good in his last three knocks, the eyes were blazing, the confidence was exuberant, the crowd was lively, and the fans on social media were on their way to raise expectations of a big, form-turning innings that will resurge his batting that has been largely let down in recent times. But, all to no avail as would eventually get out for a low score.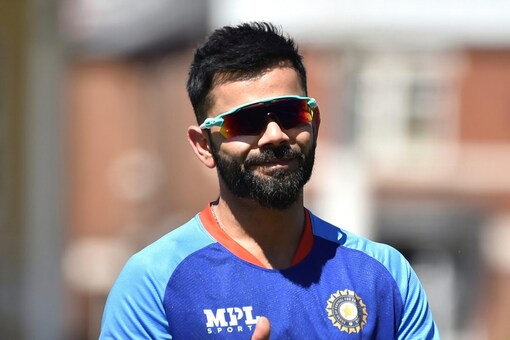 While his on-field dismal show had left fans disappointed, Kohli's consistent advertisement and brand promotions on his social media handles have left the fans furious.
In fact, not even 24 hours had passed since the completion of the third ODI and another of his low score, when Kohli took to Twitter to endorse a brand and put out an advertisement.
Here, check out Virat Kohli's latest ad promotion:
#WeAreWellman and we don't let the pressures of the game change us, we change the game instead.
Visit https://t.co/dgAZldfBkQ to claim your #Wellman at a special price from me!
Use Coupon Code "NONSTOP"#vitabiotics #wellmanvitamins #ad pic.twitter.com/daO5qddOut

— Virat Kohli (@imVkohli) July 18, 2022
Fans were upset, angry, and enraged and let their feeling known in the comment section of this tweet. Twitterati expressed their furore over Kohli's relentless ad campaign on social media and trolled him amid his depressing show with the bat.
Here are some of the tweets trolling Kohli, the "Salesman", as one fan put out:
pic.twitter.com/pAoD1O4bMg

— Cheeku (@CNXVIRAT18) July 18, 2022
तू सिर्फ़ ऐड कर https://t.co/3qsPzcscd6

— Ajay । अजय । (@ADU_views) July 18, 2022
Ads se bhi rest le bhai

— Ravi (@kukreja_ravii) July 18, 2022
Kya fayda itne vitamins ka jab run hi na bana pao Khelo prabhu khelo.

— 𝘼𝙧𝙘𝙝𝙖𝙣𝙖 (@Archie_says__) July 18, 2022
salesman

— Bitchard (@bitchard_1) July 18, 2022
@babarazam258 told him – #StayStrong

He went ahead and signed a vitamin supplement deal https://t.co/ns40eeMamO

— #StayStrong Gajala – CEO, Sonic Solutions (@Hramblings) July 18, 2022
Bro, can you use same coupon code in your next game to start your score from 45 runs instead of 0. https://t.co/Wc4OXpBYAy

— Durgesh Tiwari (@durgesh510) July 18, 2022
On the contrary concentrate on playing Cricket.

Use Coupon Code: "RANJI TROPHY" https://t.co/hRHqz4QGWP

— संदीप सिंह चंदेल (@S_S_CHANDEL) July 18, 2022
Ads se bhi rest lelo https://t.co/BzITxJazQk

— 𝘬𝘳𝓲𝓽𝓲𝘬ꪖ​ 𝘴ꫝꪖ​𝘳ꪑꪖ​ (@IamKritika__) July 18, 2022
The reason this guy is still selected? Commercial reasons. https://t.co/IJfK1Q7XgJ

— Interested spectator (@Interestedspec3) July 18, 2022
Somehow I think he has realised that there is no more cricket left in him … so he decided that watever money he can make by selling stuff on Twitter , he will do it https://t.co/enem1lic8S

— Naveen Kashmiri Hindu (@nvnraina) July 18, 2022
Meanwhile Fans to VK : https://t.co/w6Nar7Cmhr pic.twitter.com/xzyAe1idIc

— Tiku M (@TikuM15) July 18, 2022
Caption and timing of this ad is just superb 😀 https://t.co/MXdXAttPst

— Mudit Jain, IRS (@MuditJainIRS) July 18, 2022
Fans have also been left annoyed and questioning the regular rest that Kohli has been taking. After the IPL 2022, Kohli was rested from the T20I series against South Africa and Ireland.
And now, after the England tour, Kohli had asked for rest from the entire West Indies tour later this month. He is also unlikely to tour Zimbabwe after that and is expected to return straight at the Asia Cup after what will be a rest of more than one month.