Virat Kohli's Super-Fan Came With A Hilarious Poster In Nagpur: A hilarious yet epic message written on a placard by an Indian spectator enjoying the game from the stands at the VCA Stadium during the ongoing first Test between India and Australia in the ongoing Border-Gavaskar Trophy has left everyone in splits.
India and Australia are currently facing off against each other in the opening Test of the highly anticipated Test series. On Day 2, the action was intense, with both sides providing a nail-biting and roller-coaster ride with both bat and ball.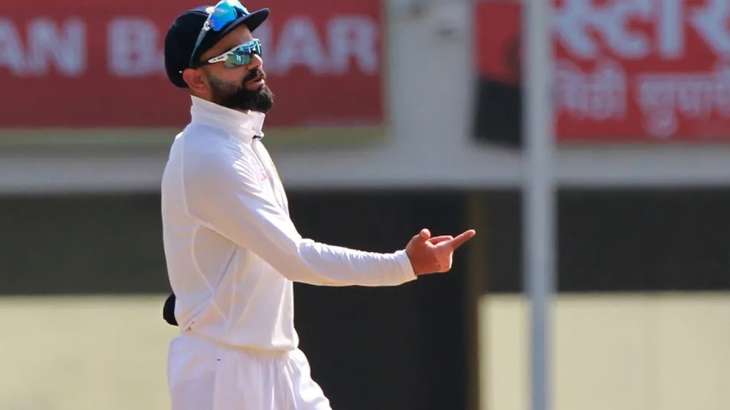 Amidst the high-stakes game, one particular moment caught everyone's attention, as an Indian spectator was seen waving a placard from the stands, with a message that read, "I love Virat Kohli more than my wife." The message was not only epic and hilarious, but what made the moment even more interesting was that the wife of the fan was standing right beside him, cheering for Team India with equal fervor.
The incident was captured on camera and quickly spread on social media platforms. Prominent Australian cricket journalist Adam Collins couldn't resist from sharing the picture of the couple and the placard on Twitter, where it went viral, leaving everyone in splits.
And yes, that's his wife next to him. #INDvAUS #BGT2023 pic.twitter.com/FHv8GlA1uS

— Adam Collins (@collinsadam) February 10, 2023
This is not the first time fans have expressed their love and support for the Indian cricket team through placards. Earlier in January 2023, another fan had made headlines after he displayed a placard dedicated to Virat Kohli, celebrating his 74th century on the fan's wedding day. This shows how passionate the Indian cricket fans are about their team, and how they go to great lengths to express their love and support for their favorite players.
The ongoing India vs Australia Test series is one of the most eagerly awaited events in the cricket world, and fans from both nations are going all out to support their teams. The series is also important from a historical perspective, as it marks the return of cricket in India after a long and arduous wait, due to the COVID-19 pandemic. The first Test is being played in Nagpur, and both teams have put in a strong performance so far, making it a thrilling match to watch.
In conclusion, the incident of the fan expressing his love for Virat Kohli more than his wife, while his wife stood beside him, cheering for the team, is a testament to the passion and love that Indian cricket fans have for their team. It is moments like these that make the sport more special and memorable for everyone involved.
"I asked for the 71st century but he scored 74th on my special day" ❤️❤️❤️@imVkohli @AnushkaSharma @StayWrogn pic.twitter.com/zHopZmzKdH

— Aman Agarwal (@Aman2010Aman) January 16, 2023