Virender Sehwag Shared A Hilarious Tweet After His Prediction On Virat Kohli Went Wrong: Virat Kohli's slump and a dismal 2022 England tour continued as he was dismissed for only 16 runs off 25 balls in the second ODI, at Lord's, on Thursday.
The former India captain hasn't gone past 20 on this tour so far: he managed scores of 11 and 20 in the Edgbaston Test; 1 and 11 in two T20I matches; and now a score of 16 in the second ODI has further sparked debate over his place in the eleven, and his shocking form wherein, forget about the century drought, Kohli is now struggling to even get a significant score in testing conditions.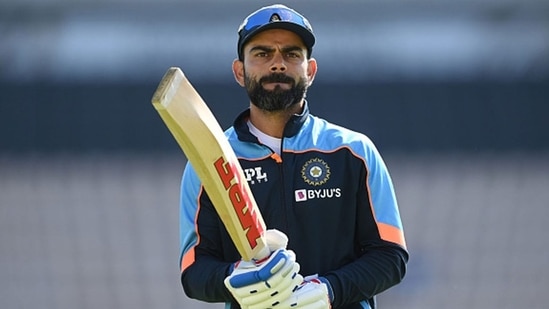 Did Virender Sehwag jinxed Virat Kohli's innings?
Although tweets during a live game have no effect on the batsman playing in the middle, fans do believe so much in superstitions such as jinxing. One such tweet by former India batsman Virender Sehwag on Virat Kohli went viral during the second ODI.
Kohli had started his knock on a positive note – a dominating one indeed. After facing 8 dot ball in a row, Kohli asserted himself on England's best bowler on the day, Reece Topley, crafting the left-arm seamer for three boundaries – a couple of sumptuous drives down the ground followed by an elegant cover drive wide of mid-off to get his fans excited – in a space of four balls.
Among many fans who were now getting optimistic about a big knock from their 'King' Kohli – some even manifesting the 71st century – one was Virender Sehwag who took to Twitter to suggest that this day was looking good for Kohli.
"Today looks like Kohli's day," Sehwag tweeted.
Today looks like Kohli's day. #IndvEng

— Virender Sehwag (@virendersehwag) July 14, 2022
However, no sooner had Sehwag tweeted this that Kohli got out – in his typical familiar fashion: nicking a delivery well outside the off-stump, which many experts said Kohli should have played it on the backfoot or either could have left it alone given the ball was swinging and seaming considerably.
While Sehwag didn't delete his tweet, he added "Wasn't" below his previous tweet on Kohli.
Wasn't

— Virender Sehwag (@virendersehwag) July 14, 2022
Fans came in numbers to troll Sehwag for his wrong prediction and Kohli for another cheap outing with the bat.
Here are some of the reactions to Sehwag's tweets:
You jinxed

— Virushka_18 (@Virushka_1812) July 14, 2022
Same feeling bhaihttps://t.co/Htp0JfiC1s

— Rohit.Bishnoi (@The_kafir_boy_2) July 14, 2022
Virat Kohli since 23rd November, 2019 pic.twitter.com/mkPtRGTajh

— Satyam Singh (@MyFreakyTweets) July 14, 2022
— Avinash Parmar (@avieeee__) July 14, 2022
Its Dollar Day today hitting all Highs Kohli is like Rupee going down down down

— रामबाण (@UltimatDeshBhkt) July 14, 2022
India, who won the first ODI by 10 wickets, lost the second ODI by a big margin of 100 runs. The series-decider is going to be played on Sunday at Old Trafford, Manchester.