WATCH: Top 10 Best Catches in Cricket, Updated Till 2022: Catches win matches: yes – it is a cliche, but there are few adages more correct than this in the game of cricket. A superb fielding effort is something that always lifts up the bowling team; catches have the impact of changing the momentum of the game.
The game of cricket is so old that there have been numerous brilliant catches. In the past couple of decades, however, the fielding standards have shot to unprecedented levels, with the boundary catches, one-handed stunners, and relay catches at the boundary line, are now being seen more frequently than ever before in this sport.
Here are the top 10 catches in cricket history:
Trent Boult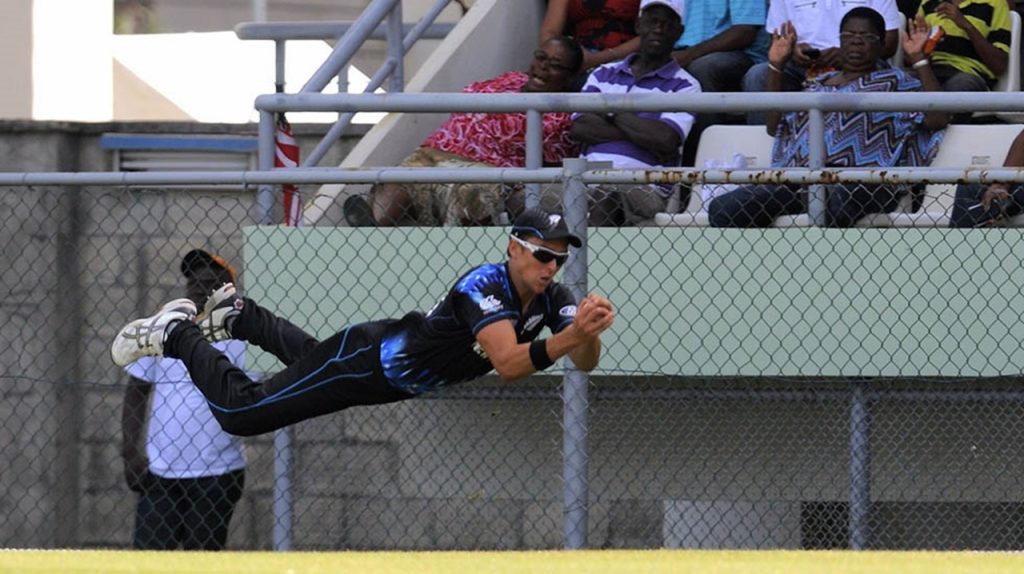 For a fast bowler, Trent Boult is unusually an excellent fielder and has taken a few terrific catches; his reactions on those also suggest he couldn't believe he'd pulled if off.
One such example is this catch he took of Ajinkya Rahane in a Test match in New Zealand. Rahane chipped the ball in the air and the ball was going to fall in no man's land on the off-side until Boult came out of nowhere to take the diving catch with only his right hand. Even Boult seemed to be impressed with his own catch.
Ravindra Jadeja
Ravindra Jadeja is undoubtedly the best fielder of his generation and perhaps even the best Indian fielder ever, and the left-hander has rarely dropped any catch in his career.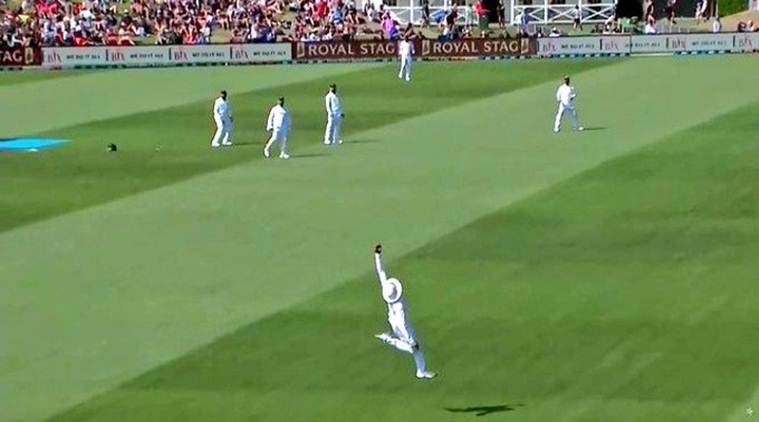 And this catch of Tom Latham is right up there amongst the best catches he's ever taken. In a Test in New Zealand, Jadeja was fielding at deep square leg when Latham pulled a short ball. The ball seemed to be going over Jadeja for a four or six but Jadeja timed his jump perfectly and hung on the catch with his left hand. Everyone was left stunned but not Jadeja who then posed for the crowd behind him.
Watch the video below
Ravi Bopara
In a T20 Blast match in England, senior all-rounder Ravi Bopara made a fantastic effort to take a catch one-handed using his right hand while fielding at the deep cover boundary. The batsman hit a full toss on the off-side and the ball was on its way for a six but met Bopara's flying right hand and stuck in it. The commentators went bonkers.
Mohammad Kaif
Mohammad Kaif is hailed as one of the best fielders of all time. This catch of Shoaib Malik in an ODI match proves why he was not just an excellent fielder but also handled the pressure very well.
Malik mistimed his slog down the ground and Kaif came in from long-off but another fielder came in from long-on and both almost collided. Kaif, however, didn't move his eyes away from the ball and took a jaw-dropping diving forward catch before running wildly to celebrate it with his teammates.
Adam Dale
The Queensland player Adam Dale pulled off one of the greatest-ever catches in cricket history in a domestic game in Australia. A left-handed NSW batsman hit the ball down toward the long-on boundary and kept it a bit straighter. Dale came out of nowhere with a slim chance to even stop the ball, but he put in a full-stretched dive and took a miraculous one-handed catch.
The video of all catches is below
Yuvraj Singh
Unarguably India's best fielder in the point position was Yuvraj Singh, and this catch of a left-handed Bangladesh batsman showcases it. To a swinging ball from Pathan, the batter leaned forward and hammered it on the off-side while keeping it in the air.
The ball was traveling at a high speed, but Yuvraj timed his jump perfectly, flung his hand up, and took an extraordinary catch.
Corey Anderson
Former New Zealand all-rounder Corey Anderson plucked this incredible return catch off his own bowling. The batsman hit the ball back to the bowler, but Anderson bend low with his left hand and completed a remarkable catch.
Jonty Rhodes
Hailed as the greatest fielder in cricket, this catch from Jonty Rhodes will drop your jaws. Rhodes somehow seemed to have an extra second to judge the ball – as can be observed here – than other fielders do. The England batter Robert Croft timed his shot brilliantly and thought the ball was going for a boundary, but Jonty came in its path and plucked a one-handed screamer with his left hand.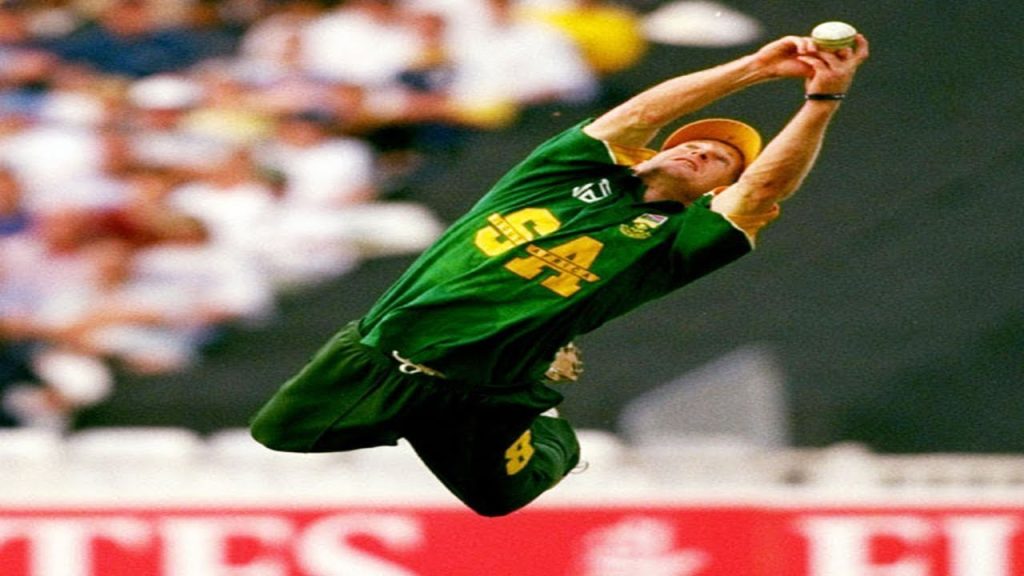 The ball lobbed up in the air but he was calm to turn around and finish the catch.
Trent Boult
Trent Boult manned the boundary line like a hawk. In this catch of Kieron Pollard, Boult pulled off the classic boundary line catches where he caught the ball, but realizing that he was falling behind the rope, threw it back in the playing arena, but was quick to come in the playing field and complete a spectacular catch. Boult was required to put in a horizontal dive when finishing the dismissal, making it even more remarkable.
Angelo Mathews-T Dilshan relay catch
This is an unforgettable catch from the pair of Mathews and Dilshan to dismiss David Warner. After Warner sweep slogged Mendis aiming for the mid-wicket boundary, Mathews came charging in and took the catch but in his momentum, he realized he will fall over the boundary line which he did.
However, before crossing the boundary, Mathews threw the ball high up in the air. He had a good presence of mind seeing Dilshan at deep square leg boundary and the latter grabbed the ball comfortably. Warner stood their shocked seeing at this terrific relay catch.
Watch all the Top 10 best catches in cricket here: