Aamer Jamal, the Pakistan cricketer and Babar Azam's PSL teammate at Peshawar Zalmi, has grabbed the headlines out of nowhere for his shocking dig at Virat Kohli in trying to show his support to Babar.
Babar Azam is facing heavy criticism and scrutiny for his dip in form and his captaincy. Having started the World Cup 2023 with wins over Netherlands and Sri Lanka,
Pakistan lost three games in a row against India, Australia, and Afghanistan, and now stands on the verge of a group-stage exit. Babar's captain is being questioned and criticized by many after Pakistan failed to defend 282 runs against Afghanistan in Chennai.
Babar Azam's PSL Teammate Takes Shocking Dig At Virat Kohli
In order to show his support to Babar Azam, his PSL teammate Aamer Jamal pointed out that Virat Kohli, too, had been out of form for a long time, but the former India skipper got support from his fans and Indian cricketers.
Jamal shared an Instagram story that said, "Kohli was out of form till 4 years, and nobody pointed fingers, but Babar Azam is out of form, and people are criticizing him."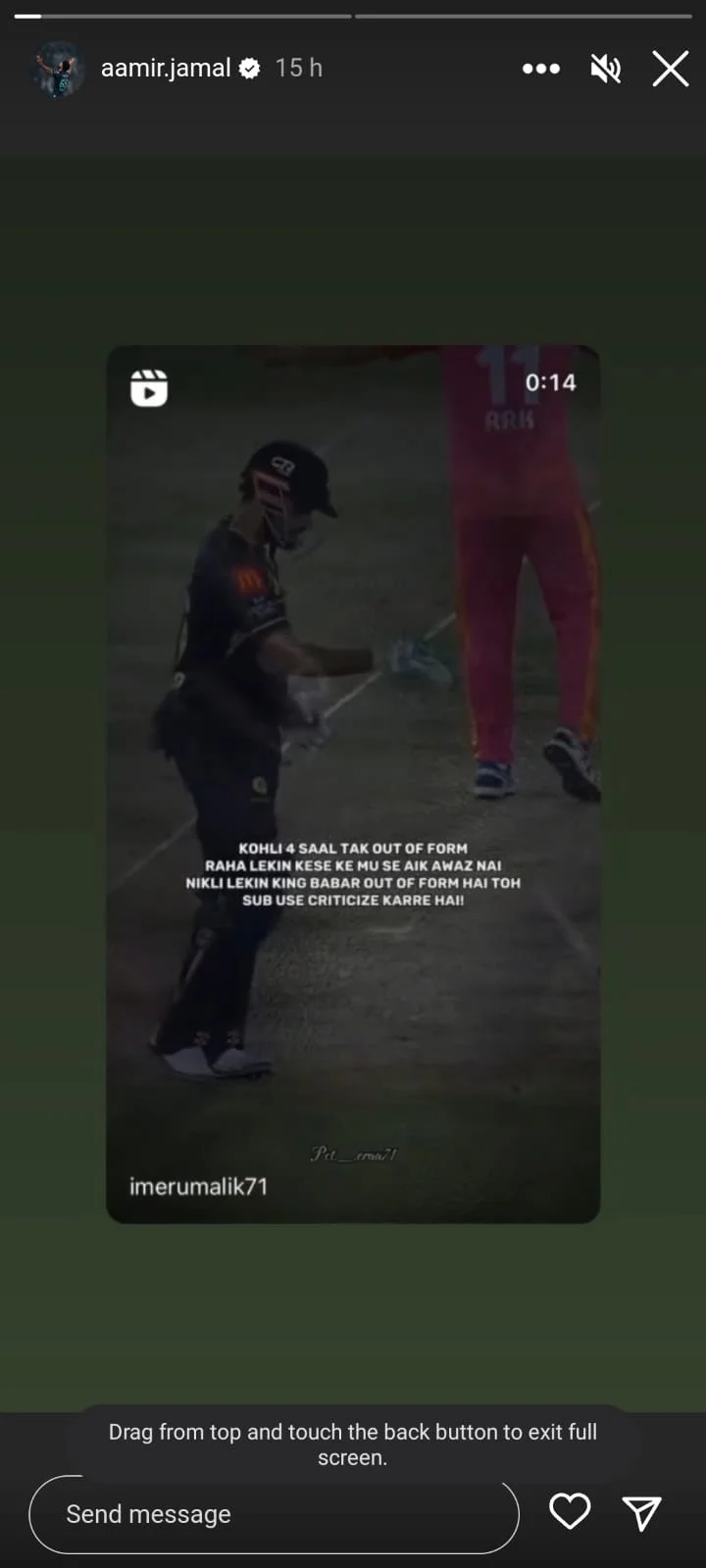 Babar Azam is currently the number 1 ranked ODI Men's Batsman. But he's lived up to the mark. In 5 innings, Babar has scored 157 runs at an average of 31 with two half-centuries. His strike rate of 79 has received huge criticism, many even calling him "selfish" and "playing for himself".
Meanwhile, former captain and legendary all-rounder Shahid Afridi attacked Babar for his captaincy choices, and his lack of efforts on the field during the game against Afghanistan.
"When you are not in the game, when you are hiding inside a shell, when you are not positive… sometimes, I feel we keep waiting for a miracle. But miracles only happen when you know how to fight. See, captain is everything. If he puts the efforts in fielding, dives a lot, runs around and backs his boys, the team gels up and puts extra efforts. Because if the captain is putting that much efforts, his teammate would feel ashamed if he doesn't put the similar effort," Afridi said on Samaa TV.
Pakistan's next game is against the high-flying South Africa on Friday in Chennai.