Modern cricket fans don't really associate the word 'exciting' with Test cricket. They are seen as a 5-day slog, with only the traditional fans enjoying the format. However, these 5 Test matches will prove any naysayer wrong with their drama and thrill. There have been so many Tests with nail-biting finishes, that it was actually difficult to choose the top 5. Let' take a look at the top five nail-biting Test matches.
#1. England beat Australia by 2 runs (Edgbaston, 2005)
It would be an insult to cricket if we talked about the most thrilling Test matches of all time and not mention this absolute banger of a Test match. The Ashes are the most closely contested matches of all time, and such competition can always produce great matches. Pursuing a target of 282 runs, Australia was 175-8 when Brett Lee joined Warne in the middle. Lee put up a 45-run partnership with Warne and a 59-run partnership with Michael Kasprowicz. Just as they were on the cusp of victory, Kasprowicz got out as the entire stadium was stunned. Flintoff consoled a dejected Lee, which gave birth to one of the most powerful photos from the storied rivalry.
#2. England beat Australia by 18 runs (Headingly, 1981)
This match is widely regarded as one of the greatest Test matches ever. It is also known for Ian Botham's heroics down the order. It was just the second time in the history of cricket when the team following on had won. Botham hit 149* from 148 balls, helping England set up a total of 130 for Australia. All was not over as a miracle spell of 8-43 from Bob Willis broke Australia's backs as they were bundled out for 111.
#3. India tied with Australia (Chennai, 1986)
This Test match was held when the Indian team was on the rise as a juggernaut, while Australia was already a monster in the sport. India were set a target of 348 runs from 87 overs. A victory seemed imminent as India reached 331 – 6. However, India lost the next 3 wickets for a paltry 3 runs.
Ravi Shastri was tasked with taking his team home as India needed 4 runs from the last over. He scored 3 runs from the first 3 balls. Maninder Singh came on strike and defended the 4th ball. However, he was out LBW the next ball as Australia had to settle for a tie in what was a high tension contest between the two sides.
#4. South Africa loses to England on the last ball (Durban, 1948)
England had to chase 128 runs from 28 overs. Things came to head when England needed 2 runs from the last ball of the match. The two men at the crease decided to run regardless of where the ball hit. As they started running after the last ball, a mistake by a fielder led to an over-throw, and England came out victorious on the last ball of a nail-biting Test match.
#5. India reaches a draw Vs South Africa (Johannesburg, 2013)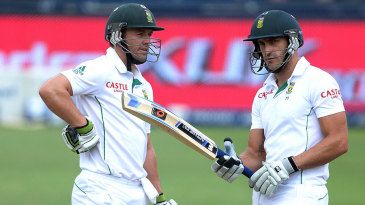 A dominant India had set the Proteas with a mammoth target of 458 from 136 balls. It was clear from the very beginning that South Africa would be looking for a more realistic draw. They needed 320 with eight wickets in hand on the last day. A magical partnership between Faf du Plessis and AB de Villiers added 205 runs to the score. They soon departed, and in the end South Africa needed 16 runs from 19 deliveries, with only Vernon Philander and Dale Steyn remaining. Instead of giving up, the two played out all the 19 deliveries and brought South Africa to a draw instead of a huge loss.