It seems like Axar Patel is really upset with being dropped from India's squad for the World Cup 2023 at the last moment. The left-arm spinning all-rounder was replaced with senior off-spinner R Ashwin in the squad on the last day of the deadline on Thursday.
Axar Patel had been named in India's 15-man provisional squad for the World Cup. However, he hasn't recovered yet from the left quadriceps strain injury which he picked up during the Asia Cup 2023 vs Bangladesh. He missed the Asia Cup final, in which Washington Sundar played, and also missed the 3-ODI series against Australia, in which R Ashwin marked his comeback with 4 wickets in 2 games, and sealed his spot for the World Cup squad.
"Should have hired better PR": Axar Patel's reportedly puts controversial Insta story after being omitted for R Ashwin in World Cup squad
On Friday afternoon then, Axar allegedly put a cryptic, and now-controversial Instagram story in which fans say he was taking a dig at R Ashwin. Ashwin, an engineer by education, is someone who is very vocal about his professional career on social media and also has a strong fanbase supporting him.
In the photo that's gone viral, apparently Axar Patel posted this caption on his Instagram story: "Should have taken science instead of commerce and hired a better PR"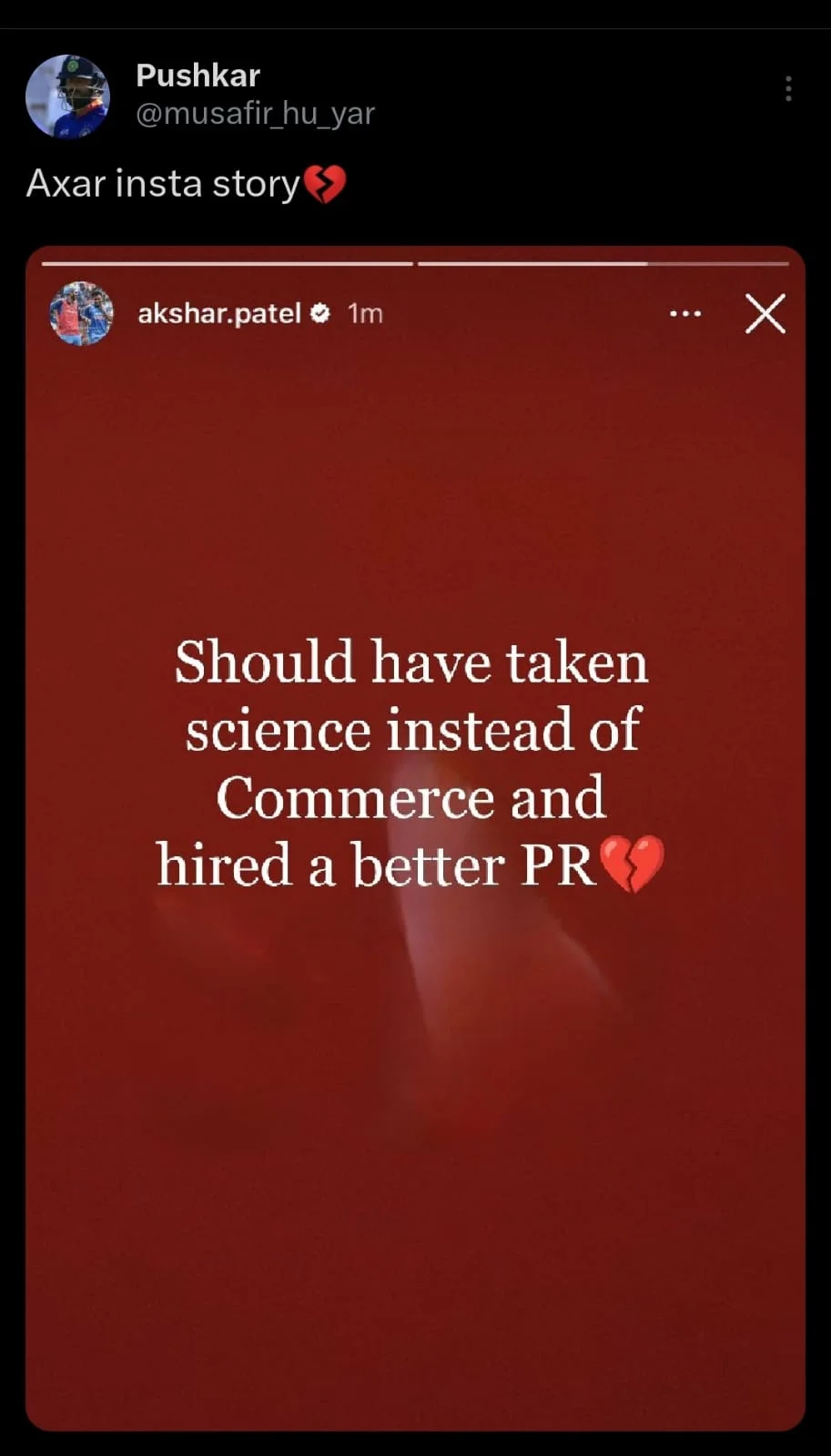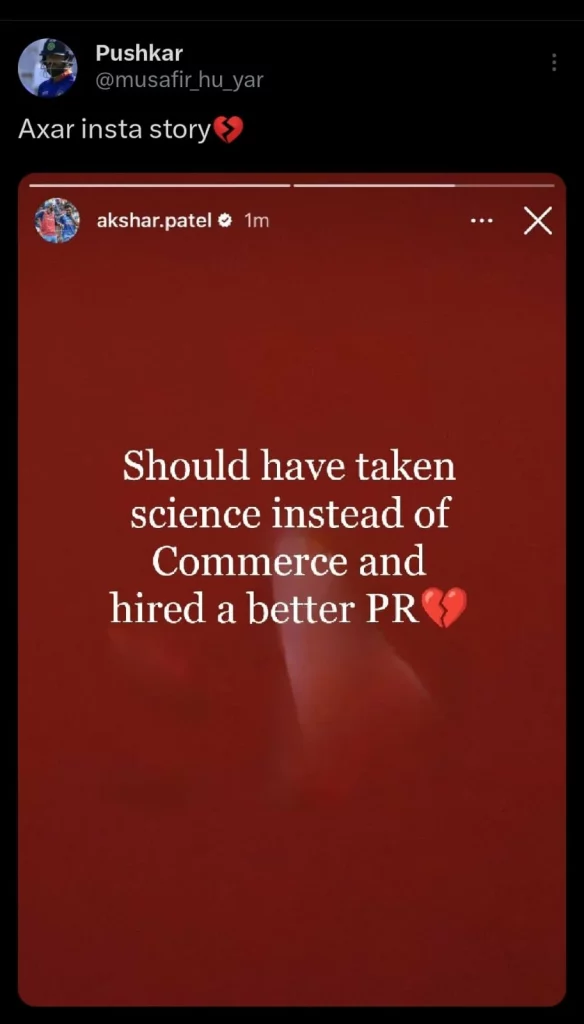 This quickly went viral and within minutes Axar reportedly deleted this story, but fans had taken a screenshot of this event and this was a talking point among fans. Some fans even feel that Axar's injury is not as major as the management is showing to include Ashwin in the squad.
Fact-Check: Did Axar really took a dig at R Ashwin?
No, this photo circulating on social media is fake and edited, and Axar didn't put any such Insta story.
Journalist Saurabh Malhotra confirmed on Twitter on behalf of Axar that he hadn't posted any such Insta story, and this image is fake.
"There's a fake screenshot doing the rounds today which is allegedly taken from @akshar2026's Instagram page. He has NOT posted any such story on his social media account, so the question of deleting it doesn't arise. Please treat this as an official clarification, which I'm issuing on his behalf," Journalist Saurabh Malhotra tweeted.
This is not the first time that Axar has been dropped at the last moment ahead of a World Cup. Shardul Thakur had replaced him in the 2021 T20 World Cup squad just before the tournament started.
India will play two warm-up matches: vs England on September 30 in Guwahati and vs Netherlands on October 3 in Thiruvananthapuram.
India World Cup 2023 squad: Rohit Sharma (c), Hardik Pandya (vc), Shubman Gill, Virat Kohli, Shreyas Iyer, KL Rahul, Ravindra Jadeja, Shardul Thakur, Jasprit Bumrah, Mohammed Siraj, Kuldeep Yadav, Mohammed Shami, Ravichandran Ashwin Ishan Kishan, Suryakumar Yadav