Former Australia captain Ricky Ponting has boldly stated that Dinesh Karthik should be in India's eleven for the T20 World Cup later in the year in Australia.
Dinesh Karthik's Powerful Comeback
After three years, Karthik has recently made his comeback to India's T20I side in the first T20I of the South Africa series in Delhi. Karthik was the scapegoat of the 2019 World Cup semi-final debacle when he was surprisingly dropped from the T20I side as well.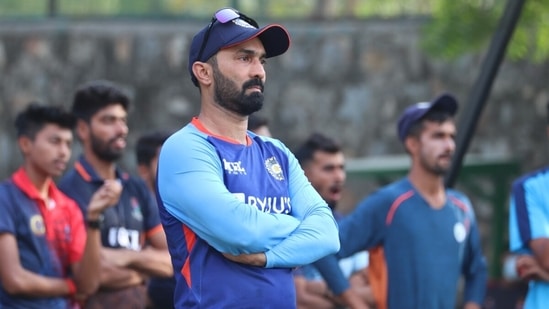 Now, he's back and firing and is likely to make it into India's squad for the T20 World Cup, feels Ponting who wanted Karthik to bat at number 5 or 6 position.
"I would have him [in India's T20 World Cup squad], and I'd have him in that five or six role," Ricky Ponting told The ICC.
This recall to the national side was forced by the 37-year-old on the back of a magnificent IPL 2022 campaign for the Royal Challengers Bangalore.
Karthik smashed 330 runs in the season, at an average of 55 – but more importantly, his strike rate of 183 made his selection indisputable as he was unarguably the best finisher of the tournament.
Karthik had a bigger impact than Kohli in IPL – Ricky Ponting
Ponting went on to say that Karthik was remarkable in winning games for RCB lower down the order and had a bigger impact than the likes of Virat Kohli and other RCB batters.
"The way that he finished games for RCB this year, he took his game to another level. When you look at the IPL, you want your better players to maybe be able to win two or three, maybe four games through the season.
"If you can get that out of them, it's probably going to be a really good return. But Dinesh probably had a bigger impact on a lot of the games than most of the other RCB players did this year," the former Aussie skipper opined.
Karthik didn't get much to bat in his comeback against versus South Africa, managing a single run in the two balls he faced.