Australian all-rounder Marcus Stonis has come under the fire of Pakistani fans, and cricket fans in general, after his gestures during a Hundred game suggested he was accusing pacer Mohammad Hasnain of chucking!
On Sunday at The Oval, bowling for Oval Invincibles, Hasnain dismissed Southern Brave's Marcus Stoinis – a short ball on which Stoinis was hurried on and could only splice it to mid-off where fielder Will Jacks took an easy catch.
As Stoinis was walking back to the dugout after being dismissed, he was seen gesturing Hasnain's bowling action in which he intentionally chucked suggesting that the Pakistani pacer's history of chucking is not gone.
Here, check out the video:
Really bad of @MStoinis to imply that Hasnain is chucking the ball. pic.twitter.com/GdX3wyN9fl

— Haroon (@hazharoon) August 14, 2022
This created quite a furore among fans. Hasnain had been cleared by the ICC in June for his bowling action. Hasnain was reported for a faulty action in January during his Big Bash League stint for Sydney Thunder when Sydney Sixers' Moises Henriques, Stoinis' Australian mate, was the first to accuse the pacer for chucking and also rebuked him during the game.
The PCB then suspended him from bowling even in domestic cricket and decided to assign its high-performance coach, Umar Rasheed, to work with him at Lahore, where it was revealed that his arm was jerking. In the next few months, he worked and tweaked his action. In June he cleared his bowling action tests and was allowed to bowl.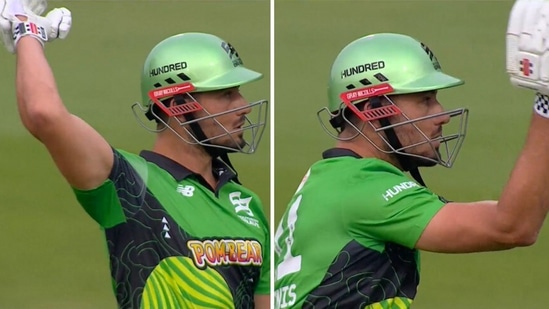 However, Stoinis' reaction on Sunday once again sparked the debate. Though many have now to come to Hasnain's defence stating that the governing body had passed the pacer's action.
Marcus Stoinis was trolled and criticised heavily after his supposed allegation that Hasnain was chucking when he dismissed him.
https://twitter.com/Ayyo443/status/1559064732795027456
That's what they do if they can't play it's unfair and when they learn it's an art ! https://t.co/oFHGNJ5VQZ

— Shayan Najeeb (شإیإن نجیب) (@najeeb_shayan) August 15, 2022
What can we expect from australians?
Grace? Absolutely Not https://t.co/pdpWwgQJjL

— Waleed jawaid (@AspiringAcca) August 14, 2022
This is shocking !!!

Hasnain has been cleared & it has nothing to do with Stoinis @thehundred #TheHundred https://t.co/vMTw0KC9MG

— Azeem Rafiq (@AzeemRafiq30) August 14, 2022
They cannot play him. First Henricks then Maxwell and now Stoinis. Hasnain is nightmare for Australians#MohammadHasnain #MarcusStoinis pic.twitter.com/v4g2wh5f4b

— Muhammad Noor (@Noor_Marriii) August 15, 2022
If Hasnain is once again called for a suspect action due Stoinis' unpleasant insinuation – then the @TheRealPCB and @iramizraja should strongly condemn this at every appropriate opportunity-as well making an official complaint to @ECB_cricket

— AmerCric (@Amermalik12) August 14, 2022
I was wondering what Stoinis was doing, and now it seems pretty obvious. Calling Hasnain a chucker like this = sour grapes.

Really poor sportsmanship and reminds me of the 2000 Aussie team attitude to subcontinent teams. https://t.co/RSThqDb19R

— Radio Cricket formerly AltCricket (@RadioCricket) August 14, 2022
Disappointing reaction from Marcus Stoinis after he was dismissed by Mohammad Hasnain. How about sticking to playing cricket and letting the officials do their job #TheHundred #Cricket pic.twitter.com/oYOSb12GTr

— Saj Sadiq (@SajSadiqCricket) August 14, 2022
Marcus Stoinis subtly shares his view on Mohammad Hasnain's remodelled action https://t.co/BZ75UJFVzC

— Matt Roller (@mroller98) August 14, 2022
Here's Marcus Stoinis signalling that Mohammad Hasnain was chucking! Ridiculous. #TheHundred pic.twitter.com/8utAwbczYI

— Farid Khan (@_FaridKhan) August 14, 2022
Ridiculous from stonis , young kid has just cleared his test

— Azeem Ghumman (@azeemghumman) August 14, 2022
Mohammad Hasnain, 22, had made his international Pakistan debut in 2019. The youngster has so far featured in 8 ODIs and 18 T20Is picking a total of 29 wickets and has also plied his trade in the different franchise leagues such as BBL, PSL, CPL and now The Hundred.