IPL 2023 : 3 Most Stunning Female Anchors Ever
The IPL has featured some elite female anchors over the years to present the league. These altered how the millions of cricket fans in India and around the world would watch the game. Fans had a one-of-a-kind experience thanks to the grace and knowledge of these anchors. The fact that IPL fans still think highly of these female anchors now is evidence of their success. In this account, we revisit five names that can be considered among the best. Also, they were the IPL's hottest female anchors and the most attractive, smart, hard-working, and attractive women ever. Look down below.

IPL was hosted for several years by Rochelle Rao. From 2013 to 2016, she served as the host of the pre-match show Extraa Innings on Sony TV. Rochelle put a lot of effort into improving herself and even tried to learn spoken Hindi in order to connect with the spectators despite the fact that she did not have the best cricket expertise.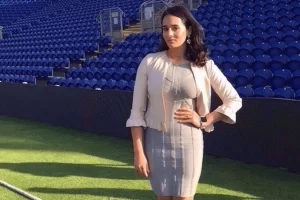 The face of Star Sports for many years, the stunning and intellectual Mayanti Langer is one of the most successful female cricket presenters in the nation. She is renowned for both her fantastic attire and her breadth of knowledge when it came to discussing cricket with the professionals.
Shonali Nagrani

After enjoying success in modelling and television acting, Shonali transitioned to cricket presenting and achieved a lot there as well. Besides from the IPL's first few seasons, Nagrani also covered the 2006 and 2007 Cricket World Cup Champions Trophy.