Virat Kohli is someone who wears his heart on his sleeve when he's on the field, regardless of whether he's playing for his country, his IPL franchise RCB, or even a practice match.
The always hyper-energetic KING Kohli has had a number of instances when he's lost his cool when playing in the IPL for RCB. The 34-year-old Virat Kohli is known for his aggressive celebrations, verbal battles with the opposition as much as he's known for his run-scoring sprees.
Here are 3 instances in the IPL when Virat Kohli lost his temper and seemed angry:
Response to strike rate criticism via aggressive half-century celebration
Over the years, Virat Kohli's milestone celebrations have toned down a few notches. He even just smiles and kisses his wedding ring on reaching a century.
So his animated celebration when reaching the half-century milestone against Delhi Capitals in an IPL 2023 match was a big surprise. It was perhaps a response to those who had criticized his strike rate and approach in his previous fifty against LSG which came in a last-ball loss.
Virat Kohli Celebrations infront of Sourav Ganguly #RCB #DC #RCBvsDC #Bengaluru #IPL #ViratKohli #India #Karnataka #Mankad #ViratKohli𓃵 #Ganguly #Warner #IPL #India #Cricket pic.twitter.com/30ZGWeQFgN

— Chaitanya Varma (@spychaitanya) April 15, 2023
Virat Kohli vs Gautam Gambhir
This is one of the most full-blown, rampant, verbal duels in the IPL which threatened to be physical if not the on-spot intervention by Rajat Bhatia.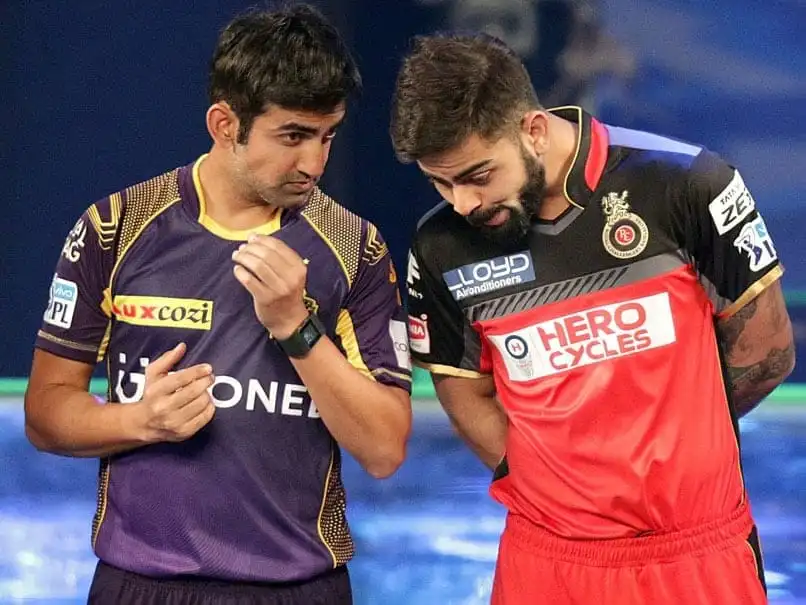 Back in 2013, with Kohli rising in stature and Gautam Gambhir having been dropped from the Indian team, tempers flared between the KKR captain and the RCB star. After Kohli got out, Gambhir uttered something which enraged the RCB batter and what happened next is a sight still fresh in the minds of the fans.
Here, watch the battle between Kohli and Gambhir:
https://www.youtube.com/watch?v=CljL1ACK22I
Kohli went after umpire Virender Sharma
In his last season as the RCB captain, Virat Kohli had a tussle with umpire Virender Sharma in the Eliminator match between RCB and KKR. Kohli was at his animated best when he went after the umpire for his decision to not give KKR's Rahul Tripathi out LBW to spinner Yuzvendra Chahal.
Tripathi was trapped lbw by Chahal's googly but Sharma didn't give it out. Upon DRS, the decision went in favor of RCB and Tripathi was given out. This opened the gates for Kohli to express his emotions in the face of the umpire. Kohli smashed the ball – throwing it fiercely on the ground – before having a go at the umpire. Square-leg umpire Chris Gaffaney intervened and asked Kohli to back away.