The second ODI of the India versus Zimbabwe series kicked off on Saturday in Harare. Similar to the first ODI, KL Rahul, India's stand-in skipper for this series, won the toss and elected to bowl first, for which, however, he was trolled and criticised by a lot of fans.
Netizens were unhappy because they felt India should have batted first and provide their batsmen with a good chance to bat: in the first ODI nobody other than the openers got to bat as Shikhar Dhawan and Shubman Gill remained unbeaten on 81* and 82* respectively, comfortably chasing down the target of 190 with all 10 wickets to spare.
KL Rahul himself needs some amount of time in the middle as he is coming off a two-month injury layoff and should be in the rhythm ahead of the upcoming Asia Cup next week in the UAE where he is expected to open alongside skipper Rohit Sharma.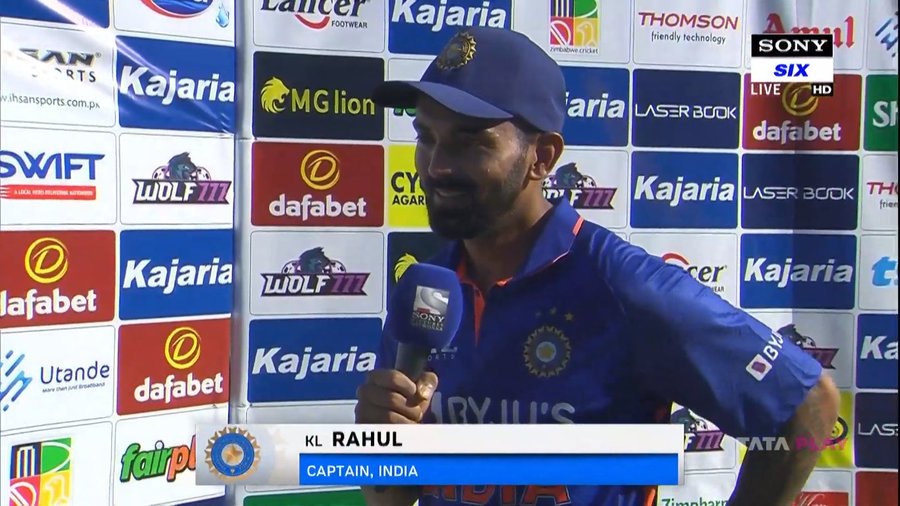 India made one change to their eleven: Shardul Thakur comes in place of Deepak Chahar, who was the Player of the Match in the first ODI. Zimbabwe also made a couple of changes in what is a do-or-die game for the hosts.
It is believed that Chahar has been rested as the previous ODI was his first international game in six months when he was sidelined due to injuries, and since his body needs time to get tuned to the demands of 50-over cricket again, experts reckoned Chahar was rested; also giving Thakur a chance to do well after some disappointing returns recently.
After electing to bowl first, KL Rahul said that because of the help to the bowlers from the pitch and conditions early on, he decided to field first.
However, the interim India skipper was trolled heavily by fans:
"Inexplicable", is how a senior journalist described KL Rahul and India's decision to bowl first.
Another inexplicable decision to bowl first in Harare.

— Shashank Kishore (@captainshanky) August 20, 2022
Another fan opined that this is a "very defensive" call by the Indian management.
Bowl first…. very defensive desicion

— Rahul Patil (@Rahulpa55510183) August 20, 2022
"Baffled" and "Surprising" were other reactions:
India has won the Toss and opted to bowl first. Seriously doesn't find any logic #India playing #Zimbawe if they are not ensuring batsmen play full 50 overs and take the challenge of playing in slightly challenging conditions. #ZIMvIND

— Ashish Sharma (@ashish0712) August 20, 2022
Worst decision by @klrahul to choose to Bowl first

— Tanishq Kothari (@TanishqKothar10) August 20, 2022
KLOL again strikes with bowl first. Scared even against Zimbabwe. Coward captain.. #ZIMvIND #CricketTwitter

— D (@DE_WA05) August 20, 2022
Makes zero sense to bowl first.

— Manasi Kasande (@manasikasande) August 20, 2022
Shame on Rahul for taking bowl first,good chance for team to test batting strength..rahul not captain material

— Harmeet s (@hsb1975) August 20, 2022
Baffled by this decision to bowl first. If this was Hardik Pandya he would have bowled first keeping Asia Cup in mind. KL just wants to win this series at any cost

— Akshay Ganapathy (@DGAkshay) August 20, 2022
India opt to bowl first again. Surprising. #ZIMvIND

— Subhayan Chakraborty (@CricSubhayan) August 20, 2022
At the toss, KL Rahul said: "We will bowl first. Looks a little better, looks a lot harder than the previous surface and obviously bowling first there's something in the wicket, hopefully we get early wickets. I would have taken 180-190 at the start, we bowled really well and there was no dropped catch or missed chance, just that they (Evans and Ngarava) batted really well after the ball got old. Just one change – Deepak Chahar misses out, Shardul Thakur comes in."