Young Indian opener Prithvi Shaw has once again stolen the limelight on social media with his cryptic post after getting ruled out of the ongoing One-Day Cup in England due to an injury.
For the unversed, Prithvi Shaw is currently recovering from a knee injury that he sustained during his stint with Northamptonshire. The right-handed batter was seen in exceptional form before his county stint with the Northamptonshire team came to an end after playing just four games. Shaw was impressive during his short stint with Northamptonshire as he slammed 244 against Somerset.
He was also one of the top performers for his side against Durham as he played an unbeaten 125 runs off 76 balls in that match on August 13 as Northamptonshire cruised to a six-wicket win. He amassed 429 runs in four innings, leaving a fine impression with his bat.
"Prithvi injured his knee while fielding in the fixture against Durham and subsequent scan results received this morning have revealed the injury is worse than initially expected," Northamptonshire stated in a media release.
Prithvi Shaw Shares Cryptic Post On Instagram
Meanwhile, on Friday, August 19, Prithvi Shaw took to his official Instagram handle and posted an image of his injured leg as he descended the stairs. Sharing the picture of his injured leg Shaw posted a quotation on his Instagram story that draws parallels between a staircase and life. He wrote:
"People give hands when you step up in life and always leave it when you go down from steps,"
Check out the Instagram story"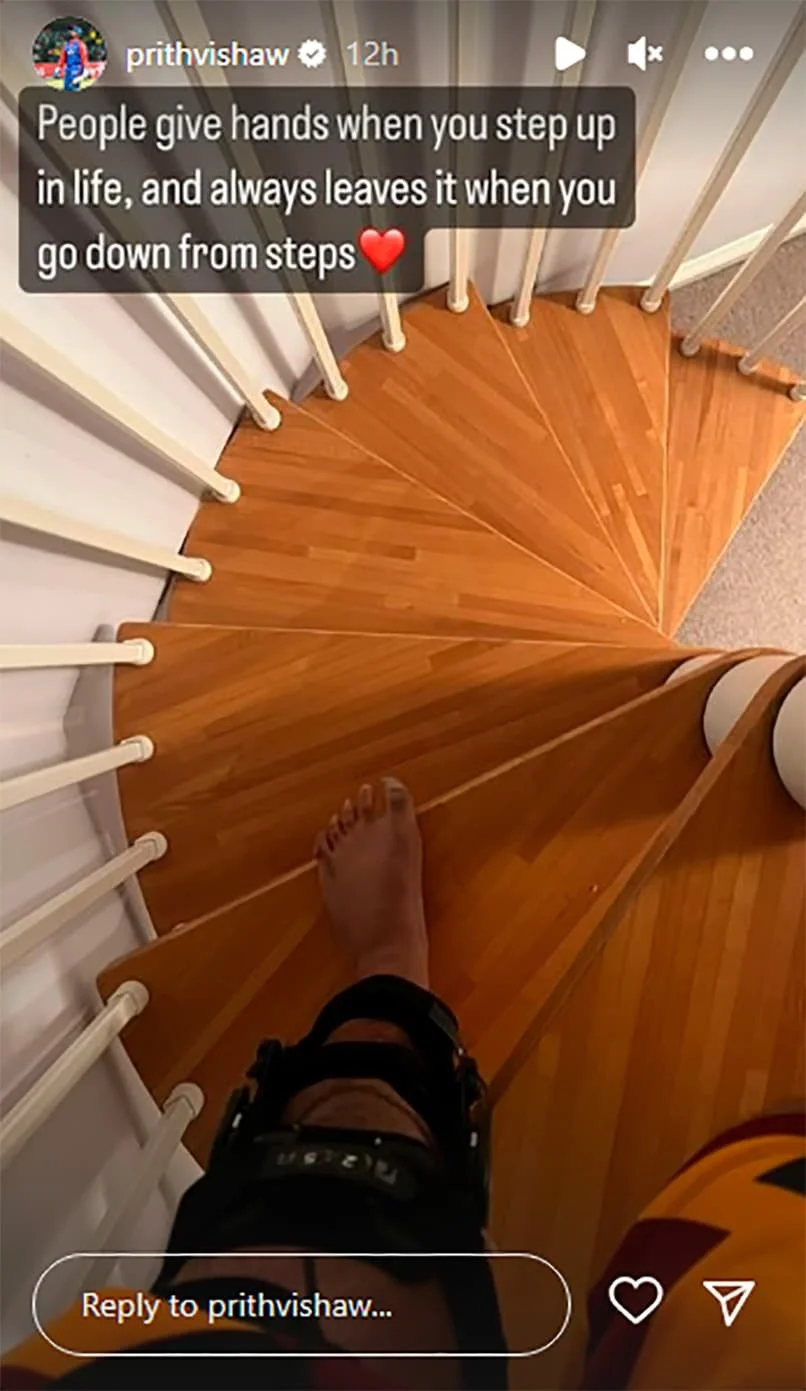 Northamptonshire head coach John Sadler lauded Prithvi Shaw for his contribution, hailing his contribution to the side. He said:
"In his short stint, Prithvi has made a huge impact on us as a club. It is a huge shame he would not be with us for the remainder of this competition. He is an extremely humble young man. He is very respectful and had been so grateful for the opportunity to represent Northamptonshire."
He added:
"As well as his performances on the field, he had a huge impact in our dressing room. Nobody wanted to win games more than him, and he contributed to us doing so. We wish him well and hope to see him scoring runs again soon."