When he's not batting and bowling, Ravindra Jadeja makes a contribution with his fielding – a proper 3-dimensional player he's proven to be.
Without a doubt, the best fielder currently in the world, and perhaps of all-time, Ravindra Jadeja showcased his cheetah-like pace and astute judgmental abilities today, on Friday, at the Wankhede, in the first ODI vs Australia when he got a terrific diving catch to get rid of Marnus Labuschagne.
This catch from Ravindra Jadeja, off the bowling of Kuldeep Yadav, was part of the Australian collapse.
Australia suffered a collapse today. At one point, when Mitchell Marsh was going gung-ho on the Indian bowlers, it looked like Australia will breach the 300-mark, but they fell well short of it.
Marsh scored 81 runs off 65 balls, but his dismissal triggered a collapse from 129/2 to 188 all-out. Ravindra Jadeja made significant contributions in this – taking the wickets of Marsh and Glenn Maxwell and picking this superb catch of Labuschagne.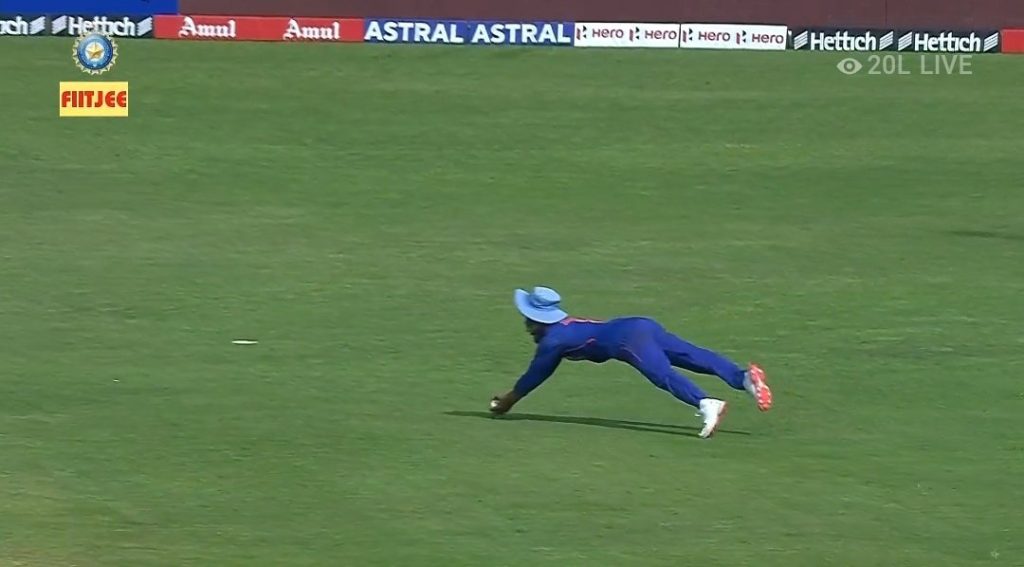 Kuldeep Yadav did well to set up Labuschagne: after bowling a few full balls, the leg-spinner dragged it a bit short. Seeing the length, Labuschagne rocked back to cut, but only managed to slice it toward the right of the point fielder that was Ravindra Jadeja. Any other fielder perhaps may have just put in a valiant effort only to miss the ball. But this was 'SIR' Ravindra Jadeja.
His eyes quickly spotted the ball, like a tiger hunting down its food, and his legs swiftly moved toward the ball as he put in a fully-stretched dive to grab the ball just above the grass, safely pouching the catch with both his hands, before throwing it up in the air in his celebration, letting the crowd know their cue to cheer on an Australian wicket.
Watch: Ravindra Jadeja's superb diving catch to dismiss Marnus Labuschagne:
Australia were bundled out inside 36 overs for 188 runs – except Shardul Thakur, who only bowled two overs, all the rest of the Indian bowlers were amongst wickets with Mohammed Shami and Mohammed Siraj taking 3 wickets each, Jadeja took two wickets while Hardik Pandya and Kuldeep Yadav took a scalp each.