Indian captain Rohit Sharma has been receiving praise from all corners as he smashed a scintillating century on Day 2 of the first Test against Australia in Nagpur. With this hundred, he etched his name in record books on Friday (February 10) by becoming the first Indian skipper to hit a century in all three formats of the game.
He completed his half-century at a strike rate of over 80 and ended the opening day with a score of 56 off 69 balls. He batted sensibly on the second day and pulled off his 9th hundred in the red-ball format in 171 balls. He was dismissed after scoring 120 runs off 212 balls, smashing 15 fours and 2 stunning sixes.
Ritika Sajdeh Shared A Hilarious Story:
Rohit's century has generated tremendous buzz on social media with cricket lovers praising the Indian skipper. However, among all the amazing posts, one stood out. Ritika Sajdeh, wife of Rohit, also took to her social media and reacted to the century on her Instagram story.
Ritika shared a euphoric picture of Rohit and wrote: "I love you, Rohit Sharma, but send replacement fingers please."
Check out her Instagram story: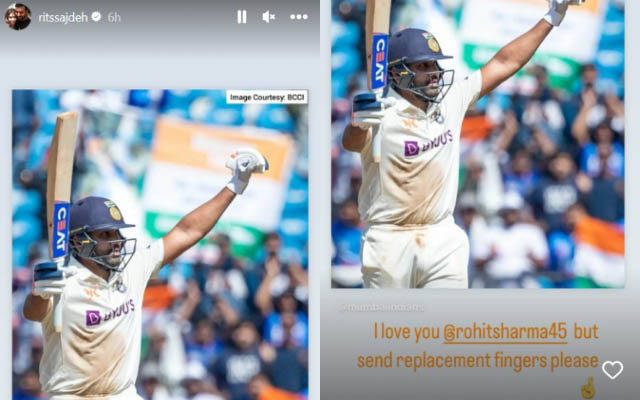 What is the finger connection?
Ritika Sajdeh has been a constant support for Rohit Sharma in the stands whenever he plays for the Indian cricket team and Mumbai Indians (MI) in the Indian Premier League (IPL). Moreover, she keeps her fingers crossed until her husband is in the middle and keeps appreciating him and the other players during the game.
For the unversed, Ritika has a habit of keeping her fingers crossed when her husband is at the crease. She has been following the habit ever since the couple got married in December 2015. Time and again, the fans have shared pictures and videos of Ritika battling nerves while watching Rohit's batting performance. Her fingers remain crossed while the cricketer is batting.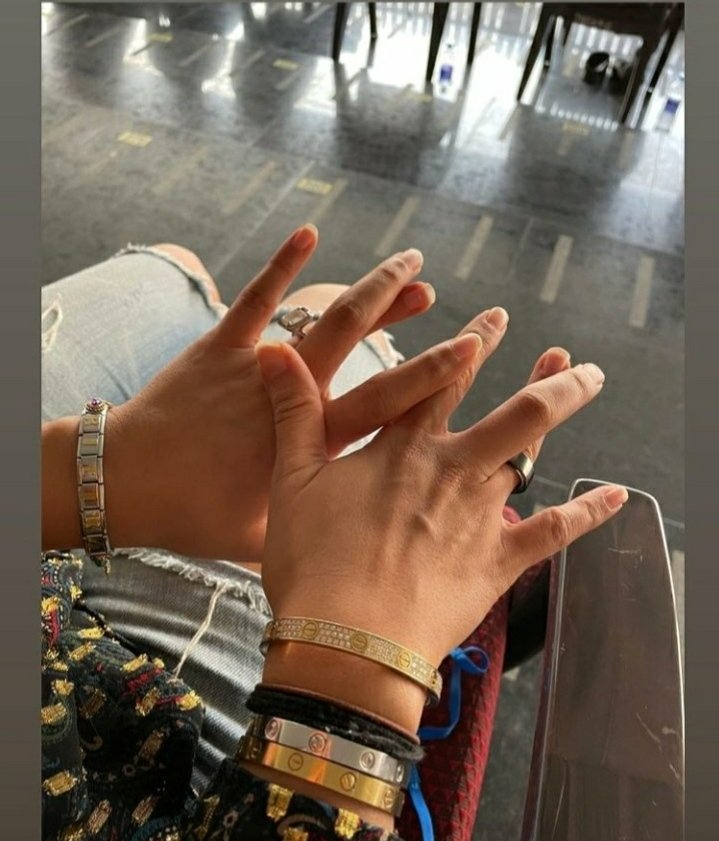 Rohit and Ritika's Love Story:
Ritika is a sports event manager by profession. The gorgeous lady used to look after the players and their brand endorsements and contracts until she fell in love with Rohit Sharma. After their wedding, Ritika has been managing only her darling husband.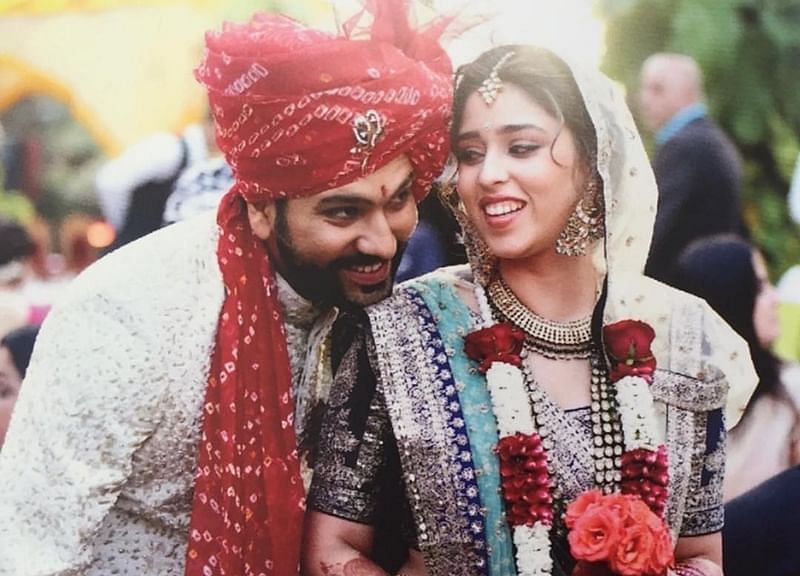 Ritika is also the rakhi sister of the cricketer, Yuvraj Singh. Rohit Sharma had met Ritika Sajdeh for an ad shoot and was warned by Yuvraj to maintain a safe distance from her. While initially, Rohit was not very fond of Ritika but later the duo got to know each other better and after a while, the two started dating. The couple knew each other for six years before they decided to tie the knot.
Rohit had proposed Ritika at a place that holds a lot of importance in his life — Borivali Sports Club, Mumbai. It is the same ground where he started his career at the age of 11.
After 3 years of marital bliss, Rohit Sharma and Ritika Sajdeh welcomed a beautiful daughter — Samaira into their lives on December 30, 2018.