Indian star player Suryakumar Yadav isn't having the best of the times off-lately. The batting sensation scored three consecutive golden ducks in India's just-concluded 3-match ODI series against Australia. While he is hailed as the top batter, who can do nothing wrong in the shortest format of the game, he is yet to establish himself in the ODI format.
SKY has amassed 433 runs in 23 ODI games at an average of 24.05, which is way less than the potential and talent he has. Now back-to-back failures against Australia have put him under the scanner of critics and he has been receiving criticism from all corners for his poor performance.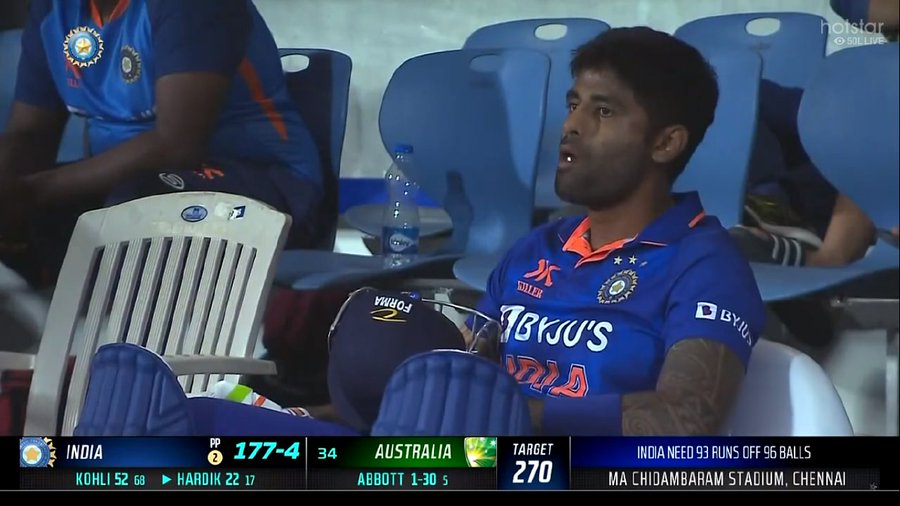 In the 3rd ODI, SKY walked out to bat after the dismissal of big wicket Virat Kohli, however, he was bowled by Ashton Agar in the 36th over of India's over. Agar delivered it in short and the ball kept low while skidding through. Surya cleared his front leg while trying to smash the ball but he was beaten entirely. The ball beat the inside edge and disturbed the stumps. SKY was left with a wry smile on his face.
Earlier in the first two games, Yadav became the victim of Mitchell Starc's bowling and was dismissed on a duck on both occasions. Now with the third golden duck, SKY registered an unwanted record of three consecutive golden ducks in the three-match ODI series against Australia.
Rohit Sharma Backed Suryakumar Yadav
While he has been receiving criticism from all corners, Indian captain Rohit Sharma has come out in support of the star batter. Speaking at the post-match press conference, Rohit extended his support to the struggling SKY and hailed his talent. He said:
"He only played three balls in three (games) this series. I don't know how much to look into it. He got three good balls, to be honest. Today, it wasn't that good ball; he should have gone forward. He knows best. He plays spin so well. We have seen that over last couple of years. That's why we held him back and give him that role for the last 15-20 overs where he can play his game, but it's really unfortunate he could only play three balls. That can happen to anyone. But the potential and ability is always there. He is just going through that phase right now."