In his tweet to congratulate Virat Kohli for his 50th ODI century, Sachin Tendulkar reveals an unheard prank that their teammates played on a young Kohli when he first met Tendulkar back in 2008.
Kohli on Wednesday went past two of Tendulkar's long-standing records: most centuries in ODI cricket, and most runs in a World Cup tournament.
With his knock of 117 against New Zealand in the World Cup 2023 semi-final at the Wankhede, Virat Kohli became the first cricketer to hit 50 ODI centuries. He also surpassed Tendulkar's record of 673 runs from the 2003 World Cup to become the first player to rack up over 700 runs – Kohli now has scored 711 runs in 10 innings at an average of 101 with 5 fifties and 3 centuries in his tournament.
Sachin Tendulkar took to Twitter to congratulate and hail Kohli for his incredible, record-breaking achievements today. He started with a funny story of how their teammates pranked Virat Kohli when he entered the Indian dressing room for the first time in 2008/09. His teammates told him to touch Sachin Tendulkar's feet as part of a tradition for a youngster.
Sachin Tendulkar tweeted: "The first time I met you in the Indian dressing room, you were pranked by other teammates into touching my feet. I couldn't stop laughing that day. But soon, you touched my heart with your passion and skill. I am so happy that that young boy has grown into a 'Virat' player.
Tendulkar said he was happy that an Indian has broken his record, and that too in a big World Cup semi-final.
"I couldn't be happier that an Indian broke my record. And to do it on the biggest stage – in the World Cup Semi-final – and at my home ground is the icing on the cake."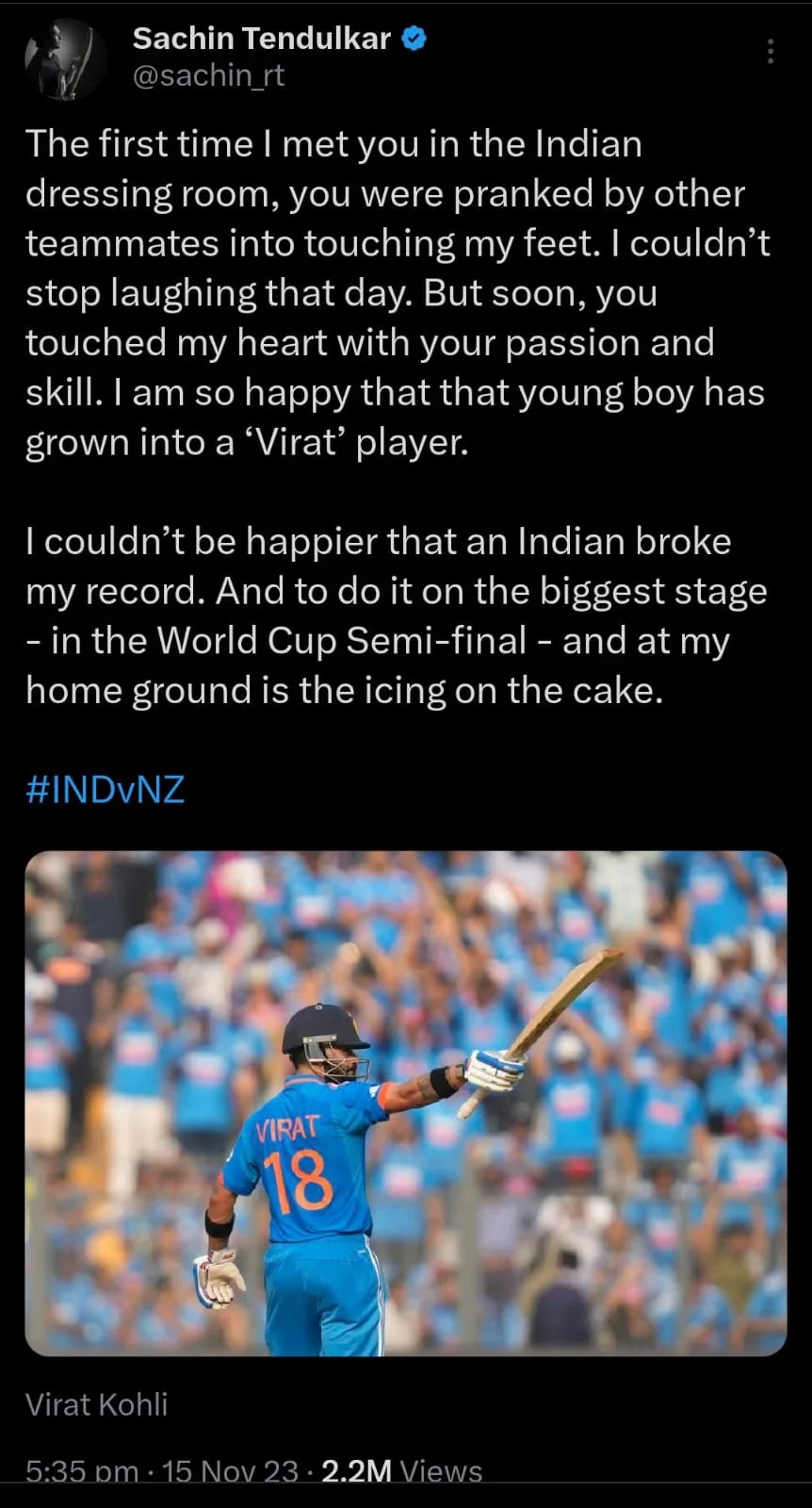 In the mid-innings break, Virat Kohli said: "On his celebration after reaching the hundred) As I said stuff of dreams. Anushka was sitting right there, Sachin paaji was here too. Difficult to explain this. If I could paint a perfect picture I would want this to be the picture. My life partner, the person I love the most is sitting there, my hero is sitting there and I was able to get the 50th (ODI hundred) in front of all of them and all these stands in Wankhede as well, such a history venue so it was amazing."