India batter Shreyas Iyer has revealed his favorite spot in the playing XI and he firmly believes that the No.3 spot is the only spot where one can manage the tempo of the innings well.
Well, in the absence of Virat Kohli, the number 3 spot was handed over to Shreyas Iyer, who made full use of the opportunity.
Iyer turned out to be the star of the series as he slammed 204 runs across three innings, scoring an unbeaten, match-winning fifty each time. He became the only Indian batter other than Virat Kohli to smash three back-to-back half-centuries in a bilateral T20I series. Virat had scored 199 runs against Australia in 2016. Shreyas also hit the most boundaries (20) and joint-most sixes in the series (7, tied with Shanaka).
In the first T20I match in Lucknow, he came into bat in the 12th over and scored 12 runs off the first 12 balls he faced. In the next two T20I games in Dharamshala, Iyer rescued India from a trickier situation and helped the Indian side win the match by seven wickets to spare. During the 3rd T20I, walked into bat at number 3 held the fort for India alongwith Ravindra Jadeja, and ensured to take the side home over the line yet again. Shreyas played an unbeaten knock of 73 runs, smashing 6 fours and 4 sixes.
Meanwhile, the talented cricketer has been receiving praises from several cricketers and experts on social media. There are many who opined that Shreyas Iyer is the perfect replacement for the former skipper Virat Kohli.
In fact, recently, in an interview with Times Now, Shreyas revealed his favorite batting position in the shortest format of the game. He said:
"Obviously in this format, top-three is the only place where you can pace your innings pretty well. Otherwise if you bat down the order you can't give yourself time you need to start going from ball one. So yeah, if I had to say the best number to bat for me personally, it's obviously No. 3,"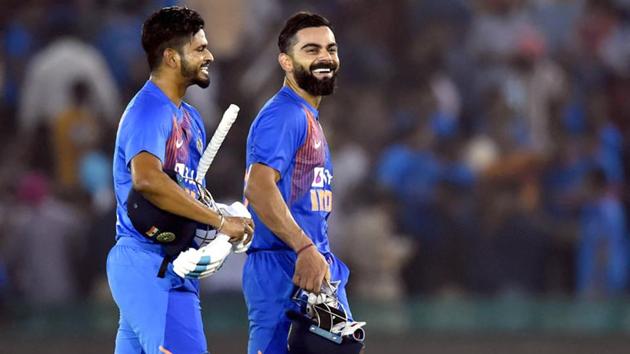 However, Shreyas is not the preferred option in team India's playing XI in the T20Is. However, with his terrific performances, he has definitely increased the headache of the Indian team management. Shreyas accepted the dynamics of the team and also acknowledged that the competition is immense at the moment. He said:
"I'm not keeping any expectations from myself nor from the team coaches because if you see the competition in our team, it's immense. Every individual is capable of winning you games. Personally I want to enjoy each and every moment and opportunity, which I've been provided with. I like to finish off the games and that's like my mindset whenever I go onto the pitch,"