14-Year-Old Lady Suryakumar Earns Praise From Sachin Tendulkar:  A class 8th student from the Barmer's Sherpura Kanasar village in Rajasthan went viral on social media earlier this week, with fans hailing her as the lady Suryakumar Yadav.
Mumal Mehar, a 14-year-old from Barmer, got attention from even the legend Sachin Tendulkar through her video which had everyone's jaws dropping.
In the video, Mumal is seen tonking bowlers, mostly boys of her village, for big hits through a range of strokes. She says she loves watching India batter Suryakumar Yadav, and it was no surprise as she too used her 360-degree range and middle most of the balls.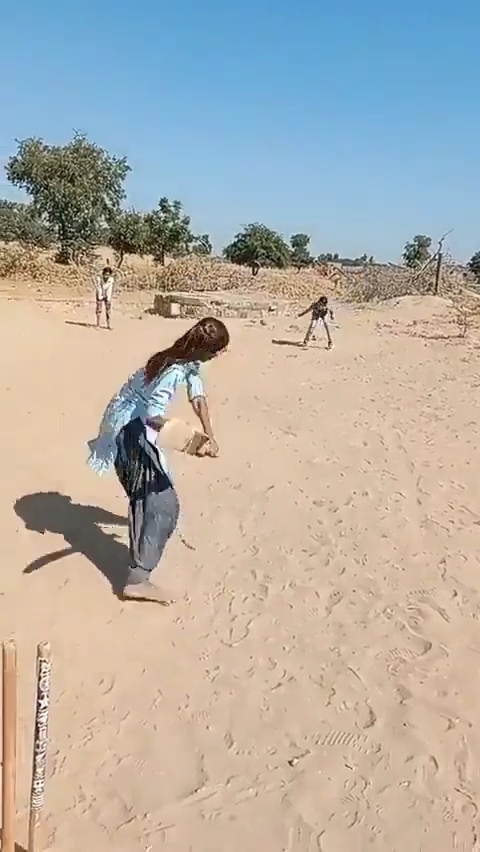 Legendary Indian batsman Sachin Tendulkar was so impressed by Mumal's hitting, her confidence, and her story, that the 49-year-old posted the video on Twitter.
"Kal hi toh auction hua.. aur aaj match bhi shuru? Kya baat hai. (The auctions got over just yesterday and she is already playing ) Really enjoyed your batting", Sachin wrote in a post on Twitter, referring to the Women's Premier League auction.
Here, check out Sachin Tendulkar's praises for the lady Suryakumar:
Kal hi toh auction hua.. aur aaj match bhi shuru? Kya baat hai. Really enjoyed your batting. 🏏👧🏼#CricketTwitter #WPL @wplt20

(Via Whatsapp) pic.twitter.com/pxWcj1I6t6

— Sachin Tendulkar (@sachin_rt) February 14, 2023
As her video of batting in her village went viral, Rajasthan's Bharatiya Janata Party chief Satish Poonia delivered her first cricket kit.
Revealing that it was Suryakumar's batting that inspired her, Mumal Mehar said: "I used to watch the batting of Indian cricketer Suryakumar. Seeing him, I try to take long shots. I used to play for three to four hours daily. Roshan (Khan) Bhai helps us in practice. Recently I participated in Rural Olympics and played from Gram Panchayat level to district level. Unfortunately my team lost."
Mehar revealed that she and her cousin Anisa don't miss any opportunity to play cricket, in spite of some family restrictions.
"Anisa [cousin] and I have played together in the Rural Olympics. Whenever I get a chance, I play in the playground outside school. I love this game so much that despite family restrictions I played with the boys."
She said she started playing cricket with Anisa when she was 9 years old and her interest sparked when Anisa got selected in the Under 19 Rajasthan team.
Mehar has seven sisters and two brothers. Her uncle said she used to walk to school 3 kilometres away from her home. She is active on social media and has garnered over 12,000 followers.
Roshan Khan said he hoped that the attention on social media helps Mumal Mehar get some support from the government to improve her skills.