Suryakumar Yadav is a big name when it comes to the shortest version of the game. Popularly known as "Sky", Suryakumar Yadav is best known for his searing potential to score runs at a rapid pace, making him the deadliest batsman in T20Is.
The right-handed batter expressed himself at Kolkata Knight Riders before shifting his base to the Mumbai Indians and the rest is history. Mumbai Indians backed the player through and through in the initial stages of his career.
The star cricketer perfected the art of hitting sixes with relative ease and that too in the form of 360 degrees, making him one of the unique cricketers in the present era. His style of batting is often compared to that of AB de Villiers because of his subtle ability to hit shots all over the park with relative ease.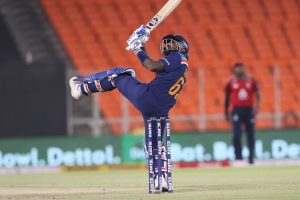 Here's the compilation of Suryakumar Yadav smashing his top 10 sixes in his career
Currently, Suryakumar Yadav is a regular feature when it comes to white-ball cricket. The right-handed batsman hasn't yet discovered his rhythm in Test cricket and it might take him some time as he made his debut very recently.
However, he has been statistically very imperious when it comes to the T20I format. Ever since he made his T20I debut, he has bagged more man-of-the-match awards compared to other players.
Suryakumar Yadav has played 48 T20Is in his career wherein he compiled 1675 runs at an average of 46.5 including three centuries and 13 half-centuries to his name. On the other hand, he scored 433 runs in 20 ODIs including two half-centuries.
It is worth mentioning that he has totally enjoyed smashing sixes in his career. He has smacked a total of 96 sixes in Twenty20 Internationals whereas he has hit 8 sixes in One-Day Internationals.
https://www.youtube.com/watch?v=pD18ZvOLHqY