Swashbuckling Indian keeper-batter Rishabh Pant suffered a massive tragedy on Friday morning as he met with a serious car accident near his home town Roorkee, Uttarakhand.
After being rushed to the hospital, Pant told the police and doctors that he'd "dozed off" while driving early morning on the National Highway 58, where this accident occurred, and crashed into a divider.
He was admitted to Saksham Hospital Multispecialty and Trauma Centre where he was treated for impact injuries, and then was transferred to Max Hospital, Dehradun, where he will undergo MRI scans to find out the extent of his injuries and plan his further course of treatment. The 25-year-old is "stable" now, but has suffered multiple injuries.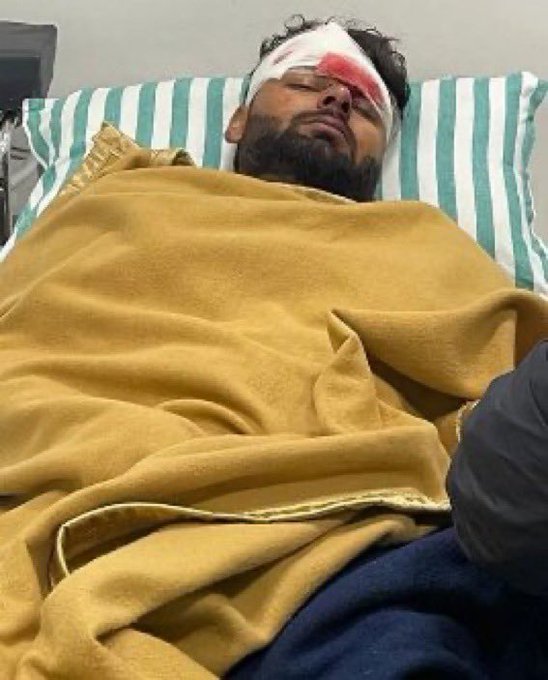 "Rishabh has two cuts on his forehead, a ligament tear in his right knee and has also hurt his right wrist, ankle, toe and has suffered abrasion injuries on his back. Rishabh's condition remains stable," the BCCI said in their released statement.
Urvashi Rautela posts picture of herself with caption "Praying" after Rishabh Pant's injury
While Rishabh Pant received immense wishes and prayers from all corners of social media, with fans and celebrities from across the field, sending their messages for the well-being of the 25-year-old Indian cricket, Bollywood actress Urvashi Rautela made a weird Instagram post that attracted plenty of flak and criticism from netizens.
Rautela and Pant have had some history, which became a public blowout earlier this year. Urvashi Rautela, a discard from Bollywood with little to no note of recent top-notch work in the industry, has been using the context and drama with Pant for great attention this year.
After Pant's accident news went viral, Rautela posted a picture of herself in white-colored clothing on Instagram, captioning the post: "Praying"
Furious and annoyed with Rautela, fans slammed the actress and trolled her for her weird post at this sensitive time.
Here are some of the reactions to Urvashi Rautela's post after Pant's accident:
what an insensitive idiot..

— Jatin Khandelwal (@jr_khandelwal) December 30, 2022
https://t.co/QukAT4INMs
Urvashi Rautela +..☕😒

— 🇮🇳ꪜ𝓲ꪀꪮ⁹⁶🚩✍ (@vinoo_96) December 30, 2022
Ye pagl hai ???

— M (@Error_fawnd) December 30, 2022
Dude is this real? Is she freaking serious? Now? This girl been testing my patience, abhi 4-5 gali galoj karke aati main!

— ' (@justabyst) December 30, 2022
— Apolitical 🇮🇳 (@Apolitical21) December 30, 2022
Ye kis tarah ka praying hai 😭😭

— Rohit (@rohit_0718) December 30, 2022
— Sunny Cricketer🇮🇳 (@CricketKiBaat18) December 30, 2022
Iske pitne vaale lakshan hain!!

— ★Reconquista™ 🌅🚩🕉️ (@the_great_rise2) December 30, 2022
Yeh kya hutiya bndi h kasam se

— msdian.janvi (@good_bitxh) December 30, 2022
Ye nahi sudhregi 😭😭😭

— SKY (@Skyhasnolimits_) December 30, 2022
Meanwhile, the BCCI Secretary Jay Shah took to Twitter to give his prayers for the well-being and speedy recovery of Pant. Shah added that the BCCI will give all necessary support possible to the cricketer.
"My thoughts and prayers are with Rishabh Pant as he fights his way back to recovery. I have spoken to his family and the doctors treating him. Rishabh is stable and undergoing scans. We are closely monitoring his progress and will provide him with all the necessary support," Jay Shah tweeted.
My thoughts and prayers are with Rishabh Pant as he fights his way back to recovery. I have spoken to his family and the doctors treating him. Rishabh is stable and undergoing scans. We are closely monitoring his progress and will provide him with all the necessary support.

— Jay Shah (@JayShah) December 30, 2022