Why Virat Kohli Dropped Simple Catches In Slips?: In very much an expected result, India bulldozed Australia aside comfortably in the first Test of the Border-Gavaskar Trophy series, in Nagpur, by a massive margin of an innings and 132 runs.
Making his comeback after 5 months, Ravindra Jadeja stole the show with thunderous all-round performances: figures of 5/47 and 2/34 in addition to 70 runs. Rohit Sharma, with a century, and R Ashwin, with a five-fer, also hogged the headlines.
In the headlines has also been Virat Kohli. And not for his low score of 12 this time.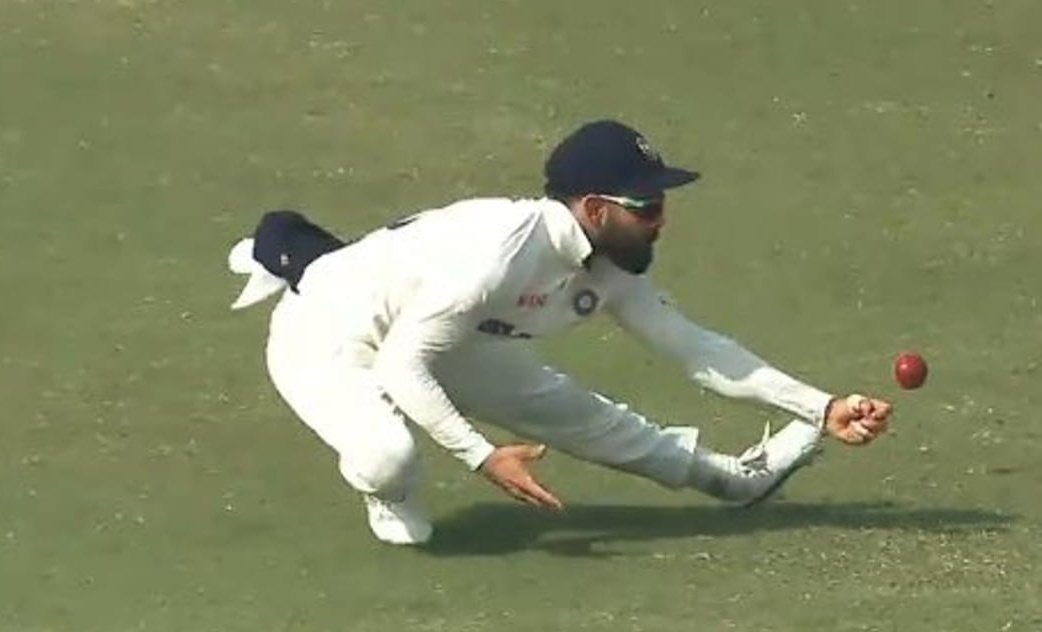 Virat Kohli dropped 3 catches at first slip in the IND vs AUS Nagpur Test
Yes, Kohli, in his career, has taken a screamer here and there. But it is a generally accepted truth that Kohli is a mediocre slip fielder. And even though Kohli, in 105 Test, has taken 106 catches- 5th most for an Indian in Tests- over the past few years, his catch drop frequency in the slips has increased, and he now barely hangs on to half-chances while standing behind the stumps, especially in first slip.
In this Nagpur Test Kohli dropped three catches in all. That of Steve Smith and Peter Handscomb in Australia's first innings and that of David Warner in Australia's second innings. It can said that the catches of Smith and Handscomb were tough chances – Smith's edge flew quickly while Handscomb's was deflected of keeper KS Bharat – but Warner's catch was a sitter that Kohli shelled.
These didn't prove costly as the Indian bowlers were bound to produce more chances. But dropped catches of the opposition's best players could hurt, especially away from home where every wicket needs to be prized out.
So why did Virat Kohli's drop catches?
Mark Waugh feels Kohli wasn't as attentive in the slips as he should have been.
Former Australia cricketer Mark Waugh, who is regarded as one of the finest catches Australia ever produced and who now a commentator for this series, made some observations as to why Virat Kohli dropped the catches in slip.
"Your legs have to be lot closer to be able to move quickly" Waugh said. "Kohli was very high-up in his position. Should have stayed down a bit. He should have done a little bit better. Almost as if he wasn't expecting it."
"It's like he doesn't think the ball will come to him, looks away from the game.
"You have got to read the play. You have got to pretend you are actually batting when you are fielding at first slip to the spinners."
Waugh's observation was vindicated when the replays revealed that Kohli's upper body was more erect and high-up with his hands above his knees – a position that makes it difficult to react quickly to a sharp chance.
Because when standing in the slips, it's easier to go up to adjust to a high catch rather than moving down to grab one quick chance.
"He's a pretty good fielder but there are a few technical things that he can work on. Those chances that dropped they both came quickly. Maybe change a couple of things, the way he stands and then he won't drop any more catches," Waugh further opined.
Steve Smith also dropped a couple of catches in the slips in the Nagpur Test. This time Mark Waugh said it was disappointing to see Steve Smith drop catches, considering Smith is one of their best catchers.
Giving his view on Smith's dropped opportunities, Mark Waugh said: "Disappointing that he dropped three catches. It is very unusual. He is one of the greatest slip fielders in the world. I critiqued Kohli earlier and now it is Smith."
The second Test match will be played in Delhi starting February 17.