A day ahead of the crucial rescheduled fifth Test against England, Virat Kohli's beautiful reaction to the camera crew at Edgbaston has gone viral.
Virat Kohli Gave An Epic Reaction
It was after India last practice session on Wednesday at the stadium, Kohli and opener Shubman Gill were walking back to the dressing room, being guided by a security person, when they were being followed by the Edgbaston media personnel with a camera in hand.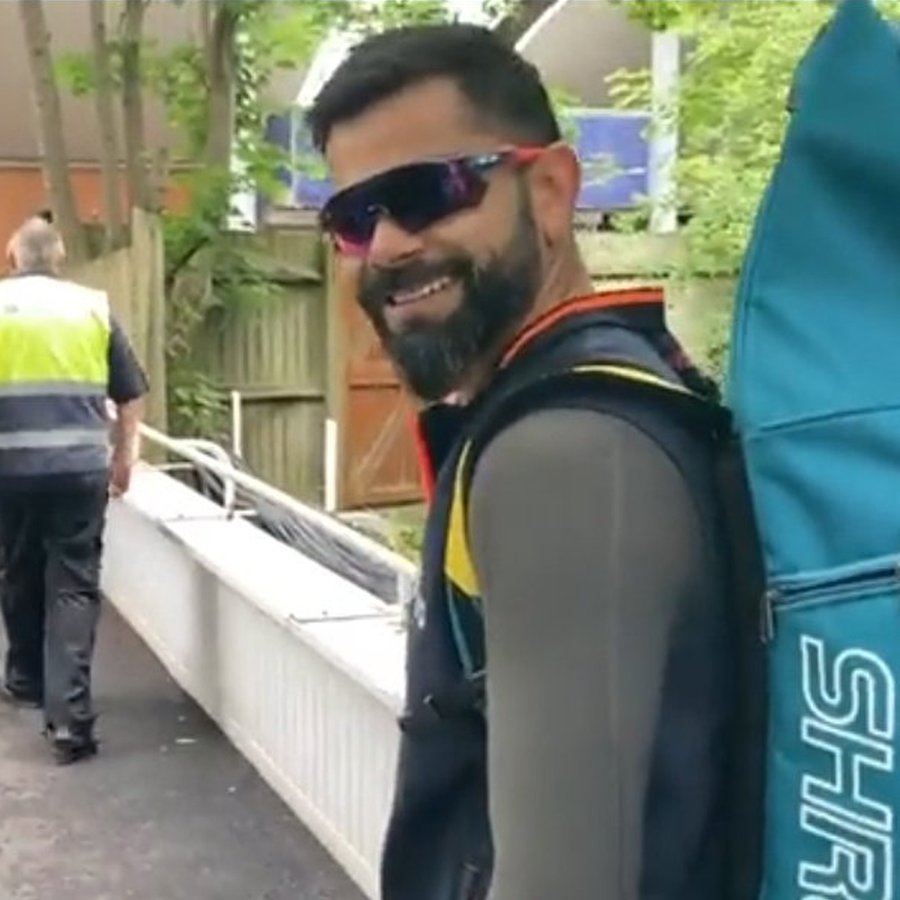 After walking for a minute, Virat Kohli suddenly turned around, cheekily asked "What's up?" to the camera guy, giving an infectious smile on which millions swoon over while turning front again.
The official Twitter handle of the Edgbaston ground uploaded this video with an epic caption: "𝗪𝗮𝗹𝗸𝗶𝗻𝗴 𝘄𝗶𝘁𝗵 𝘁𝗵𝗲 𝗸𝗶𝗻𝗴. My life is complete."
Here, check out the video:
𝗪𝗮𝗹𝗸𝗶𝗻𝗴 𝘄𝗶𝘁𝗵 𝘁𝗵𝗲 𝗸𝗶𝗻𝗴.

My life is complete. #Edgbaston | #ENGvIND pic.twitter.com/Ij6kDbnuAA

— Edgbaston (@Edgbaston) June 29, 2022
Fans on Twitter loved this reaction from the former India captain; some even trolled the Indian media for the way they have treated Kohli compmaring it with the media away from home.
Here are some of the fan reactions:
Love someone as much as Kohli loves Admin.

#YouBears | #ENGvIND https://t.co/XGGZVeAtdF pic.twitter.com/tJcJPRE6ga

— Bears (@WarwickshireCCC) June 29, 2022
Indian media makes ppl hate him in every possible way on the other hand the foreign media gives him the respect he deserves. That's the difference! https://t.co/7axOTrtZu4 pic.twitter.com/cFWaUYqsk8

— Adsssss (@adss__blaugrana) June 30, 2022
Mfs @BCCI see this is how you treat the King #ViratKohli𓃵 https://t.co/DE0zUUPA1B

— Sanskar Threja (@ThrejaSanskar) June 30, 2022
@BCCI learn from them BC https://t.co/7oyvgaWAKG

— 𝙍𝘿𝙆 (@Goatcheeku_18) June 30, 2022
The guy fell for him right here. https://t.co/Ite38JpDvm pic.twitter.com/hOL6nnelE6

— AMIT DAS (@Sir_AD28) June 30, 2022
Meanwhile, with less than 24 hours left for the game to start, there is still no confirmation about the availability and status of Rohit Sharma, who has been in isolation since testing covid-19 positive last Saturday. He tested positive again on Wednesday; he needs to return a negative test on Thursday to be declared available for the Test match starting on Friday.
Rahul Dravid not worried about Kohli's century drought
Head coach Rahul Dravid was inquired about whether he's concerned regaridng Kohli's century drought, the period extending to over 31 months now with his last century – in any format – came in November 2019.
Dravid, stated that Kohli will always be judged by the high standards he had set during his prime and that his half-centuries can also be crucial if they win the game. The 49-year-old head coach reckoned that although Kohli hasn't score a three-figure score for a long while, he has played some really good knocks, including the one in Cape Town earlier this year.
"As a player, you go through these kinds of phases. I don't think in Virat's case, it is lack of motivation or desire. It's not about scoring three figures, even a 70 on a difficult pitch is worth appreciation. In Cape Town, he didn't convert it into a century, but it was a good score," Rahul Dravid said on Wednesday.
"Going by the standards he has set for himself, people only see hundreds as a success. But from a coach's perspective, we want contributions from him, whether it's a 50 or a 60," Dravid added