Virat Kohli Gave An Epic Sendoff: Jonny Bairstow resumed his surreal batting form as he smashed a third consecutive Test hundred, on Sunday as he kept England alive in the Edgbaston Test. Bairstow hurt India with the weight of his runs, and in the manner, it came following his heated argument with Virat Kohli on the morning of Day 3.
After hammering hundreds against New Zealand at Trent Bridge and Headingley, the Yorkshireman slammed one, against a stronger and deeper bowling attack of India in the all-important fifth Test of the Pataudi Trophy.
Virat Kohli gives a flying kiss sendoff to Bairstow
Bairstow hammered 106 runs off 140 balls, his knock including 14 disdainfully struck fours and two cleanly-hit sixes. England were in a pickle at 83/5 and he took them to over 250 in reply to India's 416.
Perhaps even Virat Kohli would have been regretting enraging Bairstow. Bairstow was 13 runs off 61 balls before his argument with Kohli; he teed off splendidly after that, smashing 87 runs off the next 58 balls, and brought up another quickfire century off 119 deliveries, celebrating it animatedly.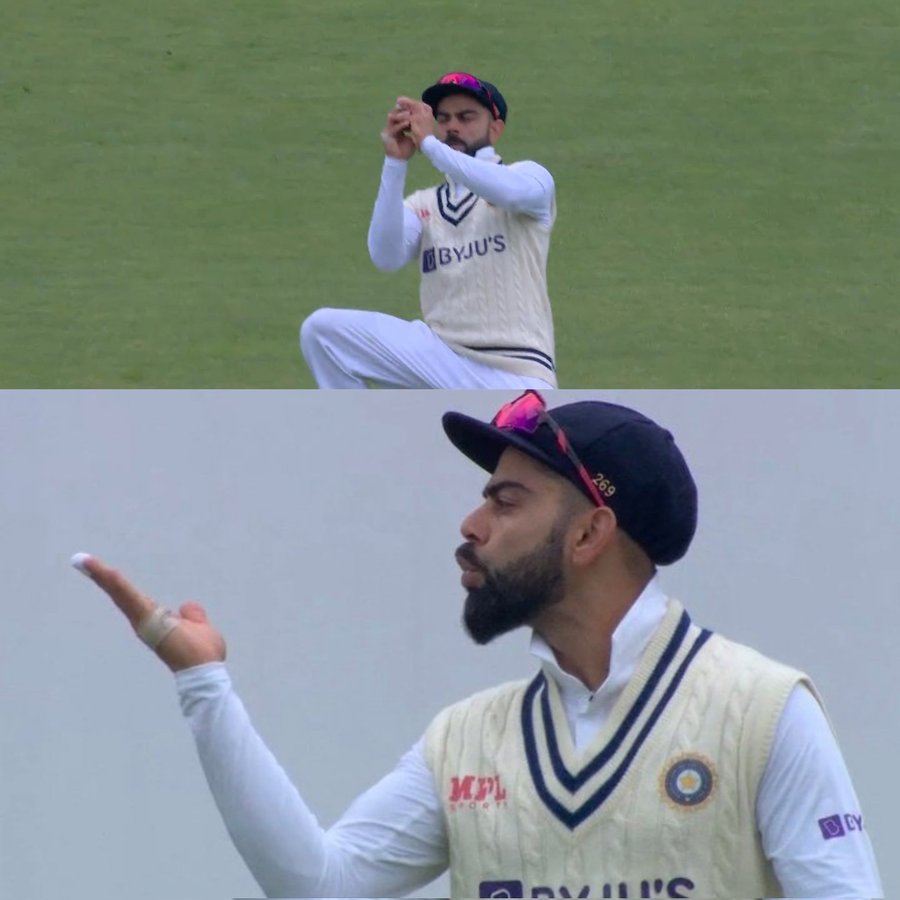 Eventually, it was Mohammed Shami to whom Bairstow succumbed. Bairstow's eyes went up as he saw a length delivery well outside off-stump and went for a powerful drive. However, he could only manage an outside edge which was taken easily by Kohli at first slip.
While Bairstow went off to a standing ovation from the crowd, Kohli gave him his own send-off: a flying kiss!!
The video of Kohli giving a flying kiss as Bairstow walked back to the dressing room has gone viral.
You can watch the video here:
Kohli takes a sharp catch as Shami strikes on the first ball of a new spell to remove the danger man

Well played, Jonny Bairstow

Tune in to Sony Six (ENG), Sony Ten 3 (HIN) & Sony Ten 4 (TAM/TEL) – (https://t.co/tsfQJW6cGi)#ENGvINDLIVEonSonySportsNetwork #ENGvIND pic.twitter.com/B0aOJ7u8Nc

— Sony Sports Network (@SonySportsNetwk) July 3, 2022
Here are some of the reactions to Kohli's sendoff to Bairstow:
Kohli blew a kiss to Bairstow after his dismissal pic.twitter.com/Ig5WKyis7k

— ESPNcricinfo (@ESPNcricinfo) July 3, 2022
Kohli has a brass neck blowing mocking kisses at a bloke who's scored three more Test hundreds in the past month than he has in the past 2.5 years. pic.twitter.com/9aO6rH1Abs

— Piers Morgan (@piersmorgan) July 3, 2022
Kohli blowing Bairstow a kiss after a ton. Classy #ENGvIND

— Jonny Bairstow's Barmy Army (@TheBarmyArmy) July 3, 2022
No idea why #Kohli has to act the way he does. He's a world class player, but blowing kisses to Bairstow on his way off… Seriously? #ENGvIND

— Fabian Cowdrey (@fkcowdrey) July 3, 2022
The irony of blowing a kiss to a player that has scored more centuries today than you have in over two and a half years.

Are you Virat Kohli's India at 1.55 or an England comeback at 4.4? #ENGvsIND pic.twitter.com/HqmCsFOq1J

— Betfair Exchange (@BetfairExchange) July 3, 2022
King Kohli grab the Catch of Jonny Bairstow and and blew a kiss to him.#ENGvIND pic.twitter.com/N6zrsLh5k5

— Over Thinker Lawyer (@Muja_kyu_Nikala) July 3, 2022
Kohli blowing kisses at a player who has scored three tons in four weeks when he's failed to bring up three figures in two and a half years is exactly why folks can't stand him. #ENGvsIND

— Lee Clarke (@Clarkey_No1) July 3, 2022
Kohli blows a kiss to Bairstow as he departs. We will see if he'll score 100 runs in total in this match. An absolutely graceless cricketer. #BBCCricket

— Arjun Singh (@flexiturb) July 3, 2022
Kohli blowing a kiss too bairstow after not scoring a 100 in 3 years (100+ innings) what a shameless man https://t.co/zGKlz5WPBT

— QE (@qasimenver) July 3, 2022
After Bairstow's dismissal, India wrapped up things quickly. Mohammed Siraj finished with a four-wicket haul, Shami with a brace, Shardul Thakur had one wicket to his name, while Bumrah couldn't add any from his three overnight as England folded for 284, giving India a lead of 132.