Even since he rocked into the Indian team and on his maiden Test tour to Australia in 2011/12, two character traits of Virat Kohli have entwined spectacularly: that his aggression is very un-Indian, and is boldness of getting the best out of himself when spurned on is very Australian.
That Virat Kohli wears his heart on his sleeve was well-known right from the onset of his career. He wasn't the most fan-liked of the men in the Indian team filled with sage saints and calm personalities.
Kohli's best, in particular in his 20s, came against Australia, in particular in Australia. Adding his performances Down Under with his naked aggression, the will to take the Aussies head-on, both with the ball and with the lip, even got him respect from the Aussies.
Among Indians, only Sachin Tendulkar (1809 in 20 Tests) has scored more Test runs in Australia than Kohli's 1352 in 13 Tests, both hitting 6 Test centuries Down Under. Across the three formats, he's amassed 2605 runs in Australia with 9 hundreds and 13 fifties.
Over the course of the past 13 years' battle against Australia in the Border-Gavaskar Trophy, Virat Kohli has had some of the most heated moments between an Indian and Australians. Let's revisit his top 5.
Here are 5 of the most heated Virat Kohli moments in the Border-Gavaskar Trophy:
Kohli's flying kisses to Johnson
In the 2014 series, Mitchell Johnson was fresh from a record-breaking home Ashes series where he retired a few Englishmen. Against India, he was up against a young, coming-of-age Virat Kohli, who wasn't intimidated by the Johnson's pace or fury or the bounce in Australian pitches.
Kohli was on a rampant form, hitting three centuries in the first three Test. In the MCG Test, as Kohli punched down, Johnson threw the ball back at the stumps and it hit Kohli who was quickly down. The batter got up and then began hammering Johnson with the bat.
After one of the boundaries, Kohli even gave flying kisses to Johnson, which infuriated the fast bowler who started speaking things to Kohli.
"Stay in your limits" Kohli tells Steve Smith
Even with Kohli as the captain, the charismatic skipper was always ready to attack the Aussies with his verbal volleys. One such incident is when India appealed for Steve Smith's lbw on Rohit's bowling, and after the umpire denied it, Smith said something to Rohit.
Standing at slips, Kohli blasted Smith. "You have got an issue with everyone," Kohli said, seeing in the eyes of Smith.
After both were separated, Kohli continued: "Don't mess around" before telling Smith to "Stay in your limits."
Virat Kohli's most explosive press conference
This press conference of a young Virat Kohli will go down in the annals of the most memorable press conferences. After that Johnson incident, Kohli outright said that he doesn't respect the fiery Aussie fast bowler.
Bringing his attacking form from the field to the presser later in the day, "I was really annoyed with him hitting me with the ball, and I told him that's not on."
"'Try and hit the stumps next time, not my body.' You have got to send the right message across. I am not there to take to some unnecessary words or chats from someone. I am going there to play cricket, back myself. There's no good reason that I should respect unnecessarily some people when they are not respecting me."
"It was going on throughout the day," Kohli said. "They were calling me a spoilt brat, and I said, 'Maybe that's the way I am. You guys hate me, and I like that.' I don't mind having a chat on the field, and it worked in my favour I guess. I like playing against Australia because it is very hard for them to stay calm, and I don't mind an argument on the field, and it really excites me and brings the best out of me. So they don't seem to be learning the lesson."
The Aussies, in particular Ryan Harris, retaliated to Kohli's words about them.
Kohli vs Paine – almost physical
Although the 2018/19 series, which marked India's historic maiden triumph in Australia, was played in good sprits, Tim Paine and Virat Kohli did have the occasional tussle. The Aussie and Indian captain in the Perth Test were in each other's ears. Both played remarkable innings with the bat for their teams.
https://www.youtube.com/watch?v=0c1DY-Dozg8
In one incident, Kohli even got very close to Paine, who then straightaway turned toward the umpires who then have to calm Kohli down.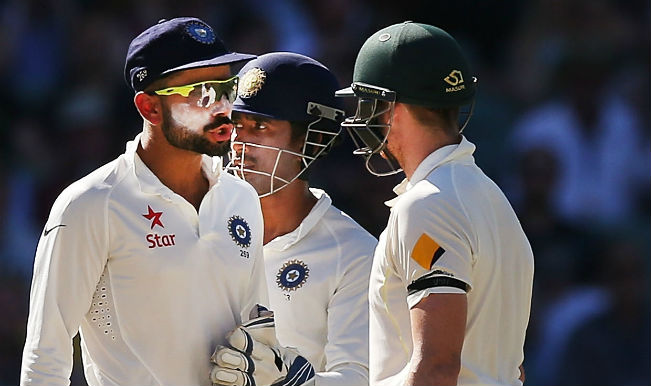 Virat Kohli angry at Steve Smith's "Brianfade"
The 2017 Border-Gavaskar series which was played in India had some of the very memorable moments for the fans with the players from both sides teasing each other throughout the series.
The biggest talking point from that series, apart from the highly competitive cricket, was Steve Smith's "brainfade" moment in the Bangalore Test, when he looked in the Australian dressing room, on the suggestion of Peter Handscomb, and tried to consult his teammates and coaches on whether to take a review after being given out on field lbw.
Players can't take outside consultation in DRS matters and this irked Kohli and Indians straightaway. Kohli was fuming at Smith who was asked by the umpire to start walking toward the dressing room.
Later in that series, Kohli even said that he doesn't have any "Friends" now in the Australian camp.