Even though Jasprit Bumrah was away for a year to treat and recover from his back injury and surgery, the fast bowler's performances in the Asia Cup 2023 and the World Cup 2023 have highlighted that not only he's acclaimed his status as arguably the best white-ball bowler in the world, but he's better than ever.
At the time of writing, while Jasprit Bumrah is not in the top 5 wicket-takers in the World Cup 2023, it can be said with conviction that he's been the most important bowler for India, and perhaps the best bowler in the tournament.
That he has taken 15 wickets in 8 matches is not even the best aspect of his bowling in this tournament which has seen India seal their position at the top of the points table and win 8 consecutive games – the only side in the tournament yet to face a defeat.
This stat is the most mind-boggling stat about Jasprit Bumrah in World Cup 2023:
We are talking about his economy. Jasprit Bumrah has maintained an economy of 2.73 in powerplay, and 3.65 overall. Jaw-dropping.
To put this stat in context: among the bowlers who have bowled at least 20 overs in the World Cup, Bumrah's economy of 3.65 is the best. Only Ravindra Jadeja is the other bowler in the tournament with an economy of less than 4 (3.76 runs per over) with a cut-off of minimum 20 overs.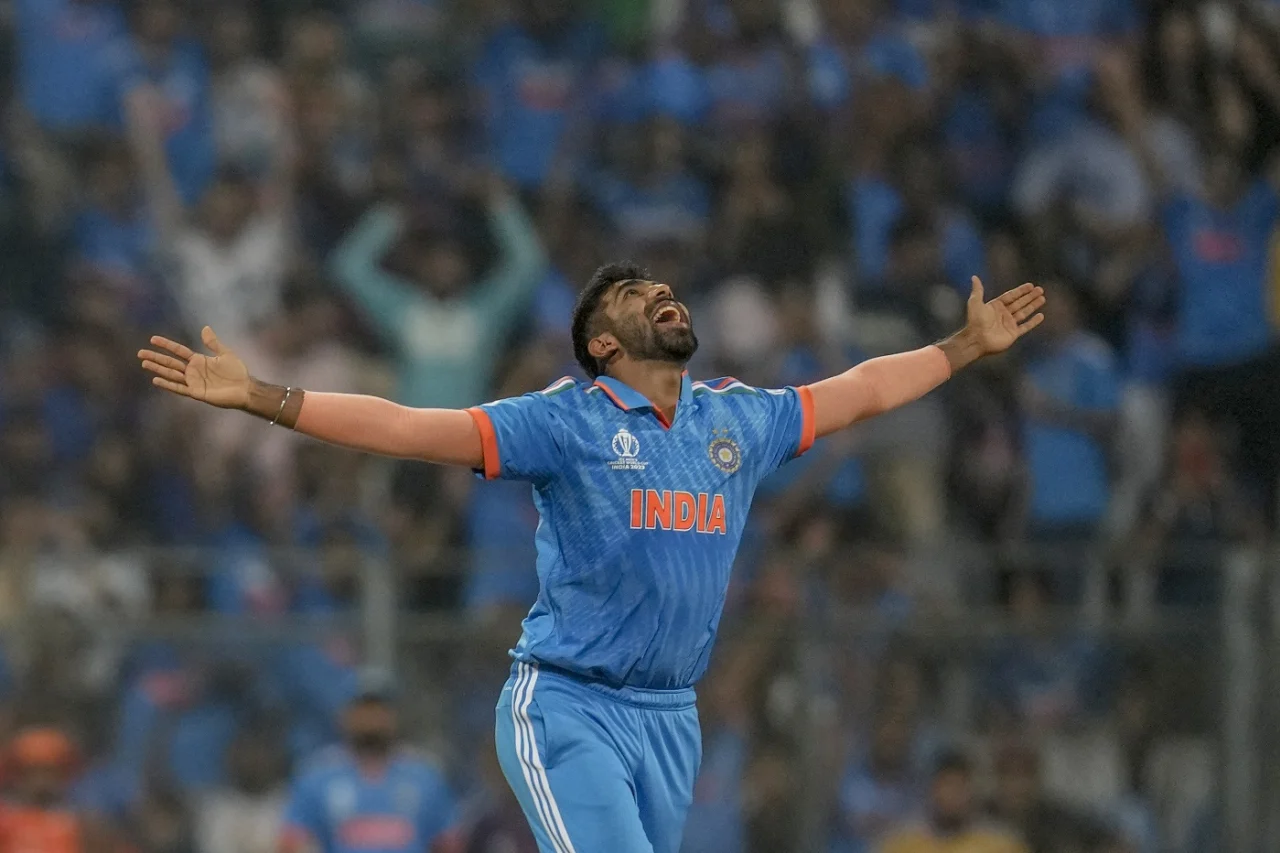 Jasprit Bumrah is one of the few fast bowlers in the world who excels in all three phases of an ODI game: powerplay, middle-overs, and death overs.
Jasprit Bumrah has bowled the most dot balls in World Cup 2023. He's sent down 383 legal balls so far, out of which 268 have been dot balls!
This World Cup 2023 tournament has been a high-scoring competition. The average runs per wicket in the World Cup 2023 is the highest of an ODI World Cup; it has seen the second-most number of centuries so far (32 with still  8 matches left, compared to 38 of 2015 World Cup); and it has seen the most sixes hit in a World Cup tournament.
Amid all this, Jasprit Bumrah has kept a parsimonious economy of 3.65. His greatness further heightens if we observe his powerplay numbers.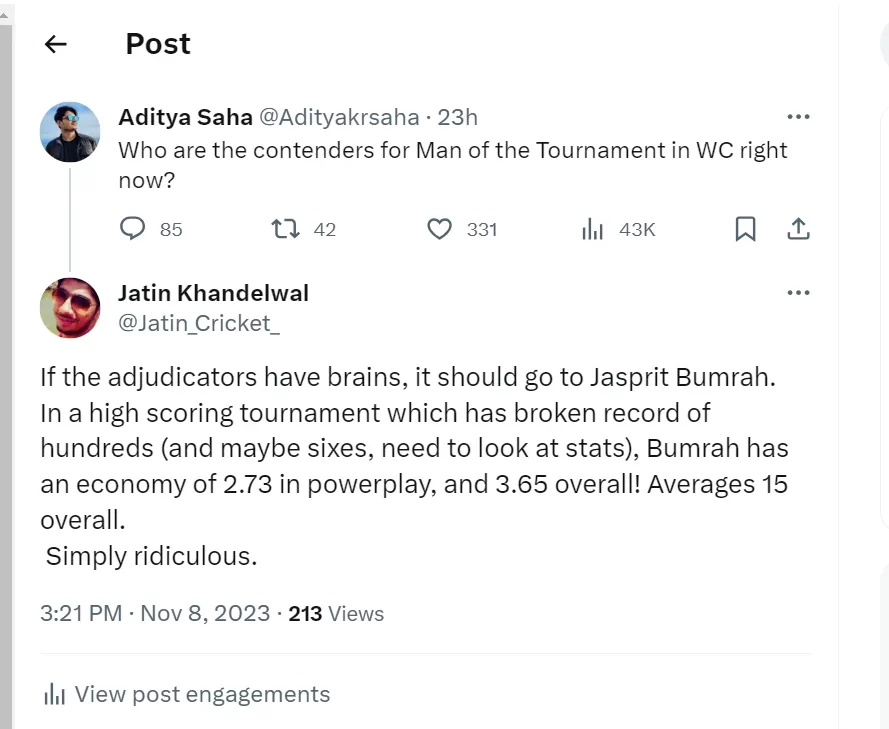 With the ball getting tougher to hit later on the innings- there has been reverse and contrast swing observed in this competition more than what it did in the last two World Cups – batters have looked to make most of the first powerplay overs, where only two fielders are allowed outside the 30-yard circle for the first 10 overs.
In the powerplay, Jasprit Bumrah has simply looked unhittable most of the time. He has an economy of 2.73 in the powerplay! (My jaw is still hanging at how good he is) He has bowled 161 dot balls out of the 204  legal balls he's bowled in the powerplay.
Bumrah keeping a lid on the run rate has allowed the likes of Siraj and Mohammed Shami to pitch it a bit further looking for wickets. Some of Siraj's inconsistency and expensive overs have been quietly masked by Bumrah's sheer brilliance.
Similar to how Rohit Sharma's aggressive starts give breathing space to Virat Kohli and Shreyas Iyer, Bumrah's excellence, and his simply being unscorable almost every time, has allowed others to carry on the momentum in the bowling, making India's bowling attack one of the strongest, most potent bowling attacks of all-time.
Jasprit Bumrah may not end up the leading wicket-taker of the tournament, and India might face another knockout loss, but his all-time great status has been well and truly established in this World Cup.