Fans Tag Virat Kohli In Memes After Danni Wyatt Gets Engaged: England women batter Danielle Nicole Wyatt, fondly known as Danni Wyatt, recently got engaged to her long-time girlfriend Georgie Hodge, who is a London based football agent and the head of women's football at CAA Base player agency.
After the completion of the T20 World Cup in South Africa, where England were knocked out in the semi-final by the host nation, Danni Wyatt, the England opener, posted a picture of the couple kissing under the sunset with a ring in her finger.
"Mine forever," Danni Wyatt captioned the post.
Mine forever 😍💍❤️ pic.twitter.com/cal3fyfsEs

— Danielle Wyatt (@Danni_Wyatt) March 2, 2023
As her post got viral on internet, the couple got plenty of love and congratulations from other cricketers and fans alike.
However, it also didn't take long for fans to recall that it was Danni Wyatt who had once publically proposed India star Virat Kohli on Twitter, though in only jest.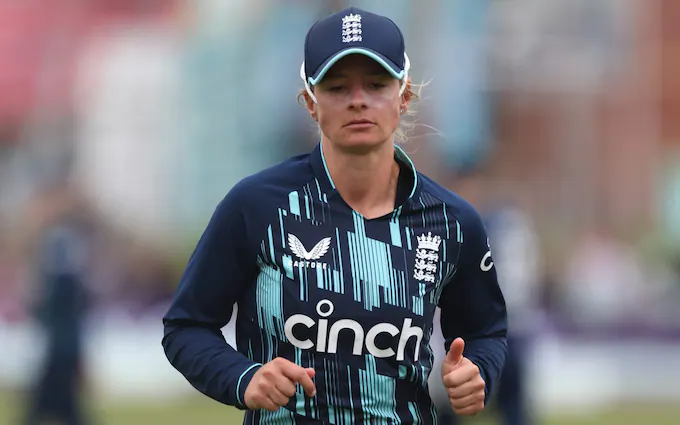 Yes, back in 2014, when Virat Kohli was emerging as the new hottest male cricketer on the planet – smashing runs on the field and regularly ruling brands off the field, making him a household name and a desired man for the ladies – it was Danni Wyatt who jokingly proposed the Indian batter for marriage.
"Kholi marry me!!!" Wyatt had tweeted in 2014.
Fans recalled this and made some hilarious memes involving Virat Kohli after Danni Wyatt announced her engagement with Georgie Hodge.
Here are some of the memes and amusing reactions of fans involving Virat Kohli on this news from Danni Wyatt:
Rishton k bhi roop badalte hai 👀 pic.twitter.com/U1cC0uYhZd

— N I T I N (@theNitinWalke) March 2, 2023
My reaction right now:- pic.twitter.com/qtJq1MMF8L

— Drink Cricket 🏏 (@Abdullah__Neaz) March 2, 2023
Congratulations @Danni_Wyatt
And @georgiehodge
Virat Bhaiya Bach Gaye Innke Proposal Se 😻😻 pic.twitter.com/PnfqoD0a3Y

— Prem❤️❣️ (@ErPremKumar) March 2, 2023
Yeshhhhhh pic.twitter.com/59GlGWT9DH

— RJ ALOK (@OYERJALOK) March 3, 2023
Yu Toh Tujhe Propose Kar Ri Thi Kuch Dinon Pehle 🤣🤣🤣🤣 pic.twitter.com/LrIK6Zio1I

— Mohit kohli (@The_Mohiiiiiit) March 3, 2023
Legend Virat Kohli bhai – pic.twitter.com/KabdcuLzRC

— Vihaan 💙 (@HeyVihaan) March 2, 2023
Kohli: pic.twitter.com/muWUL6PgG2

— Prayag (@theprayagtiwari) March 2, 2023
Meanwhile, Danni Wyatt had an ordinary T20 WC in South Africa, scoring 120 runs in 5 knocks with a half-century against Pakistan.
The major setback for her was when she went unsold in the WPL player auction. The 31-year-old, who has an experience of 143 T20Is and 102 ODIs, expressed her sadness at being unsold in the auction through Twitter.
"Dreamt of playing in the WPL. Heartbroken Congrats to all who got picked up. India is a wonderful place to play cricket," Wyatt tweeted
Dreamt of playing in the WPL. Heartbroken 💔 Congrats to all who got picked up. India is a wonderful place to play cricket

— Danielle Wyatt (@Danni_Wyatt) February 14, 2023