In the vibrant city of Lucknow, cricket enthusiasts witnessed an electrifying clash between India and England in the ICC Cricket World Cup 2023. The stakes were high, as India had already triumphed in all of their five previous games, securing a ticket to the knockouts. On the flip side, England's dismal performance had led to their untimely exit from the tournament.
England's captain, Jos Buttler, stood at the pitch centre, a mantle of responsibility on his shoulders. He won the toss and decided to field first on a slow and dry pitch, hoping to exploit any early moisture. This strategic choice was aimed at putting pressure on the formidable Indian batting lineup.
The pitch conditions played a significant role in the game's unfolding, as the slow nature of the track made it difficult for batsmen to find their rhythm. Bowlers, on the other hand, had a field day, exploiting the conditions to the fullest.
Virat Kohli did not perform in Lucknow
Amidst the charged atmosphere, the cameras panned to the crowd, capturing the sea of fans supporting the Indian team. Among the multitudes, one fan's journey stood out as truly exceptional. This dedicated cricket fan had travelled an astonishing 12,445 kilometres from the United States to Lucknow, with a single mission – to witness King Kohli in action.
The fan's devotion was apparent as he held up a placard that caught the attention of the stadium and television audiences alike. The placard bore a message that reflected the hopes and dreams of millions of cricket enthusiasts around the world.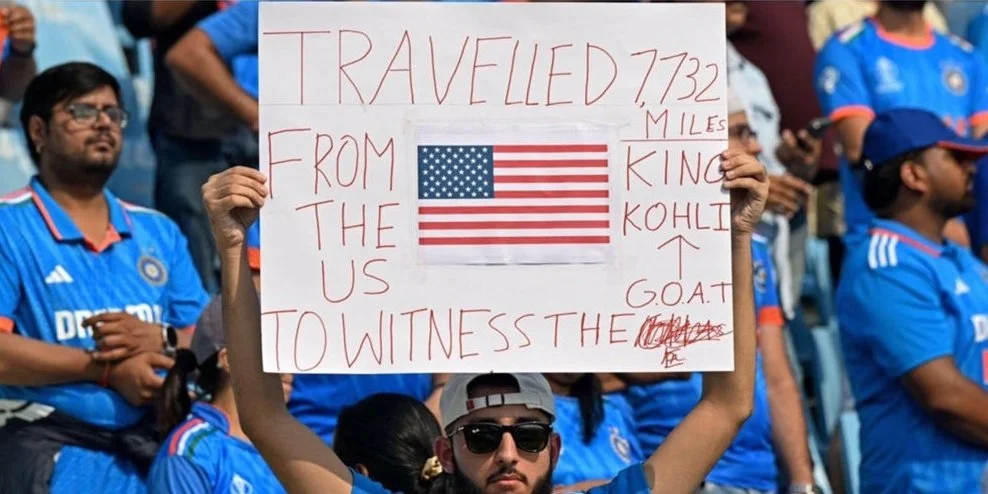 However, the cricketing gods had different plans for the day. Virat Kohli, the charismatic and immensely talented former Indian captain, failed to make an impact in the game. He was dismissed after facing just nine deliveries, scoring a mere nine runs. This unfortunate turn of events sent shockwaves through the stadium and was a major talking point in the post-match discussions.
In today's digital age, the impact of cricket matches extends far beyond the stadium. Social media platforms become abuzz with discussions, analyses, and, unfortunately, trolling. As Virat Kohli walked back to the pavilion, the fan who had travelled thousands of miles to watch his hero play became the target of online ridicule. The incident was captured in real time and quickly gained traction on various social media platforms.
IND vs ENG: A Fan Traveled 12445 KMs To See Virat Kohli And Got Trolled Badly
A fan travelled 12,445km from the USA to Lucknow to witness King Kohli.

– The one true 🐐 pic.twitter.com/wB5T4AqMrD

— Mufaddal Vohra (@mufaddal_vohra) October 29, 2023
Just to witness 9 ball duck

— Sir Alex GBE (@Sir69Alex) October 29, 2023
Am I the only one who is Interested to know what he has erased?

— Digant (@keepitsimple176) October 29, 2023
Against quality bowling like this English bowling today, we know where kohli stands 😂😂😂

— kedar (@kedar9909) October 29, 2023
Wapas chale ja Bhai tu hi panouti hai 😂

— FIN TRACKER 📈 (@SlayerSystem) October 29, 2023
Jb jb ese log aate hai tb tb wo out ho jata hai 😾

— 「 𝐑𝐀𝐇𝐔𝐋 」🖤🔥 (@TheHottestDevil) October 29, 2023
Iske ticket ke paise barbaad bc 😂

— Maarwadi🚩🚩 (@Marwadi99) October 29, 2023