A new Twitter banter has taken some fire – between Michael Vaughan and Mohammed Hafeez with Virat Kohli's knock against South Africa at the heart of this tussle between the two former cricketers.
Mohammed Hafeez has seen his social media notifications burst up over the past four days after he termed Virat Kohli's innings against the Proteas, which was his 49th ODI century, as a "selfish" knock with the batter scoring his last 26 runs in 26 balls while ignoring for the fact that it was a tough pitch and a strong bowling attack with India also having a long tail.
Speaking of Kohli's ton in Kolkata, Hafeez said: "I saw a sense of selfishness in Virat Kohli's batting and this happened for the third time in this World Cup."
Former England captain Michael Vaughan has, for a rare instance, gained praise and support from Indian fans because of his going after Hafeez for labeling Kohli as "selfish".
Michael Vaughan hilariously points out that Virat Kohli dismissed Hafeez
On Wednesday evening, Michael Vaughan pointed out that Virat Kohli had dismissed Hafeez in the 2012 T20 World Cup – clean bowled – adding that maybe this is why Hafeez is targetting Kohli.
"Seems to me @MHafeez22 you were bowled by @imVkohli !!! Is this the reason you constantly have a pop at him .."  Vaughan tweeted.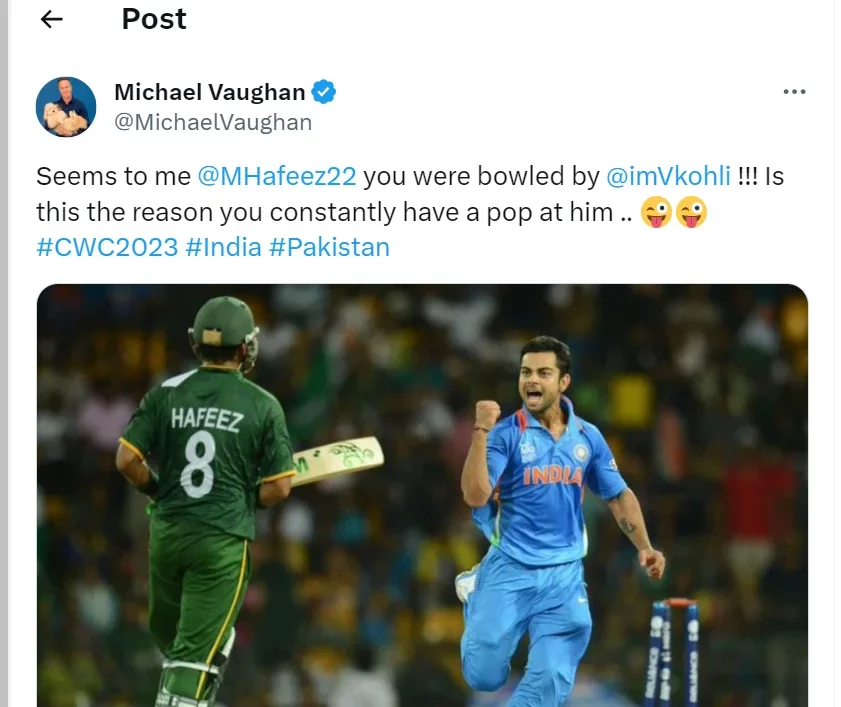 The bashing from fans didn't deter Hafeez. When lauding Ben Stokes for his century against the Netherlands, Hafeez tweeted that Stokes' century was an "example to differentiate Selfish vs Selfless approach".
This got another response from Michael Vaughan. The 2005 Ashes-winning captain highlighted that Kohli's ton came on a much more difficult pitch against a much stronger bowling attack than what Stokes faced in Pune against the Netherlands.
Vaughan quoted Hafeez and tweeted: "Great innings from Stokesy @MHafeez22.. As was Virats on a difficult pitch in Kolkata against a better attack ."