Ravi Shastri Hailed Shubman Gill As "The Future King Of Cricket": The Indian cricket team continued with their unbeaten run in the ongoing ODI World Cup 2023 as they defeated Sri Lankan cricket team with a huge margin of 302 runs at the Wankhede Stadium in Mumbai.
The game was full of nostalgia for the cricket lovers — from crowd chanting "Sachin..Sachin", with Sachin Tendulkar's statue being unveiled at the stadium, to India locking horns with the same team they had defeated at the very same venue 12 years back, Sri Lanka.
However, the one thing that stole the attention of the former Indian head coach Ravi Shastri, who is a part of the commentary panel, was the amazing 189-run partnership between Shubman Gill and Virat Kohli. The stunning partnership between the batting maestro and the young superstar reminded Ravi Shastri of the iconic Kohli-Sachin moment from the 2011 World Cup.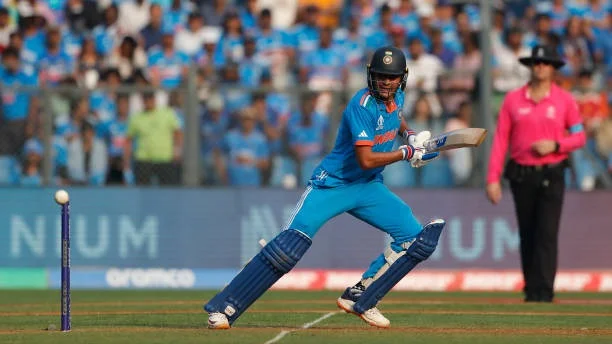 Virat Kohli And Shubman Gill's Partnership Made Ravi Shastri Nostalgic
For the unversed, the Indian cricket team faced a challenging chase of 275 runs. After the wickets of Virender Sehwag and Sachin Tendulkar, a 22-year-old Kohli walked in and he received crucial advice from Sachin Tendulkar: "build a partnership." The same conversation was revealed by Virat Kohli in a video shared by Royal Challengers Bangalore last year.
Virat did exactly the same. He formed an 83-run partnership with former Indian cricketer Gautam Gambhir, helping the team to win the game.
Now fast forward to recent India vs Sri Lanka match, Ravi Shastri felt nostalgic as he witnessed a similar situation. Impressed by the brilliant partnership of Gill and Kohli, Shastri hailed Shubman Gill as the future king of Indian cricket after the departure of the current stalwarts. He said:
"Gill represents the future. In the 2011 World Cup, Tendulkar and Kohli had a conversation about the pitch when Tendulkar walked out. Now, we witness Kohli and Gill batting together, symbolizing the next generation. He is the future king of Indian cricket once the current stars step aside," 
Former England captain Nasser Hussain also joined the chat and heaped praise on Gill's batting prowess. He said:
"Shubman Gill will have a long-lasting presence in cricket. Similar to Rohit, he effortlessly makes batting seem easy. Despite the challenging conditions mentioned by Ravi Shastri and Shreyas Iyer in an interview, Gill made it appear comfortable. He is destined to be a cricket superstar for many years to come,"