Star Indian cricketer Ravindra Jadeja, who is currently sitting at the no.1 position in the ICC Test all-rounder's ranking, made a memorable comeback in the ongoing Border-Gavaskar Trophy. Jadeja was out of action for more than five months after he suffered a knee injury during the T20 Asia Cup tournament in the UAE last year.
Ever since then, Jadeja was out of action and was recovering at the NCA. Due to his injury, Jadeja had to miss the T20 World Cup for the side, and he also remained absent for the side's away tours to New Zealand and Bangladesh as well as the home series against Sri Lanka and the Kiwis.
Before making his return to the Indian side, Jadeja returned to action by playing a Ranji Trophy game for his state team Saurashtra against Tamil Nadu in Chennai last month.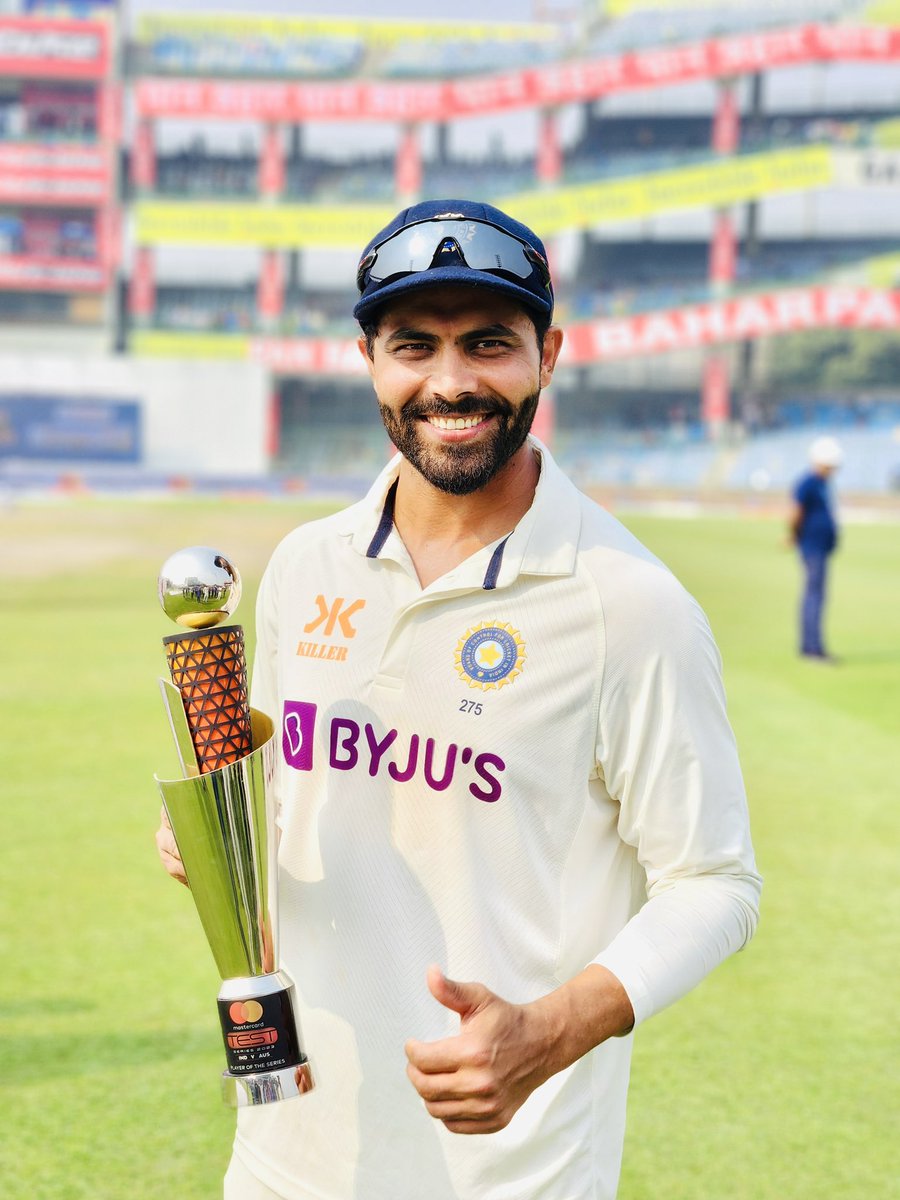 In the first Test match, Ravindra Jadeja recorded figures of 5/47 and 2/34 and scored 70 off 185 balls in the Indian innings. He was the one who provided India with a crucial breakthrough by dismissing Steve Smith and Marnus Labuschagne that had briefly put Australia on top. He was also named the player of the match for his amazing performance throughout the game.
In the second match, which was played in Delhi last week, Jadeja was again in red-hot form as he registered his career-best figures of 7 for 42 in the second innings. He won his second straight POTM award in Delhi. He has so far picked up a total of 17 wickets in two matches and scored 96 runs.
Rivaba Jadeja Showered Praise On Ravindra Jadeja's Comeback
Meanwhile, Jadeja has been receiving praise from all corners for his terrific comeback and has got everyone talking about him. However, the most special praise has come from none other than his wife Rivaba Jadeja, who has expressed her happiness over his top form.
As per Rivaba, Jadeja's positive attitude played a big role in his success against the Australians. She said:
"Ravindra is a very positive player, and his mindset is also very positive," Rivaba told ANI. "He steps onto the field with a lot of intent and a positive attitude. That is his biggest strength. Cricket is his top priority, and he is very attached to the game."
Further, speaking about his long-awaited return from an injury, Rivaba said that Jadeja has put in a lot of hard work to recover and regain fitness at the National Cricket Academy (NCA) in Bengaluru. She said:
"He did his rehab at the NCA, and the BCCI coaches and physiotherapists helped him a lot there. He has completed 14 years in international cricket now. He understands his strengths and has worked a lot on them during this time, and the outcome is right before our eyes. I am very happy with his efforts and the way he contributed to the team. He has made a fantastic comeback. He made a comeback after an injury, and I am very happy with his performance."
According to Rivaba, Jadeja doesn't talk a lot and lets his game do all the talking. She also said that instead of speaking about his critics, he prefers to work on his weaknesses. She said:
"He [Ravindra Jadeja] doesn't like to talk a lot and lets his game do all the talking. He gets a lot of positive comments, and he has a few critics too. But instead of speaking about them, he prefers to work on his weaknesses."