The comparison between Virat Kohli and Rohit Sharma has been eternal and the kind of debates that light up the Indian cricketing arcade whenever we talk about the duo is nothing short of a full-blown battle, either between two fans or maybe experts. There are also quips that follow from experts and at times they are benign while at times they are burning vitriol being hurled.
However, accept this or not but the duo has been phenomenal and the way they have responded to criticism is simply magical. Here are a few numbers, however, that change the narrative between the two and gives you somewhat of a clear idea about who makes the cut for being the better player in the last ten years.
Runs in the last ten years: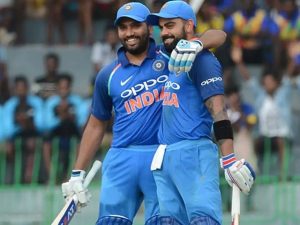 In the last ten years, Rohit Sharma played 313 international matches out of which there were 342 innings that he was a part of, racking up 14359 runs at an average of 46.4. Virat Kohli, on the contrary, have been a part of 359 international matches from which he was a part of 410 innings, smashing 19402 runs at a stunning average of 56.2.
Centuries in the last ten years: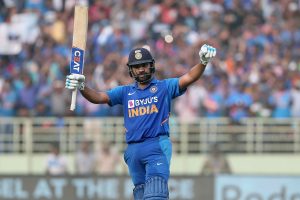 Rohit Sharma has always been a man of the bigger knocks and going by the record of the tons, he has whacked 41 centuries laced with 73 half-centuries featuring 1408 fours and 479 sixes. Virat Kohli has smashed 57 centuries and 98 half-centuries placing him on a pedestal over Rohit Sharma that also starred 1911 fours and 242 sixes.
International career:
Rohit Sharma has been a part of 47 Test matches until now coupled with 241 One Dayers and 148 T20Is. From the Tests played the by the Indian captain, he has so far managed to rack up 3320 runs at a stunning average of 46.76 with 9 centuries and 14 half-centuries.  In One Day internationals, he has racked up 9782 runs at a stunning average of 48.91 with 30 tons and 48 half-centuries. In the shortest format of the game, he has managed to score 3853 runs at a strike rate of 139.24 and an average of 31.32. Virat Kohli has outran him in Tests considering his long duration in the pitch where he played 106 Test matches, 271 ODIs and 115 T20Is. In Test cricket he has so far averaged 48.49, amassing 8195 runs while also smashing 27 centuries and 28 half-centuries. In One Days he has managed to average 57.69 while scoring 12809 runs with 46 tons and 64 fifties. Finally when it comes to T20Is, he has smashed 4008 runs at an average of 52.73 and a stunning strike rate of 137.96. He has 1 century and 37 half-centuries.