Cricket's famous nostradamus, Jofra Archer's tweet on Angelo Mathews back from 2014 has gone viral after the Sri Lankan batsman was dismissed Timed Out during the Sri Lanka vs Bangladesh World Cup 2023 match in Delhi on Sunday.
The senior Sri Lankan cricketer Angelo Mathews became the first ever player, man or woman, in international cricket to be Timed Out.
Mathews had walked in to bat at No.6 after the dismissal of Sadeera Samarawickrama. But the right-hander had a few controversial minutes and was deemed Timed Out by the on-field umpires after Shakib Al Hasan's appeal.
When Angelo Mathews was about to take his guard, he adjusted his helmet and his helmet's strap came off. Mathews signaled to the dressing room for another helmet.
Shakib Al Hasan then made an appeal regarding Timed Out. By the time the substitute brought a new helmet, the stipulated time of 2 minutes had passed. The umpires then deemed Mathews Timed Out.
Jofra Archer's trolling tweet on Angelo Mathews from 2014 goes viral
Jofra Archer, who is famous for his past tweets that relate with the current events, had tweeted about a certain "Matthews" back in 2014. Now, it's not clear whether he had tweeted regarding Angelo Mathews of some other athlete or someone else.
But netizens didn't care and made this tweet of Jofra Archer from 2014 viral: "Matthews loool" Archer had tweeted.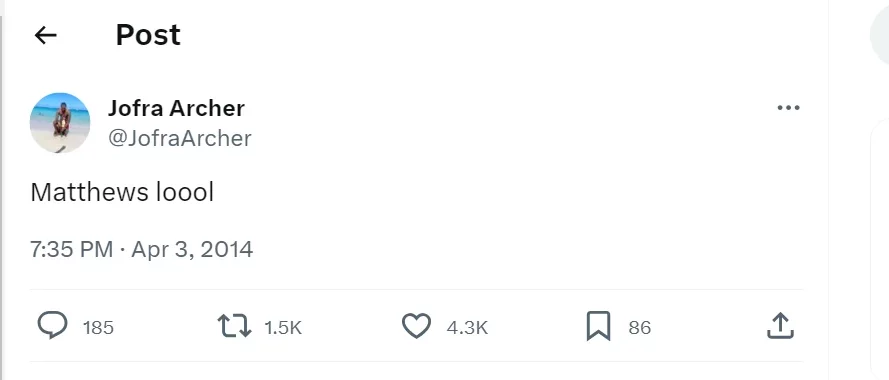 ICC 4th Umpire explains that Angelo Mathews was Timed Out even before helmet strap came off
During the mid-innings break, the ICC 4th official, Adrian Holdstock, explained that Mathews had been Timed Out even before his helmet strap got broken, and it only needed an appeal from Shakib Al Hasan to get the decision into action.
"The ICC World Cup playing conditions supersede the MCC laws of cricket," Holdstock explained.
"We have certain protocols and the TV umpire monitors the two minutes. He will then relay the message through to the on-field umpires and in the instance this afternoon, the batter wasn't ready to receive the ball within those two minutes even before the strap, what became an issue for him, [broke]."