Nine years ago on this day, June 23, 2013, India registered a historic win in the final of the 2013 Champions Trophy, against hosts England in a last-ball thriller as MS Dhoni became the first captain – and still remains the only – to win the three limited-overs ICC trophies – having won the 2007 T20 World Cup and the 2011 ODI World Cup.
As a memorable the game was, Dhoni delivered one of his classic one-liners which became legendary and now his quote has gone viral on the internet as the fans celebrated 9 years of that incredible 2013 CT win, during which India remained unbeaten throughout the tournament.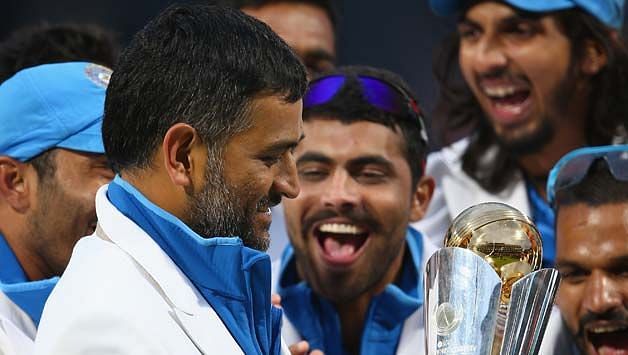 Don't look up, God is not coming to save you: MS Dhoni
The final against England was delayed and shortened due to rain and only 20 overs per side of a game was eventually made possible. On a tacky and gripping surface, India were inserted in by Alastair Cook to bat first and managed to scrap to a total of 129 made by possible by Dhawan's 31, Kohli's 43 and Jadeja's 33.
England looked in control of chasing down the total at 110/4 inside the 18th over with Morgan on 33 and Bopara on 30 well set. But then MS Dhoni unfurled his magic by giving Ishant Sharma the crucial over. After being smashed for a six by Morgan, Ishan dismissed both the set batters before Jadeja and Ashwin cleaned up the rest and India won on the last ball by 5 runs.
At the post-match presentation ceremony, hosted by Nasser Hussain, Dhoni delivered one of the famous speeches by a cricket captain.
"It's important to be positive. I said 'let's look for a good start. Something that's very critical. Don't think about the result and the first and foremost thing was: Don't look up, God is not coming to save you. You have to fight it out. You are the No. 1 team and let's play like that. If we lose they will have to score the runs, we won't make it easy for them," Dhoni had said
Golden Words#MSDhoni pic.twitter.com/TbGHHLWJV1

— Gaurab MSDian (@91atWankhede) June 23, 2022
Fans on Thursday recalled these iconic words by the talismanic skipper and celebrated Dhoni's historic feat as captain.
Here are some of the best tweets:
N Husain : What you told to the boy's when you had only 130 RUNs to Defend ?

MS Dhoni : First Things I said, Don't look in the sky. God Is not coming to save us.#MSDhoni pic.twitter.com/l8W7kibKYj

— eessshh. (@dhonibhakt_) June 23, 2022
"God is not coming to save us, if you want to win the trophy we have to fight it out. We are the No.1 ranked side. Let's make them fight for 130 runs and not look for outside help."

Captaincy level alpha pro from MS Dhoni defending just 130 in the finals.#OnThisDay pic.twitter.com/wiavKHaEy0

— Alok Ranjan (@itsalokranjan) June 22, 2022
Nasser Hussain: What you told to the team mates, when you had just 130 runs to defend?

Dhoni: Don't look in the sky, God isn't coming to save us. Play like a no 1 team.#WhistlePodu #MSDhoni @msdhoni #TeamIndia pic.twitter.com/8aBedlRuE7

— Subimal Das (@iamsubimal) June 23, 2022
N Husain : What you told to the boy's when you had only 130 RUNs to Defend ?

MS Dhoni : First Things I said, Don't look in the sky. God Is not coming to save#MSDhoni pic.twitter.com/kPEf7GDpUb

— Rishab Misra (@RishabMisra25) June 23, 2022
Nasser Hussain: What you told to the boys when you had only 130 RUNs to Defend?

MS Dhoni: First Thing I said, Don't look in the sky. God Is not coming to save us.#MSDhoni #OnThisDay #hitman

— Beyoung.in_official (@BeyoungFolks) June 23, 2022
Leader MS Dhoni @MSDhoni #MSDhoni #WhistlePodu pic.twitter.com/E4u4jY1198

— DHONI Era (@TheDhoniEra) June 23, 2022
MS Dhoni, the only captain to win all three trophies pic.twitter.com/ZeFRAc8UM1

— ESPNcricinfo (@ESPNcricinfo) June 23, 2022
Words of @bhogleharsha
:Tredwell misses,Dhoni misses. It doesn't matter. India win the Champions Trophy.. As England Capitulate. It was their game England, But it's a tremendous Bowling performance & MAHENDRA SINGH DHONI,WELL THIS WAS THE ONLY TROPHY HE DIDN'T HAVE. pic.twitter.com/LC67UgPn7x

— Sangram Gawade (@cricketsangram) June 23, 2022
Today In 2013

India Won the Champions Trophy under Dhoni's Captaincy

Most runs

Dhawan – 363
Trott – 229
Sanga – 222
Rohit – 177
Kohli – 176

Most Wickets

Jadeja – 12
McClenaghan – 11
Anderson – 11
Ishant – 10
Ashwin – 8

— CricBeat (@Cric_beat) June 23, 2022
#OTD in 2⃣0⃣1⃣3⃣, the #MenInBlue lifted the ICC Champions Trophy by beating the hosts at Birmingham, as MS Dhoni became the first captain to win all 3⃣ major ICC trophies. #OnThisDay #TeamIndia | : @ICC pic.twitter.com/5OU1zwdrXz

— SunRisers Hyderabad (@SunRisers) June 23, 2022