Senior fast bowler Mohammed Shami inclusion in the playing XI has added an extra boost to India's bowling attack. 
Because of the injury to Hardik Pandya, India tinkered with their combination. India brought in Suryakumar Yadav and Mohammed Shami to replace the injured Hardik Pandya and Shardul Thakur in the last two games.
While Shardul had just two wickets in 3 games, Shami rocked up and snapped up 9 wickets in 2 matches as India continued their winning juggernaut. Shami's sizzling performances against New Zealand and England also means that even when Hardik is fit and available, Shami is likely to be retained in the playing XI.
Mohammed Shami has taken 9 wickets in only 17 overs that he's bowled, out of which two overs were maidens. He's conceded 76 runs in 17 overs for his 9 wickets, which means his each wicket has come at merely 8.44 runs.
Mohammed Shami gives stunning reply to Uttarakhand MLA
On Twitter, Shami gave a superb reply to Umesh Kumar, the MLA (Member of the Legislative Assembly) from Uttarakhand.
Uttarakhand MLA Umesh Kumar posted a picture of Mohammed Shami on Twitter and asked his followers to give a good caption. While fans engaged in this activity, it also caught the attention of the fast bowler himself.
Shami then quote tweeted Umesh Kumar's tweet with a reply: "Sabar ka phal meetha" (this translates to The fruit of patience is sweet.)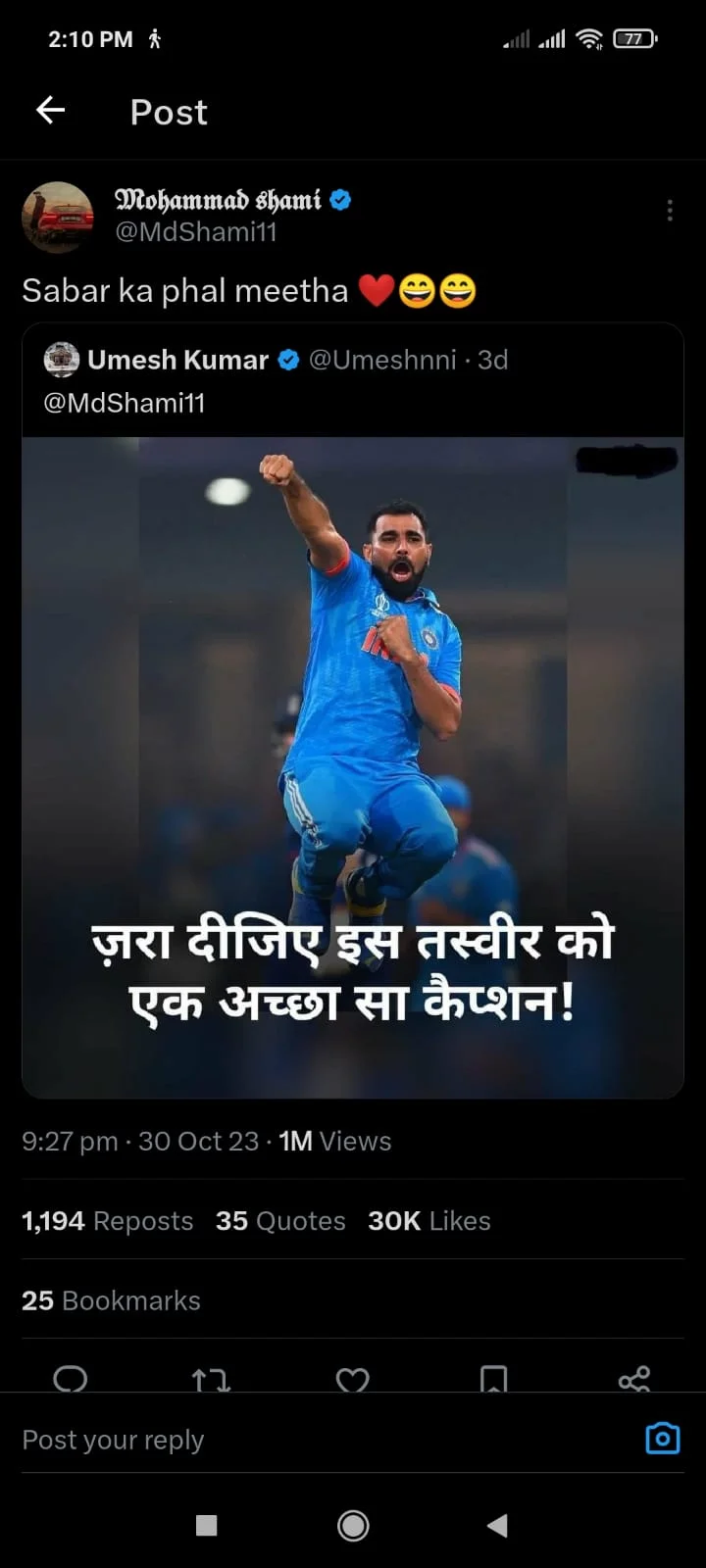 This might be a hint of Shami's mindset after being benched for the first four matches. After carrying drinks fo four games, when he got the opportunity Shami grabbed it with both hands, recording figures of 5/54 against New Zealand and 4/22 against England.
Overall, in the ODI World Cup, Shami has taken 40 wickets in only 13 matches. He's India's third-highest wicket-taker in ODI World Cup.
Most wickets for India in World Cups:
Zaheer Khan – 44 (23 innings)
Javagal Srinath – 44 (33 innings)
Mohammed Shami – 40 (13 innings)*