MS Dhoni is the most successful captain in the history of Indian cricket. When he was the captain of the Indian cricket team, he turned the team into a phenomenal force as far as international cricket is concerned.
Under his captaincy, Team India won the ICC T20 World Cup 2007, ICC ODI World Cup 2011 and ICC Champions Trophy 2013. Apart from being a great captain, he was also a great batsman and a great wicketkeeper.
Talking about his wicketkeeping traits, he is lightning-fast behind the stumps. Time and again, he has affected blistering-fast stumpings when he used to play for India. In this article, let's take a glimpse at the 10 lightning-fast stumpings of MS Dhoni.
#10 When MS Dhoni was fast behind the stumps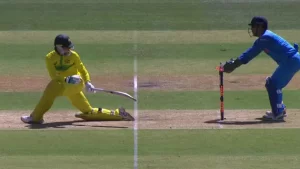 MS Dhoni pulled off a magnificent leg-side stumping to a fast bowler to dismiss an Australian batsman. It wasn't that easy but MS Dhoni made it look so.
#9 Farveez Maharoof was shell-shocked!
Farveez Maharoof was just inches short of his crease after missing Murali Kartik's delivery and in the blink of an eye, MS Dhoni affected a lightning-fast stumping.
#8 Special moment for Indian fans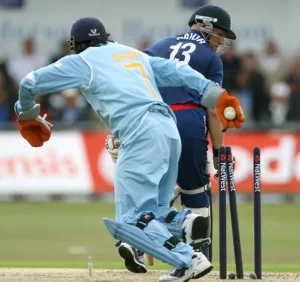 Matt Prior was dismissed by the combined efforts of Sourav Ganguly and MS Dhoni. Prior was beaten by Ganguly's delivery and meanwhile, Dhoni quickly affected a stumping.
#7 MS Dhoni pulls off a masterclass yet again!
MS Dhoni advised Sachin to bowl a delivery slightly towards the off-side and Sachin did exactly the same as Mashrafe Mortaza was stumped out by MS Dhoni.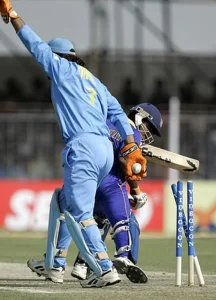 MS Dhoni's hands were too fast that he was able to dismiss Mahela Jayawardene with a quickfire stumping.
#5 MSD pulls off another quick stumping!
 During a Test match, MS Dhoni outsmarted Marlon Samuels with a superb stumping behind the wickets.
#4 When MSD stunned ABD!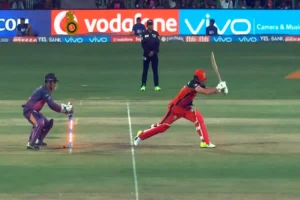 MS Dhoni showed AB de Villiers who's the real boss by dismissing him with lightning-fast stumping.
#3 MS Dhoni dismisses Upul Chandana
Upul Chandana tried to step down the track to hit a four off Harbhajan's bowling but made a wrong move as MS Dhoni affected q quick stumping.
#2 MS Dhoni's no look stumping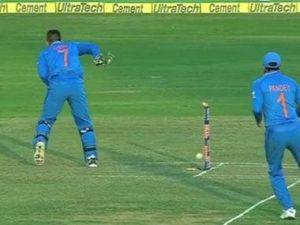 MS Dhoni once hogged the limelight for his no-look stumping to dismiss Jacob Oram.
#1 MS Dhoni's best-ever stumping!
MS Dhoni recorded his best-ever stumping in his career after he quickly whipped the bails off to dismiss Shahid Afridi off Sachin's bowling.
WATCH: 10 Fastest Stumping By MS Dhoni